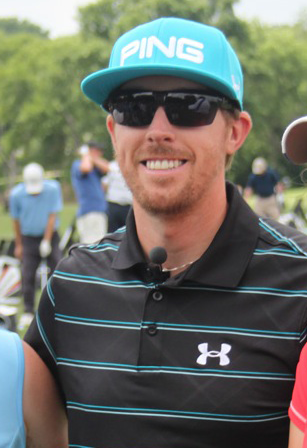 Hunter Mahan's hot start to the 2012 season – which included a victory at the WGC Match Play Championship – wasn't enough to get him selected to this month's Ryder Cup team. U.S. captain Davis Love III instead selected golfers who had a lot of Ryder Cup experience or were hot at the right time. So when Love informed Mahan that Jim Furyk, Steve Stricker, Dustin Johnson and Brandt Snedeker were his picks to round out the 12-man squad, Mahan understood but was disappointed.
"To not be a part of it … it feels empty right now," Mahan told the media as he prepared to play in the BMW Championship in Indiana, the site of the third event of the FedEx Cup playoffs. "It didn't feel that bad when Davis told me because … it ended up being a two-week trial, who was going to play the best, because I think he stated he wanted Stricker and Furyk, so there was really only two spots left, and Brandt and Dustin just outplayed me at the end of the day. I just didn't play good enough."
But Mahan, who also won this year in Houston, is the first player in the modern era to win twice in a season and not compete in that year's Ryder Cup. The snub also stings because Mahan has made no secret of his desire to atone for his singles loss to Graeme McDowell in 2010 that sealed the victory for Europe.
"I felt like I wanted to redeem myself because you feel somewhat responsible," said Mahan, adding that he's excited for this year's rookies because he knows how fun the week can be.
"It's such a cool experience, unlike anything in golf," he said. "It just sucks to miss out on all the fun."
Prior to Love's picks, Mahan replied to some questions in an exclusive interview with California Golf:
Do you feel like you've done enough to make the Ryder Cup as a captain's pick?
The goal of every player at the beginning of a Ryder Cup year is to make the team. … I feel good about my chances and feel good about my game.
Is representing your country in the Ryder Cup the prevailing motivation for making the squad or is it more about the competitive nature of the event?
It's probably both because you don't get too many opportunities to represent our country and playing for something bigger than yourself. It's really a fun week. Guys are just ready to hang out after a long year and a two-year qualification process. It is such a blast.
Some of the team pairings factor into the captain's picks like Tiger Woods and Steve Stricker. Who has been a good pairing for you in team competition?
David Toms and I played really well together at the Presidents Cup. We really jelled with one another from best ball to alternate shot. We both have similar games and it was just easy to go out there and play. But there's going to be some new teams this year with [Jason] Dufner and Webb [Simpson] and Keegan [Bradley] playing in their first Ryder Cup. So it should be very interesting.
One of your wins this year was at the WGC Match Play where you beat Rory McIlory in the finals. Would you like to face Rory again at the Ryder Cup?
I faced a lot of tough opponents in the Match Play from Steve Stricker, Y.E. Yang and then Rory. I'll take a lot from that tournament, but beating Rory in the final match was not an easy task.
Will that match with McDowell at the 2010 Ryder Cup ever be easy to talk about?
It took me about two days to get over losing that match. I'm not ever going to let golf create or dictate how happy I'm going to be or how my life is going to be. Success is so fleeting because there's always another tournament the next week and then another guy is on top. You can't get too up or too down. You do learn a lot about yourself playing golf and hopefully you become a better person.
You played on U.S. soil in 2008 and won. Is it more important for you to feel the energy of the home crowd or the added incentive of playing well on home turf?
I think the excitement of the home crowd, you really feel that energy. It gets you pumped up and makes it harder to get down on yourself, and it's something really different that you don't experience at a regular tour event.
What is one of your best memories about playing in the Ryder Cup?
The crowds at both tournaments were amazing. It's really one of the great sporting events in the world, in my opinion. I would really encourage any fan to go at least one time. I think when we won and everyone started giving speeches afterward and just listening to what everyone had to say was pretty cool. I felt like golf and the moment was bigger than us and we just were really playing for each other.
There's a big media push for golf in the Olympics in 2016. Do you think that will take away from the Ryder Cup?
I think the Ryder Cup will still stand on its own and will be a great team event forever. The Olympics is something that the players are starting to get really excited about. Especially watching the NBA players and then getting to watch the other athletes. Zach Johnson and I were just talking about it and just to be a part of that would be a great experience. It would be so much fun and something you just couldn't pass up.
You had such a great start to the season and now your results, I'm sure, are less than what you hoped for. Is there anything in your game that you feel is missing?
I think some of it is just golf. I don't think I've played that differently from day to day, but I'm getting different results. When you play at this level it's a very thin margin that separates yourself from winning a tournament or just making a cut. I don't think I've played bad and I know I'm not far away. I know I'm a better player now than at the start of the year. I just have to keep working.
Anything specific you're working on?
I'm trying to become a better putter. I'm working on my stroke and trying to make it more efficient and a little simpler. My short game as well, which I think I've improved over the last few weeks. So if I can make a few more putts and get up and down a few more times I'll get some momentum.
We know you have Orange County roots and one of the companies you recently chose to work with is a local company, Matrix shafts. Can you talk about their product and what it has done for your game?
As a player you're always trying to find something that can give you an edge. The great people at PING and Matt Rollins do a great job of matching the best shafts and combos for me. It's been great and they're great to work with.
One of your other passions is the American Junior Golf Association and you have a signature tournament in Texas every year.
Under Armour is working hard to get into junior golf and they're my partner in the event. The AJGA runs such great tournaments and it was really a no-brainer for us to be a part of it.
You're also a co-chairman of the AJGA with Annika Sorenstam.
The AJGA asked me about it. I was an AJGA player and having the tournament also helped. I think it's a great honor and fun to see the game grow and be a part of it. I'm really proud to be associated with them. They're a good group of people.
Most people associate your college days with Oklahoma State, but you did play one year at USC. What was the main reason for leaving the Trojans program?
There were some geographical issues for me. I was used to practicing whenever I wanted and the way the USC campus is set up the golf courses aren't that close to the university. We just didn't have the opportunity to play because we were guests at every place. It was frustrating because it's such a great university and I had so much fun going there. It hurt leaving, but I went to a place that had such a rich history and great coaching. It wasn't something that I planned on, but I made the best decision for myself.
– BY JIM DOVER