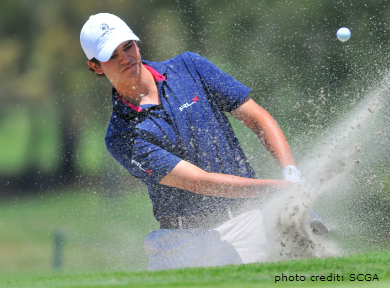 By Randy Youngman,
San Diego, Calif.,  (July 14, 2013) —  The career path of Mission Viejo's Beau Hossler continues to trend upward on a headline-grabbing journey that he hopes will ultimately lead to the PGA Tour.
In 2011, at age 16, Hossler qualified for the U.S. Open at Congressional and then won the Junior World Championship at Torrey Pines South, adding his name to a trophy that bears the name of a fellow Orange County native named Tiger Woods.
In 2012, at 17, he became the first high school student since the 1950s to qualify for consecutive U.S. Opens and briefly led a star-studded Open field that included Woods at The Olympic Club in San Francisco.
Now 18, Hossler etched his name alongside Tiger's on another prestigious trophy by winning the 114th SCGA Amateur Championship on July 14 at San Diego Country Club in Chula Vista.
Hossler strung together four sub-par rounds (70-69-71-70) for an impressive 8-under total to finish three strokes ahead of nearest pursuer XanderSchauffele, a San Diego State junior who also was the SCGA Amateur runner-up last year.
Four players tied for third: USC's Stewart Hagestad, Loyola Marymount's Tyler Torano, Notre Dame's Niall Platt and Dan Sullivan, 46, of Brookside Golf Club.
"I'm very excited," Hossler told the media afterward. "I played well all week, got off to a rough start (3-over-par on the first seven holes of the opening round) . . . .but since then made some great adjustments and fortunately was able to come out on top."
He was 11-under-par over the last 65 holes of the tournament.
Hossler, a former Santa Margarita High star who is preparing for his first season of competition this fall for the University of Texas golf team, has a busy summer planned. He will play next in the Porter Cup Tournament for the nation's top amateurs July 23-27 at Niagara Falls Country Club in Lewiston, N.Y.
He is exempt in the U.S. Amateur at The Country Club in Brookline, Mass., and hasalso committed to playing in the Western Amateur at The Alotian Club in Roland, Ark., and the North & South Amateur at Pinehurst Resort in North Carolina.
This was Hossler's first appearance in the SCGA Amateur, and now his name is engraved on the huge silver trophy along with the likes of Al Geiberger, John Jacobs, Paul Stankowski, Todd Demsey, Charlie Wi, John Merrick and the current No. 1 player in the world.
"Tiger's name is on there, so that's important," a grinning Hossler said on the day he became SCGA Amateur champion.
By Randy Youngman