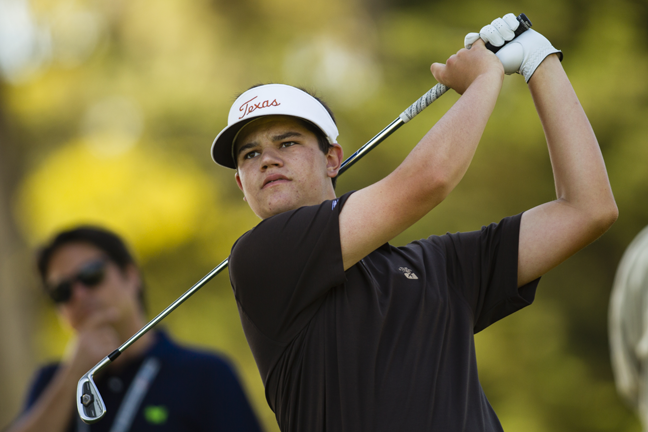 By RANDY YOUNGMAN
     Amateur Beau Hossler of Mission Viejo, who grabbed national headlines last summer when he briefly led the 2012 U.S. Open at The Olympic Club in San Francisco, will attempt to advance to his third consecutive U.S. Open during USGA sectional qualifying in Newport Beach on Monday, June 3.
Hossler, 18, a former Santa Margarita High star who is a redshirt freshman on the University of Texas golf team, will be one of 102 players in the 36-hole qualifier – 18 holes at Big Canyon Country Club and 18 holes at Newport Beach Country Club – competing for a handful of spots in the 113th U.S. Open at Merion Golf Club in Ardmore, Pa. (June 13-16).
Several tour pros also are in the Newport Beach sectional field, including Champions Tour star John Cook, 55, a part-time Corona del Mar resident who has experience on both courses. Cook is a regular at Big Canyon when he isn't on tour and plays in the annual Toshiba Classic at Newport Beach CC, a longtime Champions event.
Also in the sectional field, one of 11 sites in the U.S., are tour pros Chris Riley of San Diego, Bio Kim of Pasadena, Jeff Brehaut of Los Altos and Roger Tambellini of Scottsdale, Ariz. UCLA freshman Jake Knapp, who shot a 10-under 61 in 2012 Open qualifying at Newport Beach CC, also is competing.
Hossler, currently No. 11 in the World Amateur Golf Rankings, shot a collective 7-under to tie for second in the 36-hole sectional qualifying at Lake Merced GC and TPC Harding Park to advance to the 2012 U.S. Open. Ten holes into his second round at Olympic, his name was alone atop the Open leaderboard, and he was only four shots out of the lead going into the final round before finishing in a tie for 29th.
Age has never been an obstacle for Hossler. He was 16 and the youngest player in the field when he qualified for the 2011 U.S. Open at Congressional Country Club. And in 2009 — when he was a 5-foot-3, 125-pound, 14-year-old eighth-grader — Beau won a three-way playoff in an elite 75-player field at Big Canyon CC to become the second-youngest in history to qualify for the U.S. Amateur, that year contested at Southern Hills CC in Tulsa.
Open qualifying kick-starts a busy summer for Hossler, who also has committed to playing in the Western Amateur at The Alotian Club in Roland, Ark.; the SCGA Amateur at San Diego Country Club in Chula Vista; the U.S. Amateur at The Country Club in Brookline, Mass; and the North & South Amateur at Pinehurst Resort in North Carolina.