Back9Network, the new sports lifestyle television and media network for golf fans who want to do more than follow the leaderboard, today announced that Greg Hopkins, former CEO of Cleveland Golf/Srixon, will play a more active role in the network's strategic growth and development as Back9Network plans its on-air debut for the first half of 2013. Hopkins has been a member of the Back9Network Board of Directors since the beginning of the year.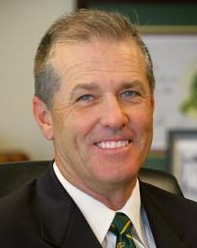 Hopkins tendered his resignation as CEO of Cleveland Golf/Srixon on September 24. As CEO since June 1997, he led and fueled one of the golf industry's most extraordinary company transformations. Hopkins was responsible for reshaping the company's product line, incorporating new technology, and boosting Cleveland Golf's presence on the professional tours. Sales skyrocketed 500 percent during the first seven years of his tenure. When Sumitomo Rubber Industries, Ltd. (SRI Sports Ltd.) purchased the company in December 2007, he continued as CEO of Cleveland Golf/Srixon and as an Executive Director of SRI Sports Ltd.
"I'm proud of what we accomplished at Cleveland Golf/Srixon in my 16 years as CEO, but the time is right to pursue other things that interest me," said Hopkins. "When I joined the Back9Network Board of Directors, I was attracted to the idea of building something from the ground up that can provide a fresh perspective on golf and catches the eye of today's diverse golf fan. I know the leadership team at Back9Network very well and look forward to sharing more of my energy with them as we prepare for a year of milestones in 2013."
Back9Network, which made its online debut in 2012, is focused on all the things golf fans love about playing and living the game. Back9Network recently broke ground on its state-of-the-art TV studio and video production facility in downtown Hartford, Connecticut, which is quickly becoming the sports media capital of the world with ESPN, NBC Sports and YES Network also based in the state. Back9Network plans to launch its TV programming lineup via cable and satellite in the first half of 2013.
"We're thrilled that Greg will be able to dedicate more time to work with the Back9Network crew as we refine our brand, finalize our on-air programming lineup, expand our online presence and race towards the launch of our new TV network in 2013," said James Bosworth, founder and CEO, Back9Network. "We are incredibly fortunate to have Greg as a member of our Board. There are few in the golf industry who have enjoyed his track record for success."