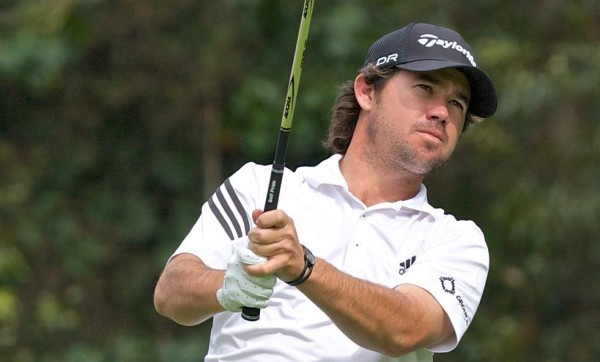 Brian Harman has long looked up to Bubba Watson, and he was doing it again two weeks ago when he finished third as Watson captured the Travelers Championship.
However, last year it was Harman on top of the leaderboard at the finish of the John Deere Classic, and the other left-hander out of the University of Georgia is back at TPC Deere Run this week to defend his first and only PGA Tour title.
"It was very hard, probably one of the hardest things I've ever tried to do in my life," Harman said recently at John Deere Classic media day of the 5-under-par 66 he shot in the final round to beat Zach Johnson by one stroke. "Just trying not to let your mind run wild is the hardest part out there. …
"(Winning is) one of those things where you finally feel like you belong. You start getting into the tournaments a little bit earlier, if that makes any sense. You feel like you're more a part of the tournament sometimes. Your first year on tour, you've got these tee times where you're like last off, and then the next year after you keep your card you're first off, so you're not really in with the crowd and all that kind of stuff. It was a big deal for me. …
"It was such a blur last year because obviously I was just on cloud nine, finishing that golf tournament off the way I did, that I've got little pieces of it. … I can remember coming up here (to the clubhouse) and the big party that was going on, just rushing trying to get everything situated to get on the plane (to go to the Open Championship).
"It was just a great end to a great week for me. It was really, really special."
Harman earned his spot in the third major of the year by winning that day, and he finished in a very respectable tie for 26th at Royal Liverpool the following week in his first appearance in the oldest championship in the world.
By came in third in the Travelers Championship at TPC River Highlands two weeks ago, he punched his ticket for a return trip to the Open Championship next week on the Old Course at St. Andrews.
"Yeah, I'm excited about that," said Harman, who missed the cut in the first two majors this year. "I've been thinking about that tournament for a long time and really trying to look at a way to get in there. (Losing the lead in the final round of the Travelers) burns a little bit, but that definitely helps the sting.
"The British Open is one of my favorite tournaments I've ever played in. I love that style of golf, and I'll be really excited to get over there. … The British Open is a really cool golf tournament. I had so much fun over there last year."
Even though Watson always was kind of an idol to him since Bubba was six years ahead at Georgia, Johnson is the older player on the PGA Tour whom the 28-year-old Harman turns to for advice.
They both live in St. Simons, Ga., and they talk often, but Harman said the best input he got was watching Johnson win the John Deere Classic three years ago.
"I talked to Zach about it, and he felt I was trying to get out of his way a little too much and that I needed to stake my ground a little bit," said Harman, who posted scores of 65-65-69 that year and was third to start the final round but tied for 19th after shooting 73. "I think (he gave) probably the best advice.
"I watched him win this golf tournament. He shot 6 under. I'll never forget it because I was hitting it so well, it was my rookie year, and I'm hitting it 10 or 15 yards by him, but he just wiped the floor with me and was just making putts.
"I asked him, 'Zach, what do I need to do to kind of move up to the next level?' He goes, 'Well, you just didn't quite look like you belonged. You were kind of being respectful and trying to get out of my way. That's not your responsibility. Your responsibility is to play your game and not worry about anyone else.'"
And so last year, despite fighting his nerves, Harman knew exactly what to do to win.
–Story courtesy of The Sports Xchange, TSX Golf Editor Tom LaMarre