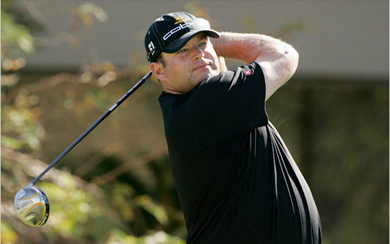 Miami, FL (Oct. 17, 2010) — Jason Gore wasn't comfortable, even with a two-stroke lead after 54 holes, because he knows what can happen in a final round.
Gore, the 36-year-old from Valencia, has eight official victories in his career, but he probably is best-known for shooting 84 while playing in the final pairing in the last round of the 2005 U.S. Open at Pinehurst, free-falling from second place into a tie for 49th.
This time, albeit with much less pressure, Gore held it together in windy conditions to win the Miccosukee Classic by four strokes at Miccosukee Golf and Country Club in Miami, claiming his first victory in five years.
"I was just trying to play good golf because 80 was right around the corner," said Gore, who is trying to regain his PGA Tour card for next season by playing well down the stretch on the Nationwide Tour. "You slip up a couple times and some big numbers come quickly. It was brutal (because of the wind).
"It feels good (to win) because it seems like it's been forever. I just went out and played golf the way I know how this week. I hope I can take this and get my card back, and go from there."
Gore, who set a Nationwide Tour record with his seventh victory, carded a score of 65- 67-65-71–268, 15-under par, and collected $108,000. His last victory came 84 Lumber Classic on the PGA Tour in 2005, after he earned an automatic promotion by winning three times that season on the triple-A circuit.
Scott Gutschewski totaled 66-70-67-69–272 and tied for second with Kevin Kisner, who shot 71-67-67-67–272.
J.J. Killeen of San Diego and Texas Christian tied for eighth at 69-69-69-67–274, while Luke List of Seattle and Vanderbilt wound up at 69-70-67-70–276 and tied for 15th with Nate Smith of Santa Cruz and Duke, who finished at 66-70-66-74–276.
Jeff Curl of Redding and North Carolina-Charlotte shot 69-66-72-70–277 and tied for 23rd with James Hahn of Alameda and Cal, who came in at 70-66-68-73–277.
Michael Putnam of Pepperdine and University Place, Wash., tied for 35th at 65-69-71- 76–281, Brandt Jobe of UCLA and Southlake, Texas, tied for 43rd at 63-71-78-70–282, and Todd Fischer of Pleasanton and the University of San Francisco totaled 71-67-71-75 –284 to tie for 50th with Alan Morin of San Diego and Ferris State, who finished at 66- 72-75-71–284.
Jeff Brehaut of San Mateo and University of the Pacific tied for 54th at 72-68-71-74– 285, while Robert Gamez of the University of Arizona and Celebration, Fla., shot 71-68- 74-76–289 to tie for 63rd with Craig Barlow of Henderson, Nev., who totaled 73-67-73- 76–289. Justin Peters of Nevada-Reno and Plantation, Fla., was 65th at 70-70-74-76–290.
Gore lost sole possession of the lead when he made bogeys on his first two holes in the final round, falling into a tie with David Hearn, but he regained control with birdies on two of the next three holes and Hearn faded to a tie for fourth by closing with a 74.
Even though he carded only one birdie the rest of the way, it was enough, and Gore even had the luxury of taking a bogey on the final hole.
"That might have been a kick in the head," Gore said of his slow start. "That might have been a good thing. I said to myself, 'This is not going to be given to you.' I knew somebody was going to have to play really good to catch me and I wasn't going to let that happen.
"This one ranks among the best. It's just been so darn long. It never gets old. It doesn't matter where or when you win. It's a hard way to make an easy living. A lot of people play for money, but I love trophies. Trophies shine."
Gore collected $108,000 and vaulted from No. 124 to No. 39 on the Nationwide Tour money list.
That guaranteed he would finish in the top 60 and qualify for the Nationwide Tour Championship. The top 25 play on the money list after that tournament will earn PGA Tour playing privileges for next season.
"It's been a rough year," said Gore, who helped Pepperdine win the 2000 NCAA Championship the champion. "That was really the goal this week, to just make enough to keep playing."
That changed in the final round, when the chore became to hold the lead and win, which he now has done all five times in his career when atop the leaderboard after 36 holes.
Despite the final cushion, he knows it's never easy, because he has a long memory.