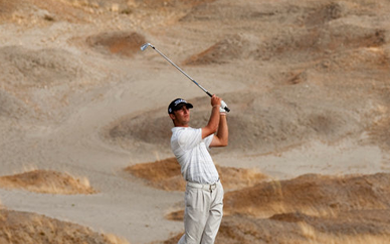 By CAL Sports Information
LA QUINTA, CA, ( Oct. 12, 2010) — Bay Area rivals Cal and Stanford compete against each other often and in the latest installment of the rivalry the Golden Bear men's golf team was victorious over the Cardinal at The Prestige at PGA WEST. Cal and Stanford entered Tuesday's final round of action at the 7,300-yard par-72 TPC Stadium Course tied for the team lead, with the Bears emerging victorious by three strokes over the Cardinal and Washington.
The victory was Cal's first team wins in three events this season after the Golden Bears won a school-record-tying three regular-season events in 2009-10.
Cal (286-289-289 – 864, E) shot a one-over par round for the second consecutive day and was the only team not over par for the tournament. Stanford had posted the best round of the 54-hole event Tuesday with a seven-under par round of 281 to tie the Bears for the lead, but fell back to four-over par 292 on Wednesday to finish at three-over for the tournament. Washington caught Stanford to tie for second place at four-over with a one-under par 287 Tuesday. San Diego (294-290-286 – 870, +6) and Arizona State (290-298-288 – 876, +12) finished fourth and fifth, with San Diego's two-under par round the best of the day on Tuesday.
"It was a great day today," said Cal head coach 
Steve Desimone
. "I'm really proud of our guys. They hung tough. We went up and down that scoreboard, and it was really intense. But, we managed to be steadier than the other teams. We did a lot of good things and were able to prevail."
Ben An
(70-73-68 – 211, -5) was Cal's top individual with a third-place overall finish and also had the Bears' top round on Tuesday with a two-under par 68. 
Stephen Hale
(71-71-72 – 214, -2) played his third consecutive round either at or below par and finished tied for sixth overall. 
Max Homa
(72-70-79 – 221, +5), who had been tied for sixth at two-under par along with Hale after two rounds, shot a seven-over par 79 on Tuesday and finished tied for 23rd. But Homa was picked up by 
Michael Weaver
(76-75-73 – 224, +1) and 
Eric Mina
(73-75-76 – 224, +8), who both scored for the Bears on Tuesday and tied for 32nd overall.
"This was a total team victory," offered Desimone. "Over the 54 holes every player contributed in a major way. Every time we play, we have five great players that can all contribute at any time. That's what you have to have to truly be a team if you're going to play at the highest level of college golf. In every sense of the word, that's what jumped out at us in this tournament.""Some of the teams we beat in this tournament are tremendous veteran clubs," added Desimone. "We believed going into this season that we are a great and veteran team ourselves, and we're going to see a whole lot more of some of these same teams."
An wasn't always steady but he was certainly spectacular. One day after rallying from a five-over start through the first six holes to finish with a respectable one-over par 73, An was one-over through his first six holes Tuesday before putting together a stretch of six birdies (8, 9, 12, 13, 14, 16) over nine holes from 9-16. He gave one stroke back when he bogeyed his final hole of the day on the par-four first.
"Ben really got it going over the last 10-12 holes," said Desimone simply. An felt the responsibility of helping the Bears win.
"I wanted to make birdies in case someone was not playing well so we could win as a team," he said.
While An was spectacular, Hale was steady for the third consecutive day. After firing back-to-back scores of one-under 71 in the first two rounds, he shot an even-par 72 on Tuesday and was never more than one stroke away from even-par. Hale birdied the third hole but then gave the stroke back with a bogey on four. After eight consecutive pars from 5-12, he bogeyed 13 to go one over for the day before back-to-back birdies on 14 and 15 got him back to one-under. He bogeyed 17 to give him his final even-par score for the day.
"Stephen played really steady, superb golf," said Desimone. "When he made a mistake, he fought right back."
"It was really boring golf," added Hale. "I didn't make a lot of putts. I pretty much hit it on green, two-putted and went along to the next hole. I really didn't do anything special but just kept it in play and made par. I did avoid the water and the bunkers."
Homa's troubles began with a double bogey on the first hole and continued when he followed with three more consecutive bogeys. He dropped another stroke with a bogey on six to fall to six-over but followed with back-to-back birdies on seven and eight to get back to four-over. He then bogeyed nine to finish the first half of his round with a five-over par 41. He was one-under on the back nine with a birdie on 12 but bogeys on 13, 14 and 16.
Weaver started his one-over 73 on the third hole and was even-par through seven after a birdie on three and a bogey on five. He doubled 10 but immediately came back with three consecutive birdies (11, 12, 13), before giving two of those shots back with bogeys on 16 and 18.
Mina started on the second hole and quickly fell to three under with a bogey on four and a double on six. He came up with one of his two birdies on eight but gave the stroke right back with a bogey on nine. He lost an additional shot to par over his final 10 holes with bogeys on 13 and 1 sandwiching a birdie on 15.
Stanford's Andrew Yun (70-69-65 – 204, -12) was the individual medalist, winning the event by six strokes over second-place Thomas Buran of Arizona State (68-74-68 – 210, -6) and was seven shots better than An. Yun's final-round seven-under par 65 was the best round of the tournament. Second-round leader Charlie Hughes (69-66-77 – 212, -4) finished fourth.
| | | | |
| --- | --- | --- | --- |
| Rank | School/Name | Scores | vs. par |
| 1 | California | 286-289-289—864 | E |
| 2 | Stanford | 294-281-292—867 | +3 |
| 2 | Washington | 294-286-287—867 | +3 |
| 4 | San Diego | 294-290-286—870 | +6 |
| 5 | Arizona State | 290-298-288—876 | +12 |
| 6 | UC Davis | 297-296-291—884 | +20 |
| 7 | UCF | 301-292-292—885 | +21 |
| 8 | N. Car. Wilmington | 297-305-289—891 | +27 |
| 8 | Pepperdine | 300-297-294—891 | +27 |
| 10 | Vanderbilt | 301-291-301—893 | +29 |
| 11 | TCU | 300-303-291—894 | +30 |
| 12 | Oregon | 295-298-305—898 | +34 |
| 13 | Pacific | 309-298-293—900 | +36 |
| 14 | Long Beach State | 314-297-290—901 | +37 |
| 15 | Michigan State | 306-315-314—935 | +71 |
| Individuals | | | |
| 1 | Andrew Yun, Stanford | 70-69-65—204 | -12 |
| 2 | Thomas Buran, Arizona State | 68-74-68—210 | -6 |
| 3 | Ben An, California | 70-73-68—211 | -5 |
| 4 | Charlie Hughes, Washington | 69-66-77—212 | -4 |
| 5 | Cameron Wilson, Stanford | 67-70-76—213 | -3 |
| 6 | Alex Ching, San Diego | 69-70-75—214 | -2 |
| 6 | Stephen Hale, California | 71-71-72—214 | -2 |
| 6 | y-Joseph Harrison, San Diego | 71-74-69—214 | -2 |
| 6 | Chris Williams, Washington | 72-71-71—214 | -2 |
| 10 | Connor Arendell, UCF | 71-72-72—215 | -1 |
| 11 | Nuno Henriques, UCF | 76-68-72—216 | E |
| 11 | Johnny MacArthur, Pepperdine | 69-72-75—216 | E |
| 13 | Ryan Haselden, Vanderbilt | 73-69-75—217 | +1 |
| 13 | Payne McLeod, N. Car. Wilmington | 74-74-69—217 | +1 |
| 15 | Scott Brace, San Diego | 74-73-71—218 | +2 |
| 15 | Gunner Wiebe, San Diego | 76-74-68—218 | +2 |
| 17 | Jesper Kennegard, Arizona State | 71-72-76—219 | +3 |
| 17 | Cory McElyea, Washington | 77-71-71—219 | +3 |
| 17 | Scott Pinckney, Arizona State | 75-73-71—219 | +3 |
| 20 | Austin Graham, UC Davis | 75-76-69—220 | +4 |
| 20 | Andrew Haggen, UC Davis | 73-72-75—220 | +4 |
| 20 | Andrew Putnam, Pepperdine | 75-71-74—220 | +4 |
| 23 | T.J. Bordeaux, Pacific | 76-73-72—221 | +5 |
| 23 | Max Homa, California | 72-70-79—221 | +5 |
| 25 | Eugene Wong, Oregon | 73-74-75—222 | +6 |
| 26 | Alex Edfort, Pacific | 73-78-72—223 | +7 |
| 26 | Daniel Jennevret, TCU | 74-74-75—223 | +7 |
| 26 | Kevin Lim, Long Beach State | 74-75-74—223 | +7 |
| 26 | Daniel Miernicki, Oregon | 71-75-77—223 | +7 |
| 26 | Jason Shano, San Diego | 76-73-74—223 | +7 |
| 26 | Will Snipes, Vanderbilt | 76-76-71—223 | +7 |
| 32 | Josh Anderson, Pepperdine | 79-75-70—224 | +8 |
| 32 | Daniel Covrig, UC Davis | 75-73-76—224 | +8 |
| 32 | Pontus Gad, TCU | 73-78-73—224 | +8 |
| 32 | Raymond Ho, Long Beach State | 79-75-70—224 | +8 |
| 32 | Benjamin Lein, Long Beach State | 78-76-70—224 | +8 |
| 32 | Eric Mina, California | 73-75-76—224 | +8 |
| 32 | Brad Schneider, UCF | 74-76-74—224 | +8 |
| 32 | Ryan Sullivan, N. Car. Wilmington | 72-77-75—224 | +8 |
| 32 | Michael Weaver, California | 76-75-73—224 | +8 |
| 41 | Eli Cole, TCU | 76-78-71—225 | +9 |
| 41 | Kenneth McCready, San Diego | 75-77-73—225 | +9 |
| 43 | Matt Hansen, UC Davis | 74-80-72—226 | +10 |
| 43 | Tom Hoge, TCU | 77-76-73—226 | +10 |
| 43 | Alex Johnson, Pacific | 79-73-74—226 | +10 |
| 43 | Shane Lebow, Stanford | 81-68-77—226 | +10 |
| 47 | Adam Hofmann, Vanderbilt | 75-73-79—227 | +11 |
| 47 | Isaiah Telles, Oregon | 77-73-77—227 | +11 |
| 47 | Steve Ziegler, Stanford | 79-74-74—227 | +11 |
| 50 | Johan de Beer, TCU | 79-75-74—228 | +12 |
| 50 | Josh Brock, N. Car. Wilmington | 73-76-79—228 | +12 |
| 50 | Phil Francis, Arizona State | 76-79-73—228 | +12 |
| 50 | Robbie Ziegler, Oregon | 76-76-76—228 | +12 |
| 54 | Ty Chambers, Washington | 76-79-74—229 | +13 |
| 54 | Trey DelGreco, Vanderbilt | 77-73-79—229 | +13 |
| 54 | Charlie Grace, Vanderbilt | 77-76-76—229 | +13 |
| 54 | y-Scott Roudebush, TCU | 81-76-72—229 | +13 |
| 54 | Michael Taylor, N. Car. Wilmington | 81-78-70—229 | +13 |
| 59 | Jens Bracht, Washington | 81-78-71—230 | +14 |
| 59 | Philip Chian, Long Beach State | 83-71-76—230 | +14 |
| 59 | Reid Martin, UCF | 80-76-74—230 | +14 |
| 59 | Tyler Raber, UC Davis | 80-75-75—230 | +14 |
| 63 | y-Ben Murray, San Diego | 73-83-75—231 | +15 |
| 64 | Thomas Bass, N. Car. Wilmington | 78-79-75—232 | +16 |
| 64 | Chris Mory, Michigan State | 78-79-75—232 | +16 |
| 64 | James Ross, Michigan State | 77-76-79—232 | +16 |
| 67 | Jack Dukeminier, Oregon | 75-81-78—234 | +18 |
| 67 | Steven Kearney, Stanford | 78-76-80—234 | +18 |
| 67 | Parker Page, Pepperdine | 78-79-77—234 | +18 |
| 70 | Greg Eason, UCF | 85-76-74—235 | +19 |
| 71 | Patrick Kucich, Pacific | 81-80-75—236 | +20 |
| 71 | Andrew Widmar, Pepperdine | 78-83-75—236 | +20 |
| 73 | y-Gerrit Chambers, Washington | 77-77-83—237 | +21 |
| 74 | Gareth Blease, Michigan State | 77-82-80—239 | +23 |
| 75 | Zach Kanny, Long Beach State | 85-77-78—240 | +24 |
| 75 | y-Matt Seramin, UC Davis | 78-83-79—240 | +24 |
| 77 | y-Graham Brockington, Stanford | 87-81-76—244 | +28 |
| 77 | Matt Ogden, Pacific | 84-74-86—244 | +28 |
| 79 | Derrick Williams, Michigan State | 86-81-80—247 | +31 |