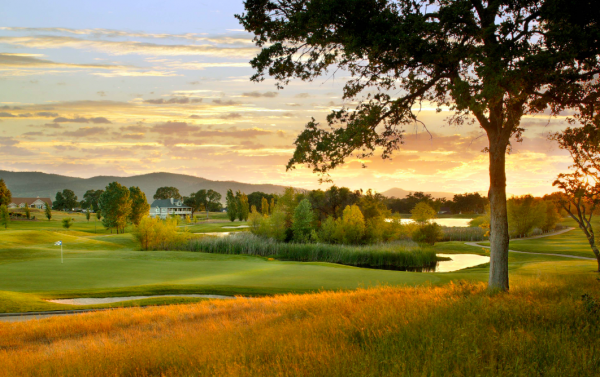 By Robert Kaufman
(Click HERE for special Stay & Play packages!)
If you're traveling east along CA Highway 4 and can avoid blinking at approximately 20 miles from Stockton, you'll catch a glimpse of Farmington. Just to the side of the road is a refurbished covered wagon doubling as a billboard directing motorized vehicles to Greenhorn Creek Resort in Angels Camp, another half hour drive through undeveloped rural farmlands heading into the Sierra Nevada Gold Country.
Back in the day of wooden-wheeled transportation, this relic most likely carried its fair share of dreamy-eyed gold miners rushing to the Mother Lode to lay claim on their prized nuggets. Streaming into the 21st century, while it may still prove challenging to unearth any sizable riches, what's easy to discover is that thar's golf in them thar hills!
Edging the historic town of Angels Camp, that has been immortalized not so much by its golden fame but rather by jumping frogs and Mark Twain, prospectors with golf clubs in lieu of gold pans will find the pristine Greenhorn Creek Resort that is lined with plenty of its own history.
Prior to the turn of the century, Bardon Stevenot, a fifth-generation member of a pioneer Gold Rush family, acted upon his vision to build what has now become an idyllic country residential community and golf course on land once occupied 500-1,000 years ago by the Native American Miwoks. With respect to the sacred grounds, golf course architect Don Boos weaved Greenhorn Creek Golf Course (opened in 1996) through the rolling meadow hills and majestic oaks to feature plenty of variety while keeping intact certain archeological artifacts, such as a stone wall built by Chinese laborers during the mid-1800s that divides the par-4 downhill fourth hole.
Another mark on Greenhorn's historical timeline took place in 1997, when Stockton-based developer Fritz Grupe purchased the property and immediately brought in his longtime friend, Robert Trent Jones II, to rebuild half the holes of the holes and rework much of the bunkering. What exists today is a 6,749-yard layout that employs some of Jones' trademark demanding short par 4s that add just enough challenge to make playing any of the seven sets of tees fun.
In recent years, Greenhorn Creek Resort has been molded into, perhaps, the finest golf retreat experiences in the gold country. In addition to the golf, pools, tennis courts and fitness center, guests staying here are only minutes away from a wide selection of outdoor adventure throughout the Calaveras County region, such as biking, boating, fishing, hiking, and wine tasting at the 27 local wineries. Plus, you're only less than two hours from Yosemite Valley.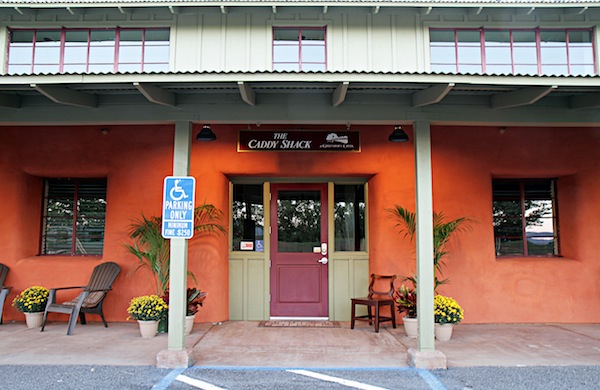 While Greenhorn Creek offers limited hotel and cottage accommodation on-site, the newest lodging retreat is the Caddy Shack (above), a converted maintenance shed adjacent to the ninth hole that now includes five bedrooms, BBQ area, horseshoe pit, full kitchen, bathrooms, 55-inch HDTV and fireplace. As a major upgrade from what gold miners had to content with, having all these amenities under one roof make for a perfect buddies getaway, families or business groups up to 12. If nobody is onto cooking, CAMPS Restaurant, overlooking the 18th green, serves up a variety of plates made from fresh local ingredients and wines made by some of the Greenhorn Creek member vintners.
Hard to say but had this gold county golf resort existed when Twain was around in 1865 penning "The Celebrated Jumping Frog of Calaveras County," I doubt he would have had any basis for complaining that "golf is nothing more than a good walk spoiled."