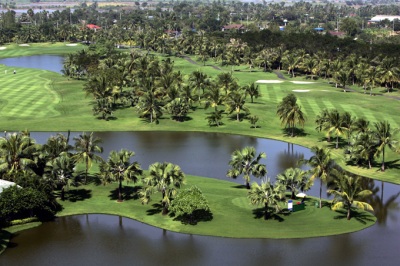 By Mark Seigel
One of the key factors that attract the large numbers of visitors coming to play golf in Thailand is the vast choice of golf courses located in the many different areas throughout the country.
From the beach resorts in the south to the more mountainous surroundings in the north, or the busier cities of Bangkok and Pattaya, there are golf courses suitable for everyone.
All are in very accessible and transfers between locations can easily be done in a day, providing visitors with huge choice for planning a golf holiday. With modern facilities, internationally designed golf courses, and an excellent infrastructure, the availability of golf has developed significantly in Thailand.
Only recently has this been evidenced by the World Golf Travel Agents Association, as it awarded Thailand the "Best up and coming destination" for golf vacations.

History of Golf in Thailand
Although perceived by many as a very new golfing destination, history shows that golf was actually played here as early as 1906 at the Royal Bangkok Sports Club course. While not as old as other countries, many people will be surprised by this fact.
More detailed records show that His Majesty King Vajiravudh expressed an interest in this new sport, and in 1923 he granted permission for the construction of the Royal Hua Hin golf course in the Hua Hin district.
This information confirms the existence of golf in Thailand 100 years ago; however, active interest and participation were not fully taken up until June 28, 1924, when the Royal Hua Hin Golf Course opened. Upgraded in the 1980s, this course continues to be one of the most popular in the Hua Hin area with both locals and visiting tourists.
However, it was many years before the country got the attention of the Asian professional circuit, and the Thailand Golf Association made its official debut in 1964, hosting the Thailand Open. Since then, the Thailand Open has become a regular fixture on the Asian Tour, with awards and performances being gradually enhanced to international standards.
More recently, Thailand has hosted world-class golf tournaments that attracted such players as Tiger Woods, Ernie Els and Colin Montgomorie, to name but a few. Such courses as Blue Canyon in Phuket have played host to international tournaments, as well as Thai Country Club and Alpine Golf Club in Bangkok, during the last few years. Thai Country Club will in fact host the high-profile Asian Volvo Masters for the next three years.
The development of new championship standard courses in Thailand continues at an amazing rate, following the slow down after the economic crisis in 1997. At present, there are over 200 courses located throughout the country, although this number will grow to 250 once construction is completed at new courses being built. This investment into golf in Thailand will further enhance the facilities and courses available to visitors.

THE COURSES
Most of the courses are designed with many water features and strategically positioned bunkers, ensuring the golfer has to apply good course management in order to score well.
Below are some of the more famous courses that are most popular with the visiting tourist.
Thai Country Club and Alpine Golf and Sports Club, both in Bangkok, are good examples of very challenging, well-designed courses. Each are kept in immaculate condition and the greens are always kept at a good speed. Alpine, in particular, provides very challenging putting with large sloping greens.
Thai Country Club will host the Asian Tour's season-ending Volvo championships for the next three years, and it has previously hosted the Honda Classic of which world famous golfers Tiger Woods and Ernie Els played. When visiting, you can stand on the back of the dogleg 10th hole and see in amazement the tee shot that Tiger Woods hit when he drove this par four hole.
In 2004, Alpine Golf and Sports Club hosted the Johnnie Walker Championship, a co-sanctioned event between the Asian and European golf tours. Although not an overly long course, it is a very demanding test of golf with the par 3s as particularly difficult as they are long in length, with many bunkers around the well-guarded greens awaiting errant tee shots.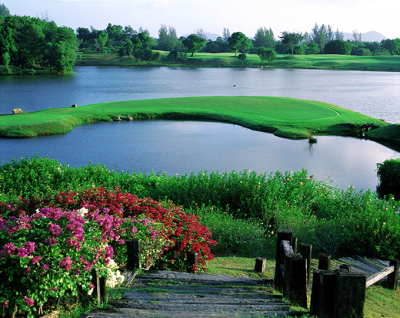 In Phuket, Blue Canyon Country Club also hosted the Johnnie Walker Classic in 1994. There are now two 18-hole golf courses, the Canyon course, and the Lakes course, with the Canyon being the tougher. The signature hole is no. 13, which demands a long tee shot over a canyon followed by an uphill iron shot to the green. Just as you thought you had got through the worst of it, the next hole is an equally challenging par 3, nearly 200 yards downhill to an island green surrounded by water.
Laem Chabang International Country Club and St. Andrews 2000 Golf Club are both located in the Pattaya area and each have quite unique features. Laem Chabang, with 27 holes that were designed by Jack Nicklaus, bear all of his traditional hallmarks that include very large fairway bunkers, numerous water hazards and left-to-right dogleg holes. The greens are very large and sloping in line with the terrain, ensuring maximum care must be taken whilst putting.
The truly unique feature about St Andrews 2000 is the two par 6 holes, measuring over 1700 yards between them off the back tees. Hole number four is certainly the most testing of the two, with a drive that requires a 200-yard carry over water, which then doglegs sharply right when you have to hit over the same expanse of water, albeit in a slightly different direction. Once you have succeeded with your first two shots you are then left with a long, tight, well-bunkered fairway before reaching the green.
There are many other excellent courses throughout Thailand, and more information can be found online at www.golfasian.com.
11 Reasons To Try Thailand

Value for Money
For any visiting golfer, Thailand provides great value for the money. From the wide choice of hotel accommodations and golf, to shopping in the local markets or high-class department stores, to the wide array of dining and nightlife, it is remarkably inexpensive for the quality provided.

The Weather
In the cool season, from November to February, Thailand has a fantastic climate. Light breezes and constant sunshine, it offers great conditions for a golfing holiday. Even in the summer months when it gets a bit warmer they are still acceptable golfing conditions.
The Courses
With many courses being developed by leading professionals such as Jack Nicklaus, Nick Faldo and Greg Norman, you will not be disappointed. In addition, a number of courses have been designed by famous course architects such as Pete Dye and Robert Trent Jones.
The Locations
Thailand is a beautiful country and offers a number of totally different destinations to play golf. Thailand has a location for everyone: he bustling capital of Bangkok; the beautiful mountainous countryside of Chiang Mai; the stunning beaches in Phuket; the bright lights and amazing nightlife of Pattaya; the quieter seaside town of Hua Hin; and the historical and stunning scenery of River Kwai.
The Infrastructure
Golfing in Thailand is fully supported and is one of the top priorities of the Thai Government's Tourism Authority of Thailand (TAT). What this means is that there is excellent information, infrastructure, and regulation to assure the traveling golfer of a high-quality holiday.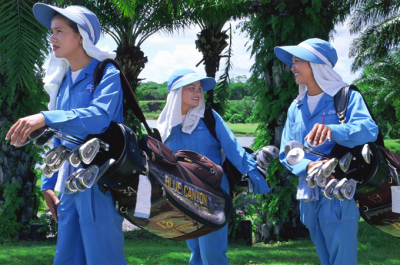 The Caddies
A unique and truly memorable part of playing golf in Thailand are the caddies. Predominantly made up of females, they provide fantastic service anywhere. Greeting you upon arrival at the clubhouse, they will take care of everything before you tee off. Guiding you around the course with a constant smile on their face, they will give you yardages, mark your ball, give you the lines of your putts, and keep you cool when you get a bit hot.
The Accommodations
No matter where you are staying in Thailand, you can find an accommodation to meet your budget. From stunning five-star hotels to small boutique, Thai-style resorts, Thailand is truly set up to cater for the golf tourist.

The People
The Thai people are known to be some of the friendliest in the world. Always with a smile on their face (it is not called the 'land of smiles' for nothing) they are very welcoming towards visiting tourists.
The Food
Thailand offers everything from local Thai dishes to those with other Asian influences. There is a huge variety in choice with the local cuisine, and a wide selection of international restaurants for those who prefer a bit of something closer to home.
The Culture & Customs
Thailand is a unique country with its own identity unrivalled in any other part of Asia. As a predominantly Buddhist country, it is steeped in amazing culture that you will unlikely find anywhere.

Options Other Than Golf
There is so much to do outside golf you will be spoiled for choice. From visiting the amazing temples and shrines to the local night markets and street stalls selling everything imaginable, Thailand is truly a tourist magnet. It offers stunning beaches, beautiful waterfalls and mountains, international style shopping malls, world-class Spa's, boat trips to idyllic islands, elephant trekking … the list is endless.