By RANDY YOUNGMAN
Thanks to Peyton Manning's successful debut for the Denver Broncos, the So-Called Expert kicked off the 2012 NFL season with a narrow victory over Week 1 guest prognosticator J.T. Thompson.
J.T. didn't win the golf balls and other prizes that go to any designated guest who outpicks the SCE in my weekly one-on-one Pigskin Challenge, but I still agreed to be a guest speaker at SeaCliff Country Club's men's club outing next month in Huntington Beach.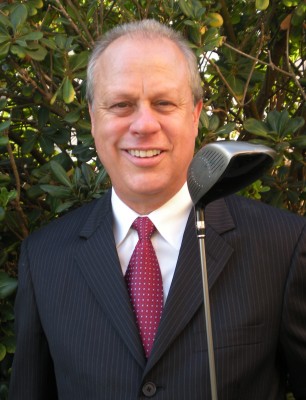 Overall winner in our "California Golf Football Pool & Golf Ball Challenge" was Mike Emerson, who finished 14-2 and won the tie-breaker over two others with the same record. He won a $50 Roger Dunn/Golf Mart gift card, a set of Winn club grips and five sleeves of golf balls. Everyone can join that weekly contest by registering at http://calgolfnews.com/challenge. Select a username and a password, and you're ready to pick the games.
It's also not too late to be spotlighted in my Pigskin Challenge by sending in a golf horror story, anecdote or joke – e-mail them to [email protected] — to earn the chance to go one-on-one against me.
There's always another challenger waiting on the tee, and this week it's Vern Holveck of Whittier, a self-described "hopeless hacker" who was chosen for sending in a brutally honest assessment of his game.
"My hope is to live to 110 so I can shoot my age," Holveck said.
Great line – and, turns out, he wasn't kidding.
Holveck, 65, a retired truck driver who drove a gasoline tanker for a major oil company, says he has been playing for about 20 years and still hasn't broken 100. He plays once or twice a month, usually at Fullerton Golf Course or Coyote Hills in Fullerton.
"I'm mostly self-taught, which was a mistake," Holveck said, laughing. "I have taken a lesson here and there, but I have too many bad habits and I keep reverting to them."
You have a lot of company, Vern.
Holveck, who was born in Pensacola, Fla., when his father was stationed there in the Navy, moved to California when he was young and grew up in Whittier, where he went to Pioneer High. He followed the Rams until they bolted to St. Louis, but now he's more interested in improving his golf game.
"My normal round usually consists of 6 to 10 lost balls, 4 to 5 mulligans, 2 to 4 whiffs, one good putt and a countless amount of swearing," he said. "I usually hit one good shot in a round. Then I think I can repeat it, but I can't. I don't have a repeatable swing like the pros. When I swing, I have no idea where it's going."
That's why Vern says his scorecard is usually "full of snowmen and X's" and why he and usual golf buddy Ken Barr (who recently moved to Arkansas) prefer to "pick up after double-par" to keep from holding up the groups behind.
To illustrate, Holveck described one of his adventures on the par-4, 368-yard first hole at Fullerton GC: "Stroke one: huge hook into the creek. Unplayable. Big slice into the trees. Unplayable. Complete whiff. Change clubs from driver to 5-wood. 130 yards almost straight. 7-wood topped, 30 feet. 7-wood hit OK, 20 feet short of green. Pitching wedge over the green. Sand wedge chunked, 3 inches. Sand wedge hits near the pin but rolls off the front of the green. Putt to 2 feet from cup. Putt stops short. Stroke 13: putt into the cup!"
Didn't have the heart to tell him it was probably a 14, because the whiff counts, too.
Had to ask, though. His best score ever?
"Probably 110," he said. "We don't keep track, but I would say I usually shoot 110 to 120."
Best score on a hole?
"I've had a par on a par-3, but I don't think I've ever had a birdie," he said.
But he keeps hacking and hoping. And he says he still has fun on the golf course. That's all that matters.
May he live to 110!
Ready or not, it's time for this week's NFL predictions, with a lot of golf balls on the line. I hope Vern wins, because it sounds like he could use five dozen new balls.
Here are the So-Called Expert's picks, noting the five games on which Holveck and I disagree:
Chicago Bears (1-0) at Green Bay Packers (1-0): Packers. Do I think Bears are improved? Absolutely. Do I think Packers can lose back-to-back games at Lambeau Field in span of five days? Absolutely not. Aaron Rodgers should get back on track in this Thursday night showdown.
Tennessee Titans (0-1) at San Diego Chargers (1-0): Chargers. (Holveck picked Titans.) Beating rival Raiders on the road was a good start, but I think Chargers' lack of running game will hurt them down the road. Titans QB Jake Locker expected to play wearing shoulder brace.
Detroit Lions (1-0) at San Francisco 49ers (1-0): 49ers. Niners victory at Lambeau was impressive; Lions narrow home victory over Rams was not rout I predicted. 49ers might not be tested until Week 6 against Giants.
Oakland Raiders (0-1) at Miami Dolphins (0-1): Raiders. The only thing I'm sure about is that the Raiders will have a new long snapper after the debacle against the Chargers on "Monday Night Football." Miami in for long season if rookie QB Ryan Tannehill (3 INT in Week 1) keeps starting.
Houston Texans (1-0) at Jacksonville Jaguars (0-1): Texans. To take the next step this season, Houston will have to learn to win consistently on the road against inferior opponents such as this one.
New Orleans Saints (0-1) at Carolina Panthers (0-1): Saints. I think Drew Brees already misses play-calling of suspended coach Sean Payton. Redskins rookie QB Robert Griffin III shredded Saint last week; is it Cam Newton's turn this week? Very possibly, but Saints should win a high-scoring game.
Baltimore Ravens (1-0) at Philadelphia Eagles (1-0): Ravens. My Upset of the Week. (Holveck picked Eagles.) Shaky effort by Michael Vick and Eagles teammates in too-close victory over Browns last week, so I'm going with Ravens on the road after romp over Bengals.
Tampa Bay Buccaneers (1-0) at New York Giants (0-1): Giants. Giants always seem to start slowly and don't take off until everybody starts calling for Tom Coughlin to be fired, so season-opening loss to Dallas wasn't that surprising. Time to regroup.
Arizona Cardinals (1-0) at New England Patriots (1-0): Patriots. QB Kevin Kolb regained starting job in Arizona in win over Seattle, but he certainly isn't going to beat Tom Brady & Co. by himself.
Minnesota Vikings (1-0) at Indianapolis Colts (0-1): Colts. (Holveck picked Vikings.) After throwing three interceptions in his NFL debut at Chicago, Indy's Andrew Luck should settle down at home and pick up his first victory as Peyton Manning's successor.
Cleveland Browns (0-1) at Cincinnati Bengals (0-1): Bengals. I don't think anybody outside of Ohio could get excited about this matchup. Wouldn't be surprised, though, if ever-campaigning Obama and Romney call the winning coach with congratulations.
Kansas City Chiefs (0-1) at Buffalo Bills (0-1): Bills.  Only because the Bills are at home, where they went 5-3 last season. Dog Matchup of the Week. Woof-woof.
New York Jets (1-0) at Pittsburgh Steelers (0-1): Steelers. (Holveck picked Jets as his Upset of the Week.) Mark Sanchez and Jets proved how meaningless their 0-4 record and preseason struggles were, but only for a week. When Steelers get healthy, they'll be fine.
Dallas Cowboys (1-0) at Seattle Seahawks (0-1): Cowboys. Last time Cowboys played in Seattle was 2007, when Dallas QB Tony Romo bobbled the snap on a field-goal attempt to seal a playoff defeat. He finally gets his revenge.
Washington Redskins (1-0) at St. Louis Rams (0-1): Redskins. I almost picked the Rams after their near-upset in Detroit last week, but then I came to my senses. Robert Griffin III for President!
Denver Broncos (1-0) at Atlanta Falcons (1-0): Falcons. (Holveck picked Broncos.) Tough call. Peyton Manning has already re-energized the Broncos, but Atlanta is 26-6 at home the past four years. Hard to go against that stat.
Last week: So-Called Expert 11-5; John "J.T." Thompson, SeaCliff men's club president, 10-6.