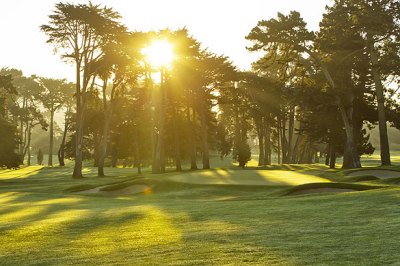 Two-tee starts are not a new phenomenon for golf. The PGA Tour and LPGA Tour have been utilizing them at their tournaments for decades.
But it's only recently that two major championships – U.S. Open and PGA Championship – broke from tradition. The Masters, with its limited field, and British Open, which has the advantage of longer days due to higher latitutde and more sunlight in mid-July than most U.S. locales, still start everyone at the first tee from the opening round.
Ten years ago at Bethpage State Park's Black Course, the USGA decided it was time to break tradition and have players go off the first and 10th tees in the first two rounds. This provided additional time for officials in case of a weather delay to finish rounds before dark. Players were accustomed to the practice, so the switch wasn't dramatic.
This year at The Olympic Club in San Francisco, however, the USGA will break further from tradition with golfers going off the first and ninth tees. Because the ninth tee is right below the clubhouse, it was only logical to have players start either one of the first two rounds there instead of shuttling them to No. 10. The USGA employed this strategy at both the 2004 U.S. Junior Amateur and 2007 U.S. Amateur championships conducted at Olympic.
At U.S. Open Media Day on April 30, USGA Executive Director Mike Davis said starting times will be adjusted 15 minutes for those starting on No. 9. It also means the first ball of the 2012 U.S. Open will be struck at the ninth hole at 7 a.m. PDT. That honor will go to Shane Bertsch, of Parker, Colo.
"I don't think it's going to make a real difference," said Davis. "The reality is everybody has to start on the [second] nine one time. And everybody has to start on the [first] nine before the cut is made. I think it will balance out."
Perhaps.
But it could be a psychological edge for the golfer who begins the opening round at the ninth tee rather than one.
Given that the downhill first hole has been converted from a short par-5 to a challenging 520-yard par-4, making the starting six holes one of the toughest in major-championship golf, it might be easier from a mental perspective to begin the first round at No. 9, a 449-yard par-4. Olympic's inward nine also features two par 5s, the short par-4 18th hole (344 yards) and two par 3s under 200 yards.
The outward nine begins with the aforementioned difficult first hole, plus a 247-yard par-3 (No. 3) and consecutive par-4 holes measuring longer than 480 yards (five and six). The first breather doesn't come until the 288-yard par-4 seventh hole.
"I don't think there's any difference starting at nine or 10," said Davis. "I think those holes are a big difference than starting at No. 1. I think the story is more as hard as the first six holes are, you better have had a pretty good practice-range session versus if you are starting on the ninth, [where] you've got a little cushion to get yourself into the round."
Davis said any score around one or two over par for the first six holes will gain shots on the field. The second nine, however, could yield some birdies, especially with back-to-back par 5s at holes 16 and 17. The 17th hole, a long par 4 for every previous USGA championship at Olympic, will be set up for players to potentially reach the green in two.
"One thing about the par 5s is that they can spread the scoring," said Davis. "You can see a 6 on it and you can see a 3 on it. You don't really see those [spreads] on hard par 4s or even the par 3s."
– Courtesy David Shefter, senior staff writer for the USGA. E-mail him at [email protected].