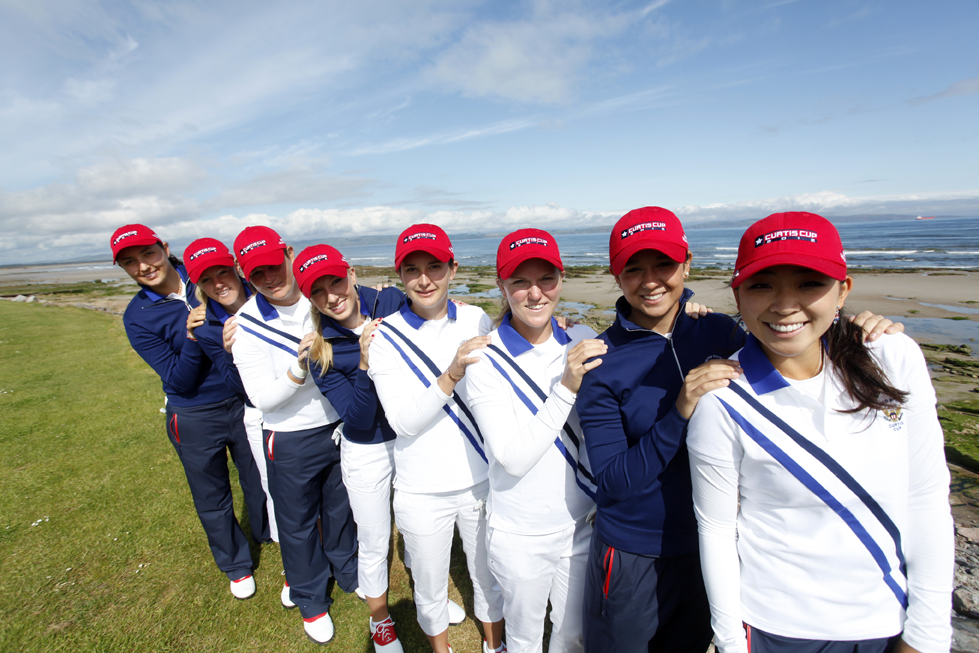 Following Friday morning's foursomes sweep by the United States, Great Britain and Ireland battled back with two afternoon four-ball victories, giving the U.S. a 4-2 lead after the first day of the 2012 Curtis Cup Match at The Nairn Golf Club in Nairn, Scotland.
Amy Anderson, 19, of Oxbow, N.D., leads the U.S. with a 2-0 record, including a victorious four-ball pairing with 2010 U.S. Women's Amateur Public Links champion Emily Tubert, 20, of Burbank, Calif., for the USA's lone afternoon point. The duo combined for seven birdies during the 4 & 3 triumph over Pamela Pretswell, 23, of Scotland, and Charley Hull, 16, of England.
"We just wanted to keep the momentum [from the morning] going," said Anderson, the 2009 U.S. Girls' Junior champion and a rising senior at North Dakota State University. "Obviously, we played so well in the morning and we didn't want to see that go to waste."
In the morning's foursomes round, Anderson and Tiffany Lua, 21, of Rowland Heights, Calif., opened with a birdie at the par-4 first hole and never trailed en route to a 2 & 1 victory over Holly Clyburn, 20, and Bronte Law, 17, both of England.
In the afternoon, Clyburn, one of three returners from the 2010 GB&I Curtis Cup squad, teamed with Kelly Tidy, 20, of England, in a 2 & 1 four-ball victory over Brooke Pancake, 22, of Chattanooga, Tenn., and Erica Popson, 21, of Davenport, Fla.
Pancake and Popson carried a 1-up lead to the inward nine. However, three bogeys in the ensuing four holes threw the match into GB&I's favor.
"The back nine is really tough, especially with the wind, and we kind of lost momentum," said Pancake, who will make her professional debut at next month's U.S. Women's Open. "They took it and went with it. They made great par saves and birdies and we just couldn't get it back."
Lindy Duncan, 21, of Fort Lauderdale, Fla., teamed with Lisa McCloskey, 20, of Houston, Texas, for the morning's quickest victory. The duo took a 6-up lead by the turn against Leona Maguire, 17, of Ireland, and Stephanie Meadow, 20, of Northern Ireland, and held on for a 5 & 4 victory.
The collegiate All-Americans were again paired for the afternoon session, and they built a 2-up lead after seven holes against Law and Amy Boulden, 18, of Wales. However, consecutive conceded holes at Nos. 8 and 9, and a bogey at the ensuing par-5 10th, put the match firmly in GB&I hands.
Only one match on Friday required the full 18 holes. Austin Ernst, 19, of Seneca, S.C., and Pancake trailed for much of their morning foursomes match against Tidy and Boulden. But four GB&I bogeys between the 14th and 17th holes gave Ernst and Pancake a 1-up lead heading to 18. Tidy's birdie attempt to halve the hole missed, and Pancake was able to calmly tap home her par putt to claim the match for the USA.
The day's festivities were marred by an unfortunate incident at the beginning of the final four-ball match. USA Captain Pat Cornett sustained a broken right ankle and was transported to a local hospital for treatment. Past USA Curtis Cup team member and captain Carol Semple Thompson, in attendance as a supporter, served as interim captain for the afternoon's matches.
"I was happy to step in for Pat, and I was given the responsibility to be the one to give advice," said Semple Thompson, a veteran player of 12 Curtis Cup Matches and a USA captain in 2006 and 2008. "Of course, the players are so good that they really didn't need advice, nor did they want advice. So I stayed out of their hair."
Cornett has since been released from the hospital and will resume her captain duties on Saturday.
The Curtis Cup continues Saturday with three foursomes matches and three four-ball matches. The Match concludes with eight singles matches on Sunday.
A point is awarded for each victory and a half-point goes to each side for a draw. The U.S., winners of the last seven contests in the biennial series, needs 10 points to retain the Cup, while GB&I needs 10.5 points to regain the Cup.
– Courtesy Christina Lance, USGA coordinator of championship communications