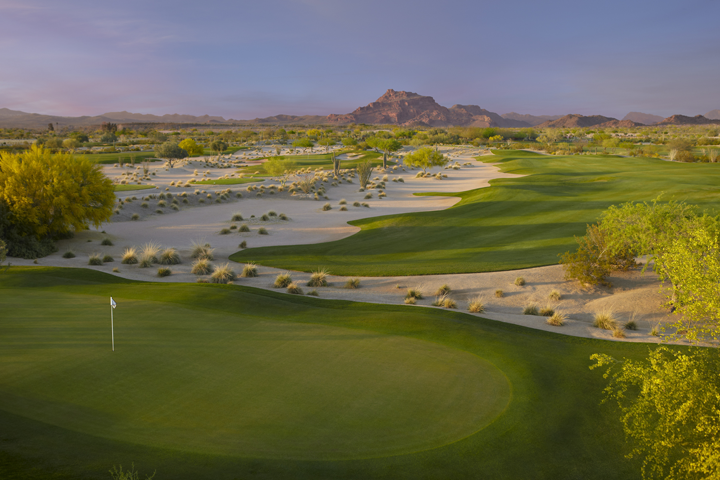 The First Tee of Phoenix and the OB Sports Golf Academy have teamed up to launch the First Tee of Phoenix Elite Academy.
Located at Longbow Golf Club in Mesa, Ariz., the program provides advanced students with instruction designed to make them competition-ready for college-level golf.
"Until now, the students who improved past a certain point needed to reach out to other organizations to continue their progress," said Hugh Smith, executive director of The First Tee of Phoenix. "With the new partnership, students can continue to grow with the same First Tee core values as they set their sights toward competing at the college level."
First Tee of Phoenix directors review applications from the pool of students currently enrolled in the program. Once approved, students receive private coaching as well as practice and playing privileges at Longbow Golf Club.
For more information about the program, visit thefirstteephoenix.org.
All-American Gateway Tour partners with Golden State Tour
The All-American Gateway Tour has partnered with the Golden State Golf Tour to align the two developmental competitive organizations for a 16-tournament schedule throughout the Southwestern United States.
The March-through-September schedule is comprised of 54- and 72-hole events, as well as a season-ending championship in late September.
"Ultimately this alignment ensures full fields and maximum purses, which is something that everyone can agree is a good thing," said Kevin O'Connell, executive director of the All-American Gateway Tour.
The first event of the National Series was a 54-hole event in Arizona in March. The full schedule is posted on the websites of both tours.
For more information, visit all-americantour.com, gatewayprotour.com or gstour.com.
Quail Lodge Resort and Golf Club reopens with special rates
Quail Lodge Resort and Golf Club in Carmel Valley has re-opened its 93-room hotel, completing a resort-wide $28 million renovation.
To celebrate the re-opening, Quail Lodge is offering two specials through April 18. The "Be the First" guestroom rates start at $125; the "Stay and Play" package starts at $195 per night and includes one round of golf and cart for two. Both specials include continental breakfast, parking and high-speed Internet.
"The refreshed Quail Lodge offers beautifully updated rooms and facilities at very attractive rates," said General Manager Sarah Cruse. "The new and improved resort offers the best value on the Monterey Peninsula without sacrificing the comfort and style that our guests are seeking and deserve."
The 18-hole Robert Muir Graves-designed golf course is now managed by KemperSports, which operates golf, resort and sports facilities in 26 states and internationally.
To book a stay, visit quaillodge.com or call (866) 675-1101.
Cleveland Golf introduces revolutionary wedges
Cleveland Golf has introduced the online Wedge Fitting Application that allows anyone – especially club fitters and golf shop employees – to quickly select a proper wedge set.
Once the correct models, lofts and bounces have been determined, wedges can be customized for lie angle, shaft and grip.
A second innovation is the Cleveland Golf Fitting System, which features interchangeable wedges – an industry first. Available on new Fitting Carts and Fitting Displays, these interchangeable wedge heads are available in many loft, bounce, lie angle and model options, and are accompanied by a variety of interchangeable wedge shafts.
Changing wedge heads and shafts is done in a matter of seconds. Plus, interchangeable wedges feature identical specifications to the wedges a player uses on the course.
To use the Cleveland Golf Wedge Fitting Application, visit wedgefitting.clevelandgolf.com.
KemperSports names Black Gold's Scott Heyn GM of the Year
Scott Heyn of Black Gold Golf Club in Yorba Linda has been named the James R. Seeley General Manager of the Year by KemperSports.
Heyn, recognized as an innovator in the golf industry, has launched many revenue-generating programs at Black Gold in the last year.
A seven-year KemperSports staffer, Heyn is continuously finding ways to integrate new technology into his marketing plans to improve sales, attract new customers and increase revenue at Black Gold Golf Club.
Second course at La Costa to undergo renovation
La Costa Resort and Spa is about to begin a second major renovation project.
The project will affect all 18 holes on the current South Course, which will close May 1 for the start of construction. Renamed the Legends Course, the new layout will reopen by the end of the year.
While the routing by renowned golf architect Dick Wilson will remain intact, the multifaceted makeover includes a complete reconstruction and redesign of all 18 greens, as well as a thorough resurfacing of tee complexes, all-new bunkering and the planting of paspalum turfgrass in the fairways.
Once complete, the Legends Course will be more spacious than the Champions Course, with a more open look, while providing a complementary set of strategic challenges and a variety of visual encounters.