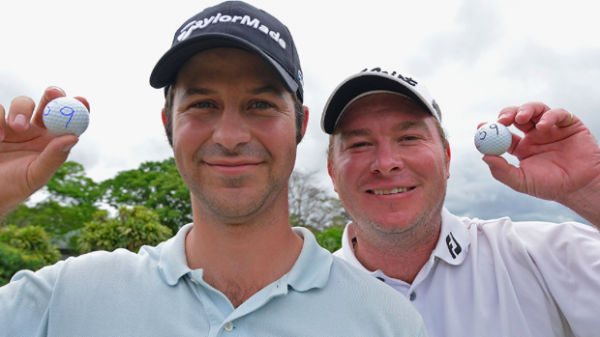 When is a 59 not a 59? Or two of them, for that matter.
Jorge Campillo of Spain and Colin Nel of South Africa posted rounds of 11-under-par 59 within 10 minutes of each other in round two and were tied for second in the Nelson Mandela Championship at Mt. Edgecombe Country Club in Durban, South Africa.
However, the scores were deemed unofficial per European Tour rules because players were allowed to lift, clean and place their golf balls in the fairway because of heavy rain that has softened the course.
There has never been an official 59 in Euro Tour history.
Daniel Brooks of England, the first round leader at 62, had four birdies through 11 holes in round two before play was halted because of darkness and held a one-stroke lead over Campillo, Nel and Matthew Baldwin of England, who shot 62.
Campillo, the 2008 Big Ten Conference champion while at Indiana, carded seven birdies and eagles on the fourth and 12th holes.
"We play other par 70s on tour, but you still have to shoot 59 and I'm pretty happy with the way I finished," said the 27-year-old Campillo, whose best finish as a pro was second in the 2012 Avantha Masters in New Delhi, India. "I was 10-under after 14 holes and had two tough par fours and a tough par three coming in.
"I was never (that) close to 59 before, but in the KLM Open I was eight-under with three holes to go on a par 70. Finishing with three birdies would have put me on 59, but I finished par-par-bogey. That helped me a lot today, because finishing good was important and I did it."
Nel, like Campillo winless on the Euro Tour, appeared to be on his way to missing the cut after opening with a 77 that included only one birdie and two double bogeys, but he recorded nine birdies and an eagle on the 12th hole in the second round.
"The putter got hot, I won't lie," said Nel, 30, whose best results as a pro are three fourth-place finishes. "To have 22 putts says it all, 11 on each nine. As a pro you dream of having 22 putts, so it all kind of fell into place.
"I hit the ball well, and my irons shots to the greens and driver were good. I got a bit nervous coming down 16 and 17. Yesterday I made double at both holes, missing it right. I was happy to get those two tee shots out of the way."
The start of the tournament was moved up to Wednesday because the funeral of former President Nelson Mandela of South Africa is set for Sunday, and the event has been shortened to 54 holes because of rain the first three days.