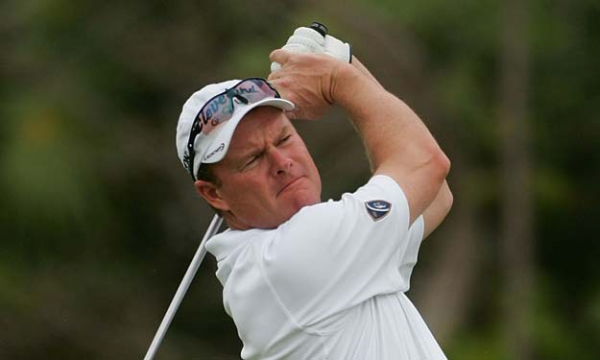 Joe Durant two-putted for a birdie on his final hole of the day, No. 9, to wrap up a 6-under 65 and take a one-stroke lead over Dan Forsman after the first round of the 75th Senior PGA Championship at the Golf Club at Harbor Shores in Benton Harbor, Mich.
Durant, playing in his third Champions Tour event after turning 50 on April 7, made a bogey on his first hole, No. 10, before reeling off seven birdies the rest of the way.
"I just had a nice rhythm," said Durant, who has won four times on the PGA Tour, but not since the 2006 Funai Classic at Walt Disney World. "I didn't try to do anything fancy. I just went from point A to point B and hit a lot of good shots. It worked out to be a nice round.
"I guess there's that part of your ego that still thinks you can play on the regular tour and you still want to prove you can do that. I know my future is more out here than out there, but I would just like to play out there a little bit. It doesn't get any easier out there, that's for sure."
Forsman, a three-time winner on the Champions Tour who is battling an arthritic left hip, carded four birdies in his last seven holes and made his only bogey at No. 7 while opening with a 66.
Brad Faxon holed three birdie putts of more than 25 feet and was third with a 67.
Mark Brooks, who captured the 1996 PGA Championship at Valhalla on the PGA Tour, recorded five birdies in a 68 and was tied for fourth with P.H. Horgan III, who started on the front nine and bounced back from bogeys at Nos. 17 and 18 with three birdies on the front.
Two-time Senior PGA champion Jay Haas birdied four consecutive holes through No. 12 in a 69 and was tied for sixth with 11 others, including Colin Montgomerie of Scotland and Jeff Maggert.
Kenny Perry, who has won in his last three starts in Champions Tour majors including the Regions Tradition last week, started with a 70 and was tied for 18th with 12 players, including Duffy Waldorf of Northridge and UCLA, Tom Watson of Stanford and John Cook of Ranchos Palos Verdes.