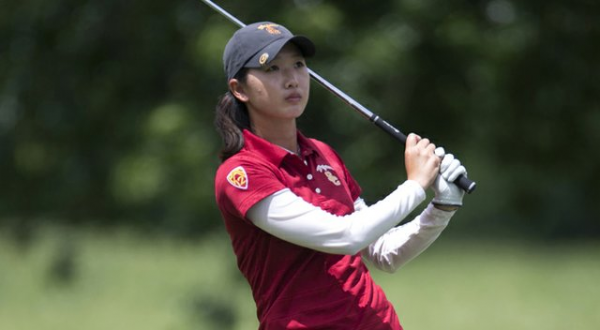 Doris Chen of USC captured the individual title, but Duke rallied on the back nine to dethrone the Trojans in the NCAA Women's Championships at Tulsa Country Club in Tulsa, Okla.
The Blue Devils and the Trojans traded the lead throughout the final round before Duke claimed his sixth national title, the last in 2007, with a score of 293-285-278-274–1130, 10-over-par, while USC finished at 293-291-278-270–1132.
"Obviously, I knew we had a deficit we had to make up," said USC Coach Andrea Gaston, whose team trailed by six shots entering the final round. "We hadn't played the front 9 well all week and I knew we needed a fast start. They figured it out today and played incredibly well. Doris really got it going and turned at 4-under and hit some great shots. She really had some good momentum.
"We definitely had a chance and the momentum was in our favor, but Duke is a great team and did not bow down to our play. The back 9 they obviously put up some good scores as well and unfortunately we couldn't catch them."
UCLA was third at 291-293-283-278–1145, followed by Oklahoma at 288-287-291-281–1147 and Arizona State at 287-291-279–1150.
Stanford finished in a tie for 18th at 300-286-294-289–1169 and Cal wound up 22nd at 296-305-289-290–1180.
Chen, a junior from Bradenton, Fla., posted a score of 67-72-68-67–274, overcoming a double-bogey 6 on the 11th hole, to follow teammate Annie Park as the individual national champion and become the Trojans fifth NCAA champ. The others were Dewi Claire Schreefel in 2006, Mikaela Parmlid in 2003 and Jennifer Rosales in 1998.
"I was glad that my putts were finally falling," Chen said. "The couple rounds before, I had stuck my shots close to the flag, but wasn't able to putt in from a medium distance. I hit some great shots today and my putting was there, too. Most of all I kept myself composed and enjoyed the game."
Celine Butler of Duke was second at 70-70-67-69–276, followed by Lauren Kim of Stanford, who held the early lead before a double bogey and a bogey down the stretch left her at 67-71-72-67–277.
Ally McDonald of Mississippi State finished at 73-68-71-67–279 and tied for fourth with Stephanie Meadow of Alabama, who wound up at 76-69-68-66–279.
Louise Ridderstrom of UCLA tied for seventh at 72-72-68-70–282, Kyung Kung of USC tied for 16th at 77-74-67-67–285, Nicola Roessler of Cal tied for 23rd at 70-75-71-70–286, Karen Chung of USC tied for 28th at 74-70-73-71–288, and Mariah Stackhouse of Stanford tied for 33rd at 75-69-74-71–289.
Top-ranked Alison Lee of UCLA tied for 38th at 74-77-72-67–290 and defending national champion Park tied for 77th at 75-75-76-71–297.