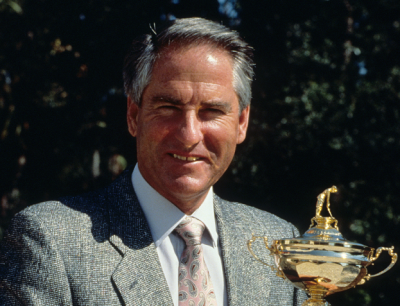 Two-time PGA Champion Dave Stockton, the U.S. Captain in one of the most dramatic finales in Ryder Cup history, a tireless leader in philanthropic efforts, and one of the most sought-after instructors in golf, has been named the 2012 recipient of the PGA Distinguished Service Award.
A California native, Stockton, 70, will receive the Association's highest annual honor in conjunction with the 94th PGA Championship at The Ocean Course on Kiawah Island, S.C. The award presentation is Aug. 8, at the North Charleston Performing Arts Center in Charleston, S.C.
The PGA Distinguished Service Award, inaugurated in 1988, honors outstanding individuals who display leadership and humanitarian qualities, including integrity, sportsmanship and enthusiasm for the game of golf.
"Dave Stockton's imprint upon golf extends beyond the boundaries of a course where he excelled at the highest level," said PGA of America President Allen Wronowski. "He has coached many of the world's finest men and women players to success, and has selflessly supported charitable efforts that benefit higher education, the underprivileged and our nation's heroes. A champion in so many ways, we are honored to bestow upon him the 2012 PGA Distinguished Service Award."
Born in San Bernardino, the son of a golf professional, Stockton devoted himself to golf after surviving a surfing accident at age 15 that left him with a broken back. He followed his father, Gail Stockton, in athletic success at the University of Southern California by earning All-American honors and winning the then-Pacific-8 Conference Championship. Stockton graduated in 1964 with a degree in general management, turned professional and married California beauty queen Cathy Hales.
"I'm very excited about this honor, which is totally unexpected. My first thought was, 'Why me?'" said Stockton, who resides in Redlands, Ca. "I have been fortunate to have many good things happen to me in golf, with the biggest honor serving as Ryder Cup Captain. I believed in giving back through golf. I had a gift as a motivational speaker and used it to help others. I have tried helping people gain a better understanding about what golf can do to help them feel better about themselves."
Utilizing his putting prowess and short-game skill, Stockton captured the 1970 PGA Championship at Southern Hills Country Club in Tulsa, Okla., and the 1976 PGA Championship at Congressional Country Club in Bethesda, Md. He was a member of four victorious U.S. Ryder Cup Teams, competing in 1971 and '77, and serving as Captain in 1991, as the Americans held on to win by a half-point over Europe. The Ryder Cup was not decided until the final putt in the final singles match at The Ocean Course on Kiawah Island. Stockton also assisted U.S. Captain Paul Azinger in 2008 when the U.S. triumphed at Valhalla Golf Club in Louisville, Ky.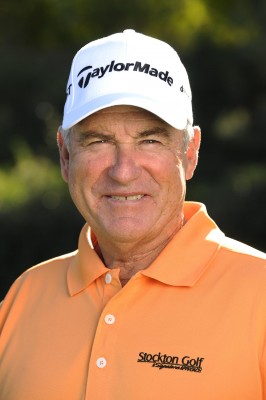 Stockton won 10 events on the PGA Tour between 1967 and 1976. After turning 50 in 1991, he built one of the more impressive Champions Tour records, winning 14 times, including the 1992 and '94 Senior Players Championship, and the 1996 U.S. Senior Open. He was the 1993 and 1994 Champions Tour Player of the Year.
A popular attraction at corporate outings – playing in more than 80 per year over a 30-year span – Stockton also was virtually "on call" to support and aid charitable causes.
"I was neglecting my own game," said Stockton, "but at the same time I really felt that through the clinics and the golf I was reaching and I was teaching a lot of people."
Charitable events that Stockton has been heavily involved over the past 25 years include: the Bighorn Institute Golf Classic, which benefits research and conservation efforts; the USC Scrambler Golf Classic, the University of Redlands Golf Classic; the Dave Stockton Coyote Classic, supporting scholarships for student-athletes at Cal State San Bernardino; the U.S. Marines Scholarship Foundation; the George Archer Memorial Foundation for Literacy; the Children's Fund of San Benardino; the Stater Brothers Charities Dave Stockton Heroes Challenge; the Dallas Patriot Award Dinner and Medal of Honor Golf Classic; and the I Believe Walk benefiting cancer research. Stockton's wife, Cathy, is a cancer survivor.
Begun in 2008, and conducted this past March in Riverside, Ca., the Stater Brothers Charities Dave Stockton Heroes Challenge has raised nearly $3 million, making it the largest golf fundraiser in the region. Stockton teamed with Stater Brothers Supermarket Chairman and CEO Jack Brown in an event honoring Congressional Medal of Honor recipients. Tournament funds benefit hunger relief, children's health and well-being, education for both youth and adults, elderly cares and services for our nation's veterans.
"I never served in the military, but my dad served in World War II," said Stockton. "I believe that you can thank them for what they have done for our country and giving back. I never would have met our Medal of Honor recipients if it had not been through golf."
In 2009, Stockton changed his focus to teaching putting and the short game, creating Stockton Golf with his sons, teaching professionals Dave Jr. and Ron, with his clients ranging from amateurs to many of the world's premier players. The student list, past and present, include Tiger Woods, Phil Mickelson, Rory McIlroy, Adam Scott, Justin Rose, Matt Kuchar, Morgan Pressel, Suzann Pettersen, former LPGA star Annika Sorenstam and current LPGA sensation Yani Tseng. In a span of one month in the summer of 2011, McIlroy went on to win the U.S. Open and Tseng captured the U.S. Women's Open and Women's British Open.