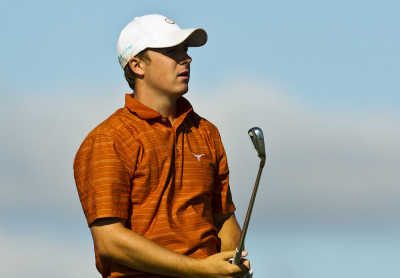 This year's 10 semifinalists for The Ben Hogan Award have been selected.
The most prestigious award in men's college golf, The Ben Hogan Award is presented annually to the top men's NCAA Division I, II or III, NAIA or NJCAA college golfer taking into account all collegiate and amateur competitions during the past 12-month period. The Ben Hogan Award Selection Committee represents leaders in professional, amateur and collegiate golf.
In alphabetical order, The Ben Hogan Award semifinalists are: Blayne Barber (Auburn, Jr.), Julien Brun (TCU, Fr.), Patrick Cantlay (UCLA, So.), Dylan Frittelli (Texas, Sr.), Corbin Mills (Clemson, Jr.), Cheng-Tsung Pan (Washington, Fr.), Patrick Rodgers (Stanford, Fr.), Jordan Spieth (Texas, Fr.), Justin Thomas (Alabama, Fr.) and Chris Williams (Washington, Jr.).
The list will be pared down to three finalists on Thursday, May 10. The three finalists will then attend a black-tie banquet at Colonial Country Club on Monday, May 21, where the winner will be crowned prior to the start of the PGA Tour's Crowne Plaza Invitational.
The award, which was first issued in 1990 and also included academic achievement in its original list of standards, revised its criteria for the 2001-02 collegiate season to its current standard of honoring the outstanding amateur collegiate golfer.
Since that time, the winners have been: D.J. Trahan (Clemson, 2002), Ricky Barnes (Arizona, 2003), Hunter Mahan (Oklahoma State, 2003), Bill Haas (Wake Forest, 2004), Ryan Moore (UNLV, 2005), Matt Every (Florida, 2006), Chris Kirk (Georgia, 2007), Rickie Fowler (Oklahoma State, 2008), Kyle Stanley (Clemson, 2009), Nick Taylor (Washington, 2010) and Peter Uihlein (Oklahoma State, 2011).
In addition to the above list of winners, the prestigious list of previous semifinalists includes: Brian Harman, Dustin Johnson, Anthony Kim, Spencer Levin, Graeme McDowell, Webb Simpson, Camilo Villegas and Nick Watney among others.
To find the latest information on The Ben Hogan Award, its candidates and its previous winners, visit www.facebook.com/BenHoganAward .