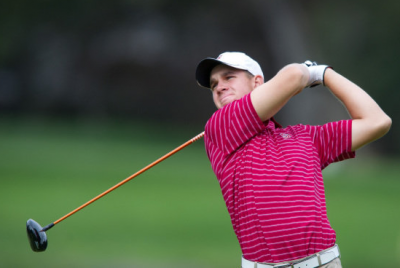 Santa Cruz, Calif.—–Solid play on the par-5 holes the entire tournament propelled #1-ranked University of Texas to victory at the 66th Western Intercollegiate men's golf tournament hosted by San Jose State University at the Pasatiempo Golf Course.
The Longhorns' six players combined to go 19-under par on the three par-5 holes on the par 70, 6,615-yard course. Julio Vegas and Toni Hakula each were five-under par playing the nine par-5's over 54 holes.
Texas finished with a 10-over par 1,060 to win its seventh tournament of the season. Stanford was second at 1,064. UCLA was third at 1,067. USC at 1,089 and California at 1,100 rounded out the top five teams in a 14-team field that included six of GolfStat's top-15 teams nationally.
Stanford's Patrick Rodgers shot a final round 68 for a 206 total and individual honors. Rodgers had a bogey-free final round and birdied the 13th and 18th holes for the win.
"Obviously, I know there is a lot of history behind this tournament and Pasatiempo is a great golf course. To be able to come through this week with such a great field that includes the top three amateurs in the world, it feels really great," said Rodgers. "I knew Justin Shin was 5-under par with three holes to play and I didn't know how he finished. So I thought I needed 1-2 birdies on the last three holes. I made two really great par putts on 16 and 17. He had some tough holes play. He might have made a bogey. I was just concentrating on us as a team. I was trying to make birdie (on 18) to see if we could pull this out as a team. After I made the putt (on 18 for birdie), it was a good feeling."
New Mexico State's Justin Shin and UCLA's Patrick Cantlay tied for second at 208. Shin, the second-round leader was in the lead through 15 holes at five-under par, but bogeyed his last three holes, holes 10 through 12, to finish with a final-round 71. Cantlay, the low amateur at the 2012 Masters one week earlier, matched Rodgers with a 68 or his 208.