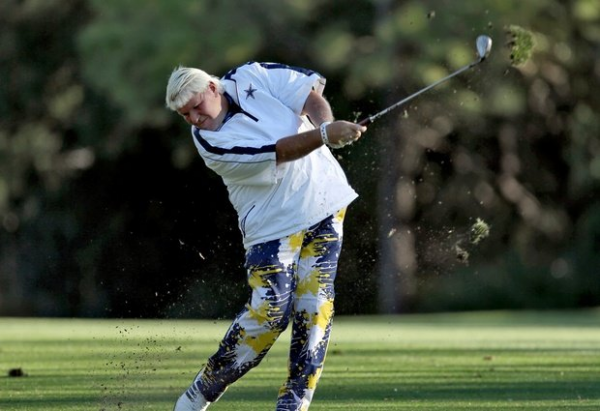 The question of why John Daly somehow keeps getting sponsor exemptions has been asked before, but last week they were asking it all at once on the Golf Channel, on sports talk shows and in newspaper columns.
The 47-year-old, who is trying to survive two-plus more seasons and make it to the Champions Tour, posted at least one score in the 80s for 17 consecutive years on the PGA Tour.
In round two of the Valspar Championship last Friday he outdid himself, shooting 19-over-par 90 after missing a 4-foot putt for par on the final hole of the Copperhead Course at Innisbrook Resort in Palm Harbor, Fla.
"I didn't give up," said Daly, who finished at 74-90–164 to miss the cut by 19 strokes. "I tried. … I just played awful."
Especially on the par-4 16th hole, where he made a 12 in the second round.
Daly hit his drive into the water and took a drop that left him with 270 yards to the green. He then hit two more balls into the water. Once he got over the water, he needed three chip shots to reach the green, where he one-putted.
"You're going to have big scores on holes," said Daly, who took 37 putts in the round. "That's just the way golf is.
"I got two good drops and hit a heel-cut 3-wood into the water. Then I shanked a 7-iron, chili-dipped a chip, it was buried, didn't get that out. … It was a good 12. I got up and down for 12."
Bad as it was, it was six shots off his worst hole, an 18 on the sixth hole in 1988 at Bay Hill.
Daly, who has played around the world on sponsor exemptions for the past eight years, wasn't sure where he might play next.
Sure, the guy captured the 1991 PGA Championship at Crooked Stick and the 1995 Open Championship at St. Andrews in a playoff over Costantino Rocca of Italy.
It is just sad to see a two-time major champion becoming a sideshow.