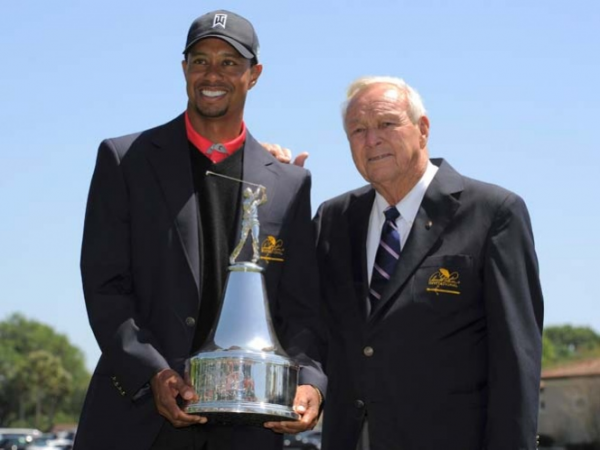 Normally, the buzz heading into the Arnold Palmer Invitational would be whether two-time defending champion Tiger Woods might win the title a ninth time, breaking Sam Snead's record of eight victories in the Greater Greensboro Open.
Instead, it is all about whether Woods' back will hold up this week after 10 days of rest and treatment.
Two weeks ago, Woods experienced back tightness for the second consecutive Sunday, and he closed with a 6-over-par 78 in the TPC Blue Monster to finish as an also-ran.
"Normally things like this, you shut it down for a while and then get back up and get the strength and everything developed around it," Woods said before he left Doral, after he had only three days between the Honda Classic and the WGC-Cadillac.
"It will be nice to take this week off and get everything ready for Bay Hill.
… I think it is important I take something out of my practice week and put it into play at Bay Hill. Getting a little more consistent will be the major goal there.
"The game is all there, so it will be fine, and I have three weeks and a tournament ahead of me before I have to get worried (about the Masters)."
Woods, 38, would be fine if he were 50 and playing on the Champions Tour, because three rounds seems to be his limit right now.
In his three stroke-play events on the PGA Tour this year, he missed the 54-hole cut in the Farmers Insurance Open, withdrew because of the back issue after 13 holes of the final round in the Honda, then failed to make a birdie in the final round on the TPC Blue Monster.
"If I feel good, I can actually make a pretty decent swing," said Woods, who has Saturday figured out, shooting 65 in round three at PGA National and 66 exactly a week later at Doral. "I actually can make some good swings and shoot a good score, but if I'm feeling like this, it's a little tough.
"I mean, it was just one thing that set it off, and as I say, I had a quick turnaround. … Just let me get through this … get some treatment and we'll assess it as time goes on."
Despite his slow start, it would be premature to write off Woods at this point.
He claimed five victories last year to regain the No. 1 spot in the World Golf Rankings, bringing him within three of Snead's record of 82 PGA Tour titles.
However, Woods intentionally shut things down completely during the short offseason and planned to work his way into 2014 slowly because he was worn out at the end of a long 2013.
Of course, he wasn't planning to do it this slowly. He needs to find something at Bay Hill, as he has so often before.
"That's pretty special company to be associated with," Woods said of Snead's record. "Sam won on tour in his 50s, and that's an amazing feat. He won consistently for over 30 years, and it's unbelievable to have a playing career that long. Sam was a fantastic player and a great guy. For me to come close in about 20 years to what he accomplished is something I'm proud of."
If Woods can keep his back healthy, Bay Hill might be the place to begin his push toward the Masters next month.
"It's a course that really fits my eye, and there's something very special about it being Arnold's tournament," said Woods, who lived in the Orlando area for a number of years but now resides in Jupiter, Fla. "I want to win every time I play, but maybe the association with Arnold makes you want to win a little more."
Woods won in four of his last five appearances at Arnie's place. He also won four consecutive titles at Bay Hill from 2000-2003.
To win this week, he would have to beat a formidable field that includes No. 2 Adam Scott, No. 3 Henrik Stenson of Sweden, No. 4 Jason Day, No. 7 Justin Rose, No. 9 Zach Johnson and red-hot 23-year-old Patrick Reed, who has won three of his past 14 events.
However, Woods' biggest opponent will be himself.
–Story courtesy of The Sports Xchange, TSX Golf Editor Tom LaMarre