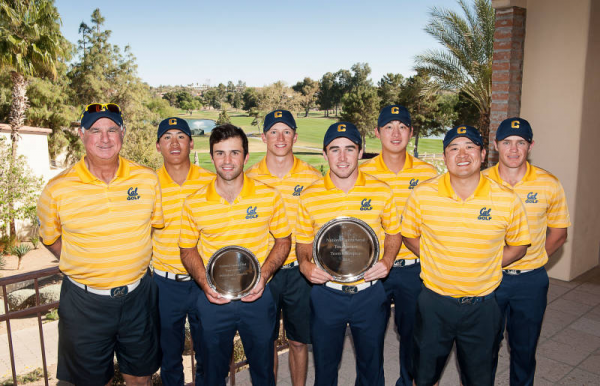 Joël Stalter of Cal shot 6-under-par 66 in the final round to win the individual title by three strokes and led the third-ranked Golden Bears to victory in the National Invitational Tournament at OMNI Tucson National Resort.
Stalter, a senior from Amneville, France, who is a member of the French national team, posted a score of 68-71-66–205, 11-under-par, and collected the third victory of his college career.
"It was awesome for the team to win after a tough tournament our last time out," Stalter said, referring to an eighth-place finish the Southern Highlands Collegiate Masters in Las Vegas.
"The individual win was like the cherry on top of the cake. I could not be happier. It was a big round for me today and I'm really happy I pulled it off."
Bryson Dechambeau of SMU shot 68-72-68–208 and tied for second with Wyndham Clark of Oklahoma State, who also finished at 68-72-68–208, and Harry Higgs of SMU, who wound up at 71-67-70–208.
Brandon Nagy of Cal was fifth at 64-77-68–209, Xavier Schauffele of San Diego State tied for sixth at 71-69-70–210, and Grant Forrest of the University of San Diego tied for eighth at 71-71-69–211.
Rounding out the Cal lineup, Keelan Kilpatrick tied for 14th at 69-69-75–213, and James Yoon shot 70-71-73–214 to finish in a tie for 17th that included teammate Michael Weaver, who totaled 67-70-77–214.
The Golden Bears claimed its sixth victory of the season with a score of 268-281-282–831, 33-under-par, to win by 15 shots.
"We got off to a great start in this tournament and then played steady golf over the final two rounds," Coach Steve Desimone said. "This was a complete team victory. It was great to see all five guys in the lineup finish in the top 20.
"Hats off to Joël for a great round today. It was a nice win for him."
Second-ranked Oklahoma State carded a score of 282-288-276–846 and tied for second with SMU, which came in at 290-275-281–846.
San Diego State wound up at 284-284-283–851, and tied for fourth with UNLV, which totaled 284-287-280–851.
Host Arizona finished seventh at 281-290-291–862, and University of San Diego was 10th at 290-290-292–872.