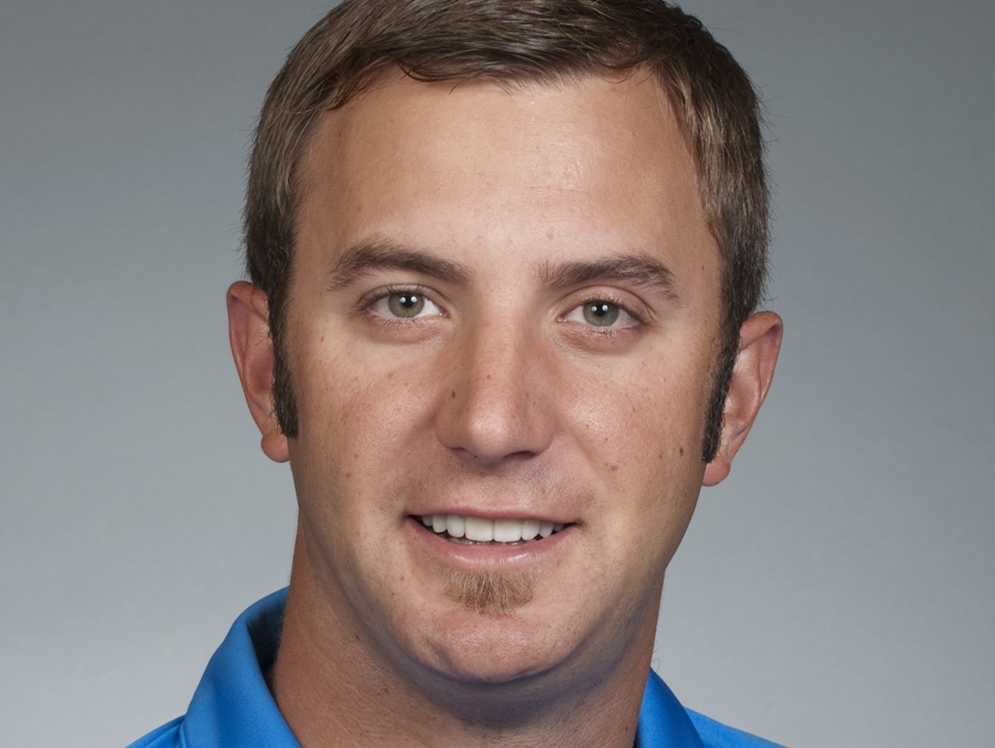 Everything about Dustin Johnson oozes cool. Not the aloof kind, but the easygoing and relaxed kind that many guys would love to emulate. Then he stands over a golf ball and unleashes his long and lanky frame into a twisting and coiling motion not often seen in today's cookie-cutter swings. Good luck emulating that.
But Johnson's move-on and get-over-it attitude has served him well in his brief stint on the PGA Tour. His six victories, including one this year at the St. Jude Classic, are the most for any player currently in his 20s, and his quick success and athletic approach has made him a fan favorite and a marketer's dream. But that hasn't spared him from scrutiny, especially regarding his near-misses at major championships that include a head-scratching incident at the 2010 PGA Championship when he accrued a two-stroke penalty on the final hole for grounding his club in a bunker.
"I'm still young and I have a lot more majors to play so I'm not really worried about it," Johnson said. "Obviously at the PGA everyone knows what happened, but people forget that I birdied 16 and 17 to take the lead."
The South Carolina native who recently relocated to Jupiter, Fla., has a chance to rectify his PGA Championship gaffe this month when the tournament is played in his home state at Kiawah Island. Dustin Johnson winning the year's final major at a course known to give even the best golfers fits. How cool would that be?
This is our Cool Issue. What do you think is cool about golf?
I think everything is cool about golf. When you look at the trends as far as the younger players it's really becoming an athletic sport. The clothes are a big statement and it's definitely becoming a lot more trendy. The kids are dressing like Rickie [Fowler] or me. I was playing a charity event in Canada and my volunteer caddy that was carrying my bag had all my same gear on. I thought it was pretty cool.
How much say do you have with your image?
Obviously the guys that are part of my team, we're all on the same page and we discuss what we want to portray. Most of the time, the sponsors know what they want to do and we might want to clarify a little bit, but we mainly portray an athletic side for me.
What sport or activity do you participate in that gets you as excited as when you play golf?
I like playing basketball a lot, but I haven't played much because of my knee and I'm really itching to get back into playing. Other than that I'm into fishing. I love fishing, especially living down here in Jupiter now. I can get to the water in like 15 minutes. I just got into deep-sea fishing. I grew up on Lake Marion, fishing freshwater. Now I got a new boat and I'm heading out for the big fish.
Is it easier now to defend golf as a cool sport as compared to when you started?
I think it's passed. Everyone I think has played or currently plays golf and probably the coolest thing about it is that all the other athletes play it. Football players, basketball players, baseball; they all play it. I've met so many other athletes and have become friends with them because of golf. I think the perception of golf has really changed.
Who do you feel has the best undiscovered personality on the PGA Tour?
I think that Matt Kuchar is probably the most hilarious person out there and you wouldn't think that right off the bat. He's just super funny.
You're in a season where you've already won, but with your injuries is it hard to feel positive about the year so far?
I would have to say I'm pretty pleased with it. I had surgery in the off-season and then I came back and played pretty well and then I hurt myself again right before the Masters. I haven't played very much this year, but the tournaments I've played I'm pretty happy with. Definitely happy about winning at Memphis and I had some other chances. I can't really complain even though it has been a tough year.
Were you at all surprised at your victory at the FedEx St. Jude Classic?
Well, not surprised. I was practicing really hard going into Memorial and I played good golf there. I was a little rusty and made some mistakes I would not normally make. So, going into Memphis it was really about getting more reps in and then just playing more golf.
You've had some near misses at major championships. Is it fair that those near misses get talked about as much as your victories?
I've had a lot of success with majors, and the first time I had a lead at Pebble Beach [in the 2010 U.S. Open] I was doing it for the first time and I learned so much from that. I learned a lot about myself and my swing in those situations. Majors should be scrutinized. Basketball is about winning the NBA Championship and a lot of guys' careers are based on winning those types of championships.
The Ryder Cup is this year and you're right in the mix. Would it make a difference between making the team in the top eight or as a captain's pick?
I would rather make it in the top eight, but if I get in as a captain's pick I'll be just as excited.
How different do you think the experience would be playing in the U.S. as compared to playing in Europe?
The last team events I've played have been outside the U.S. so I really want to play on our home turf.
You've had success playing Pebble Beach, winning back to back in 2009-10, but you've also had success on other West Coast courses. Do you think it's the courses or the start of the season that gets you going?
I just enjoy playing the courses. I just really play well on those courses out there.
What part of your golf game will you always need to work on?
The short game and putting will always need the most work. In putting, it's all setup and the path of the stroke. My putter tends to always get a little too inside. But when I'm over a putt I try not to think about anything.
How do you think the new PGA Tour season changes will affect your play?
I don't think it's going to make a difference for me. It's still the same courses at the same time, but I do think you will see other guys playing more.
The media coverage for all sports, including golf, seems to project a player's career before it's over. What is your biggest challenge in dealing with media expectations?
It doesn't bother me. I don't care; I like it. I wouldn't even know what the expectations are.
They're to be a major championship winner or a multiple championship winner.
(laughing) Those are my expectations, too, Boss.
You have the most PGA Tour wins among players in their 20s. Does that stat inspire you?
I just want to win as many tournaments as I can. All I try to do is give myself a chance to win; that's all I want. If I have a chance to win, I'm happy.
– BY JIM DOVER
Dustin Johnson
Born: June 22, 1984.
Birthplace: Columbia, S.C.
Residence: Jupiter, Fla.
College: Coastal Carolina University.
Turned professional: 2007; earned 2008 PGA Tour card by finishing tied for 14th place at Qualifying School.
PGA Tour victories: 6.
National teams: Presidents Cup, 2011; Ryder Cup, 2010; Walker Cup, 2007, 2009; Palmer Cup, 2007.
Gear: TaylorMade and adidas.