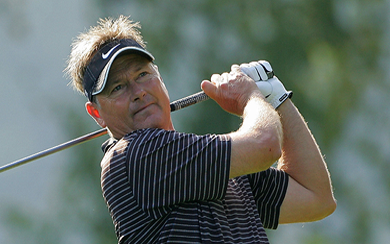 By Tom LaMarre
San Francisco, CA (Nov. 7, 2010) — John Cook played nearly as well as Bernhard Langer this season, with one notable exception: the guy they call Cookie had not won on the Champions Tour.
As Langer wrapped up an incredible season, Cook finally broke through to win the Charles Schwab Cup Championship by two strokes over Michael Allen at TPC Harding Park in San Francisco.
"It would have been disappointing to me this year if I didn't win," said the 53-year-old Cook, who finished in the top 10 on 13 occasions this season. including seven times in the top three before winning the season finale.
"With the exception of about three, four weeks, I played very well and had numerous chances. This is the Champions Tour and it's about winning. People remember who your champions are and it's about winning out here."
Langer, who won five times this season including two major championships, tied for third this time, but it was enough to clinch the season-long Charles Schwab Cup and the $1-million annuity that goes with it.
Fred Couples, whose 67.96 scoring average broke the Champions Tour record of 68.59 set by Hale Irwin in 1998, wound up second in the Schwab Cup standings and Cook was third.
"Looking back it's been an unbelievable year," said the 53-year-old from Germany, who captured the Senior Open Championship and Carnoustie and the U.S. Senior Open at Sahalee on consecutive weeks.
"The thing I (hadn't) done so far is win the Schwab Cup, so this was a big deal for me. To come out on top is a great feeling and it's worth all the hard work over the years. I came out here three years ago trying to be one of the dominant players. I had no clue that this was going to happen."
Cook, of Corona del Mar and Ohio State, shot 64-69-67-67–267, 17-under par, and collected $440,000, claiming his fifth victory on the Champions Tour, but the first since he won the same tournament a year ago at Sonoma Golf Club, about an hour north in California's renowned Wine Country.
Allen, of nearby San Mateo and the University of Nevada-Reno, finished at 69-69-61-70–269.
"I never really got it going (in the final round)," said Allen, who took the lead by shooting with his course-record 61 in round three. "I never got going on the range. I wasn't hitting that great and I just kind of struggled. I think I changed sweaters and jackets like 25 times.
"(Cook) really had that blade rolling. On that front nine there were a lot of two-shot swings that made it tough for me to come back, especially when I wasn't firing on all cylinders."
Langer totaled 67-69-67-69–272 and tied for third with David Frost of South Africa, who wound up at 68-68-65-71–272.
Tom Lehman of Scottsdale, Ariz., and the University of Minnesota carded a score of 66-68-69-70–273 and tied for fifth with Tom Pernice Jr. of Murrieta and UCLA, who came in at 65-71-68-69–273.
Couples, of La Quinta and the University of Houston, finished at 69-69-70-67–275 and tied for 10th with Corey Pavin of Oxnard and UCLA, who shot 68-68-71-68–275.
Mark O'Meara of Mission Viejo and Long Beach State tied for 12th at 70-65-69-72–276, Olin Browne of Occidental College in Los Angeles and Hobe Sound, Fla., tied for 17th at 67-70-73-71–281, and Mike Reid of Provo, Utah, and  BYU was 19th at 74-71-71-66–282.
Dan Forsman of Provo and Arizona State tied for 20th at 72-71-70-70–283, Tom Watson of Stanford and Kansas City tied for 22nd at 72-72-73-67–284, two-time Schwab Cup winner Loren Roberts, of San Luis Obispo and Cal Poly SLO tied for 24th at 70-72-71-72–285, and Mark Wiebe of San Jose State and Seaside, Ore., finished 28th at 71-69-73-75–288.
Cook began the day a shot behind Allen, but birdied two of the first three holes to take the lead for good. He said the turning point came on the 10th hole.
"Michael had made (a birdie) from the front of the green about 50 feet up the hill and everybody, all the NoCal Giants fans, were hooting and hollering," said Cook, who won 11 times on the PGA Tour, including the 1981 Bing Crosby National Pro-Am south of San Francisco at Pebble Beach.
"But I buried one right on top of him (from about eight feet) and kind of quieted them down a little bit. That was a big putt for me. I pretty much matched Michael. When he kind of got something rolling, I matched. And then I hit some really quality shots down the stretch."
Cook chipped close for his final birdie on the par-five 16th hole to take a two-stroke lead when Allen could not get up-and-down for a birdie from a greenside bunker, but instead of a victory stroll on the final hole, he left the door slightly ajar.
After hitting a perfect drive on No. 18, Cook missed the green to the right on his approach and could only chip to within 18 feet. With Allen looking over a 15-foot birdie putt after two near-perfect shots and the possibility of a playoff loomed.
Then Cook coaxed his putt into the hole and Allen's putt, suddenly anticlimactic, missed.
It had a been a while, but Cookie remembered how to close that door, too.