CGX Top100 West Camp features seven DI California coaches to help provide education on all-things college golf and the recruiting process this December.
For competitive junior golfers and their families, the dream of playing on a college golf team looms enticingly large. Parents see talent and potential in their junior golfer and want to support his/her dreams. Before you know it, thousands of dollars are invested each year to chase rankings points while entering tournaments at the local level by the likes of U.S. Kids, PGA Sections, state and local golf associations, and independent junior tours. Players then graduate to higher-level tours, get invited to more-prestigious events, aspire to play on the AJGA Tour, and trying to qualify for U.S.G.A. events. All the while, it's getting more competitive. You see countless other parents doing the same for their kids. And you're hoping yours will be discovered by a coach and invited to join the team.
"In the past, top-ranked junior golfers didn't have a platform or a necessity to attend camps and bring their golf resumes to life beyond their tournament scores. Through the expansion of CGX Top100 Camps, juniors and their parents can now engage with, learn from, and separate themselves from other junior golfers by getting in front of top coaches and programs in one place before or after the June 15 contact date," says CGX Founder and CEO Joshua Jacobs. "CGX is honored to work with so many esteemed and accomplished college coaches. Bringing them together to share knowledge creates transformative results not only for juniors and their parents, but for the coaches as well. It helps form the vital connective tissue between junior golf and college golf."
CGX, with the exclusive endorsement from the Golf Coaches Association of America (GCAA), is delivering camps for boys and girls ages 12-18 that provide eye-opening networking and education opportunities between juniors, parents, and college golf coaches. These camps break down the barrier between player and coach and gives juniors more confidence and experience playing in front of and with college coaches.
The CGX Top100 Showcase Camps are geared towards juniors and parents who want to engage with and learn from top coaches and programs, and who want to attend one of the schools represented, Top100 camps are fast becoming great options for top ranked junior boys and girls to connect with top ranked college programs and its coaches either prior to or after the June 15 deadline. Over two days, junior and parents experience: immersive education sessions on college golf and the recruiting pathway, NIL seminars, open Q&A sessions, on-course coach engagement and instruction during simulated college golf practice and tournament rounds, and real-time evaluation and personalized feedback from the coaches that helps players 'find their fit' in college golf.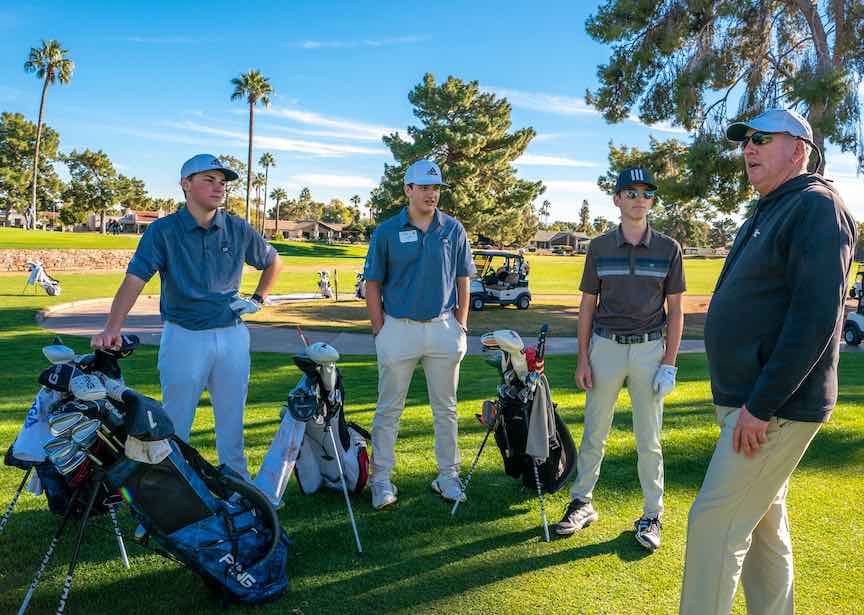 The upcoming Top100 West Camp will be hosted at The Wigwam Golf Resort, Phoenix, Arizona, Girls Showcase Camp December 2-3 as well as the Top100 West – Boys Showcase Camp, December 16-17. The camp will feature 23 DI collegiate coaches and golf programs with seven from California. Scheduled to attend:
Top100 West Girls Showcase Camp: Laura Ianello – Arizona, Missy Farr-Kaye – Arizona State, Golda Borst – Kentucky, Garrett Runion – LSU, Jill Trujillo – New Mexico State, Greg Robertson – Oklahoma State, Laurie Gibbs – Pepperdine, Dana Dormann – San Jose State, JoJo Robertson – Texas Tech, Alicia Um Holmes – UCLA, Kim Lewellen – Wake Forest, and Mary Lou Mulflur – Washington.
Top100 West Boys Showcase Camp: Jim Anderson – Arizona, Walter Chun – Berkeley, Bruce Brockbank – BYU, David Inglis – Northwestern, Jon Reehoorn – Oregon State, Ryan Donovan – San Diego State, Greg Sands – Texas Tech, Jean-Paul Hebert – UNLV, Mark Hankins – USC, Michael Wilson – Colorado St., and Michael Beard – Pepperdine.
"I would strongly encourage any parents to send their kids to a future CGX camp. They will not only learn how to become a better player, but they will learn what next steps to take to play collegiate golf," said Greg Sands, Men's Head Coach, Texas Tech.
CGX has run more than 90 camps nationwide to date, parents and players have multiple options through CGX camps to improve their game, help create their pathway to the next level, and guide them to 'finding their fit and their spot' in college golf. In addition to Top100 Showcase Camps, CGX also hosts:
Geographic Showcase Camps – Junior golfers and their parents build relationships with coaches and programs from a variety of Divisions and Conferences and receive maximum exposure to college golf and the recruiting process. These camps help junior golfers narrow down where they might like to play college golf, in a geography best suited for them.
Tournament Preview Camps – Held at host sites of junior tournaments, these camps elevate a junior's tournament prep and ranking while separating them from the competition thru a practice round with college coaches, along with course management and strategy seminars. Elite Camps – Often including a campus tour with the coach, these camps are run by men's and/or women's coaches from a single institution and provide a deeper insight into the culture of the coach, program, and school atmosphere.
"The CGX Top100 Camp really gave my son a sense of how college programs work, what the expectation is if you want to play top college golf, and the ability to have face-to-face individual contact with these high-level coaches. My son basically had a 15-minute short-game lesson with (Baylor University Men's Head Golf Coach Mike) Coach McGraw. I don't think there's anywhere else he would have that amazing opportunity."
To learn more about CGX or to register for the Top100 West Showcase Camps in Arizona, visit: https://collegegolfx.com/camps/