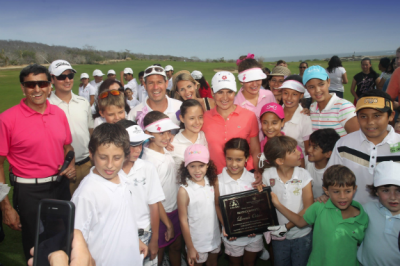 Lorena Ochoa brings her passion for helping underprivileged children and their families through golf to Southern California
SAN JOSE DEL CABO, Mexico – Lorena Ochoa is learning that retirement can be fulfilling, challenging and exhausting – all at the same time.
Officially, the former LPGA star retired from professional golf two years ago in May, ending her three-year reign atop the women's world rankings. But her life did anything but slow down. It merely changed, and dramatically so.
That's because the iconic Mexican superstar has become Supermom with a Cause.
Lorena got married in 2009 (to Aeromexico CEO Andres Conesa), retired from the LPGA at age 28 in 2010 and gave birth in December 2011 to their first child – son Pedro, now 5 months old.
As every mother will quickly attest, parenting is a full-time job. It's certainly not retirement. But Lorena says she is embracing every first-time moment of motherhood, as well as devoting more time to her Southern California-based foundation.
"Being a mom is a challenge," she said, laughing during a one-on-one interview in late April at the Cabo Celebrity Invitational, a three-day charity event sponsored by Dream Homes of Cabo and benefiting the Lorena Ochoa Golf Foundation. "I was prepared for it. You imagine what it's going to be like, but then when it's real … it's hard to describe.
"It's amazing how much [your child] needs you. But I'm enjoying my time with him."
Pedro goes almost everywhere with Lorena these days, including her recent charity appearance at Puertos Los Cabos Marina & Golf Resort, where she mingled on and off the course with participants and celebrities (e.g., former Minnesota Gov. Jesse Ventura, former NFL star Bill Romanowski, actor Dennis Haysbert of "24" fame) and also conducted a driving-range clinic.
A snapshot of Lorena smiling as she interacted with the local youngsters during the clinic, especially young girls who looked as if they hadn't picked up a golf club until that day, was symbolic of her foundation's mission – to grow diversity in golf by providing opportunities to underprivileged children and their families.
"Yes, that's exactly what I enjoy the most – helping the kids," said Ochoa, who won 27 events during her eight years on the LPGA Tour (2003-10). "I want to be close to them and make sure I have a chance to talk to them and have fun with them."
She also wants them to have the same opportunity she had when she was growing up in Guadalajara, Mexico, where she swung a club for the first time at age 5 and began dreaming of a career in golf. That, too, is the essence of the Lorena Ochoa Golf Foundation, which is based at Goose Creek Golf Club in Riverside County and where the first of several planned Lorena Ochoa Golf Academies is under construction and scheduled to open in late June.
Jason Taylor, LOGF president, says the 12,000-square-foot building on the Goose Creek driving range will be a multi-purpose facility, incorporating golf instruction with state-of-the-art technology, as well as offering educational and fitness programs for the whole family.
"This academy is going to be the model for what we want all of our partner golf courses – we call them 'Lorena's Links' facilities – to be," said Taylor, also a past president of the Southern California PGA. "Lorena wants to educate families, and golf is our vehicle to accomplish this. Golf is how we deliver it."
Ochoa said her foundation wants to introduce golf to more minorities, especially Hispanics and Latinos, and others who might not have had the opportunity or the resources to learn the game.
"The Lorena Ochoa Golf Foundation is something very unique, very special, because of what we're trying to do," she said. "I know everybody talks about finding talent or the next great golfer, but this isn't about that. We just want kids and their families to be able to play golf and help them with their first connection to the sport.
"We want to teach them with the best equipment and technology. We want to give them all the tools to enjoy the game."
And if they decide to become a professional or work in the industry, great. If they just want to have fun in a healthy outdoor activity, that's great, too.
All that Ochoa wants to do is give more people a chance to try the sport that she loves.
"I think it's amazing to be able to play golf and do what we love and help others," she said. "I also think we have a responsibility to reach out and try to help as many people as we can."
Lorena Ochoa, superstar and Supermom, isn't retired. She is on a wonderful crusade.
Randy Youngman has been writing about golf in California, at the professional and amateur levels, for more than 20 years. He is also an admitted golfaholic.