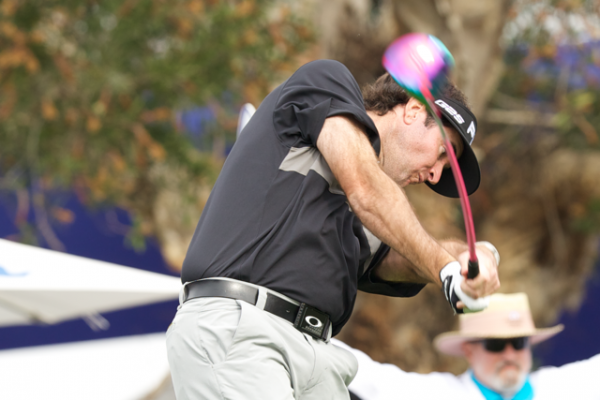 Life is good for Bubba Watson, and it keeps getting better.
Watson, 35, claimed his second Green Jacket by winning the Masters in April. He and his wife, Angie, have begun the process of adopting a second child, and he is playing this week in the Greenbrier Classic after becoming an ambassador for the Greenbrier Resort in White Sulphur Springs, W.Va.
"I was blown away when I played the Old White TPC (for the first time last season)," said Bubba, who posted three scores in the 60s but only tied for 30th. "I couldn't be more excited about joining the team at the Greenbrier and calling this my home away from home.
"My family and I had a great time experiencing all of the different amenities the property offers and decided this was the perfect place for us. The Greenbrier has everything and more that I look for in a golf resort, and I look forward to creating lasting memories with my family here."
The Watsons, who live most of the year in Tiger Woods' old home at Isleworth in Orlando, Fla., enjoyed the experience so much last year that they bought a second home on the Greenbrier property.
The Greenbrier, taking advantage of the power-hitting Watson joining Tom Watson, Webb Simpson and Kenny Perry on the staff, introduced a set of "Bubba Tees" to lengthen the Old White.
Golfers who broke 90 while playing from those tees entered a raffle, with the two winners getting a chance to play a round with Watson.
"We're thrilled to have Bubba join our A-list group of PGA Tour ambassadors for the Greenbrier," said Jim Justice, owner of the resort. "Bubba is one of the most exciting players on the Tour."
The 2013-14 season is shaping up to be perhaps the best in Watson's career.
In addition to winning the Masters for the second time, he captured the Northern Trust Open at Riviera, giving him six PGA Tour victories and two in the same season for the second time.
Not only that, but he finished in the top 10 on seven occasions, including ties for second in the Waste Management Phoenix Open and the WGC-Cadillac Championship, plus solo third in the Memorial Tournament.
Watson leads the PGA Tour money list with $5,0120,976, is second behind Jimmy Walker in the FedEx Cup point standings and leads the U.S. Ryder Cup standings, making it a certainty that he will be on the team in September at Gleneagles Resort in Scotland.
His one disappointment was shooting 76-70–146 on the difficult setup at Pinehurst No. 2 to miss the cut by one stroke in the 114th U.S. Open.
It looked as if he talked himself into it by saying early in the week that he was having trouble figuring out exactly how to play the famed Donald Ross layout.
("It) was very difficult for me," said the Watson, who missed the weekend for the first time this season. "I took away that I need to be tougher. I need to be tougher mentally. I played good the second day, as good as I could play, and I still shot I think it was even, and there was other guys shooting under par every day. For me, it was a tough week.
"I thought Merion (last year) was very tough, but I thought Merion was a U.S. Open course that I liked, even though I barely made the cut. … I've played in eight U.S. Opens, about half of them I liked, half of them I didn't like, and that's just how it is."
Everyone knows there are horses for courses on the PGA Tour, and every player sets up his schedule to suit his game and lifestyle.
Watson isn't any different.
"Well, when you look at different people's schedule, how they work, Matt Kuchar seems like he plays a lot, Jordan Spieth is real young, so he still plays a lot, Tiger Woods was always limited how he played, maybe 18 to 20 (events), Steve Stricker has calmed it down but still playing at a high level," said Watson, who has played 13 times this season. "So for me mentally, I've figured out that (I am at my best when playing) two in a row, and (the FedEx Cup) playoff this year, the playoff is going to be four in a row (with no break as in recent years), which is awesome.
"But you know, I've tried to scale back. I'm trying to get to 20 events, 21 events, right in that area. If I go overseas, maybe 22 events. And the reason why is because of me personally, my head, trying to stay mentally prepared, have the energy level to compete at a high level each week, and then also have the focus and drive to want to be a better husband and a better dad. …
"I love Hilton Head, but I'm not going to play Hilton Head because Hilton Head doesn't love me. The golf course doesn't like the way I play golf. I love it, but it's just one of those things, it's just tough for me to play that golf course."
After one try, he loves the Greenbrier, and everyone will see if that continues.
Story courtesy of The Sports Xchange, TSX Golf Editor Tom LaMarre