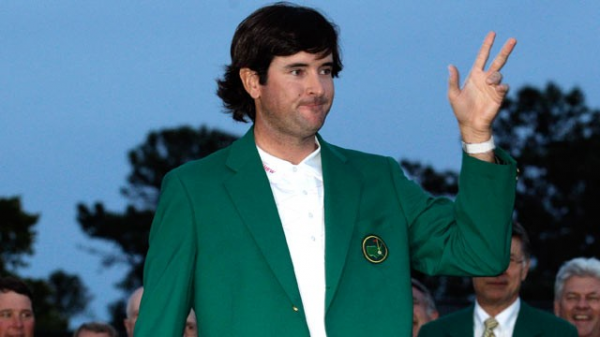 Bubba Watson captured the Masters for the second time in three years, shooting 3-under-par 69 to beat 20-year-old Jordan Spieth and Jonas Blixt of Sweden by three strokes at Augusta National Golf Club in Augusta, Ga.
Watson and Spieth began the final round tied for the lead, but the kid took a two-stroke lead by carding four birdies on the first seven holes before the tournament turned dramatically on the eighth and ninth.
Spieth carded two straight bogeys while Watson took command with two birdies, two-stroke swings that changed the course of the first major of the year for good and sent Bubba to another Green Jacket.
"After giving that jacket away last year, I wanted to get it back," said Watson, who became the 17th multiple winner of the Masters in the tournament's 78th year. "I've never loved green so much.
"(Spieth) started out so hot, making birdies, holing that bunker shot at No. 4, so I had to make some birdies to stay up with him. Then when I had the lead, I wanted to just keep making pars, and that's what I did, but coming up 18 I couldn't remember the last few holes."
Spieth, trying to become the youngest player to win the Masters, closed with a 72 in a brilliant performance in his first tournament at Augusta.
However, he didn't manage another birdie after the seventh hole and fell further behind when he hit into Rae's Creek to make a bogey at No. 12 to go with eight pars on the back nine in a final-round 72.
Blixt, who has two PGA Tour victories and finished fourth in the PGA Championship last August at Oak Hill, closed with a 71 and again fell a little short in his bid to become the first Swedish male to win a golf major championship.
Miguel Angel Jimenez of Spain, who turned 50 in January, took fourth after a 71, and Matt Kuchar faded in the final round of the Masters for the second year in a row with a 74 and tied for fifth with Rickie Fowler of Murrieta, who came in at 73.
Pre-tournament favorite Rory McIlroy of Northern Ireland closed with a 69 to tie for eighth, and defending champion Adam Scott, who last year became the first Australian to win the Green Jacket, finished with a 72 to tie for 14th.