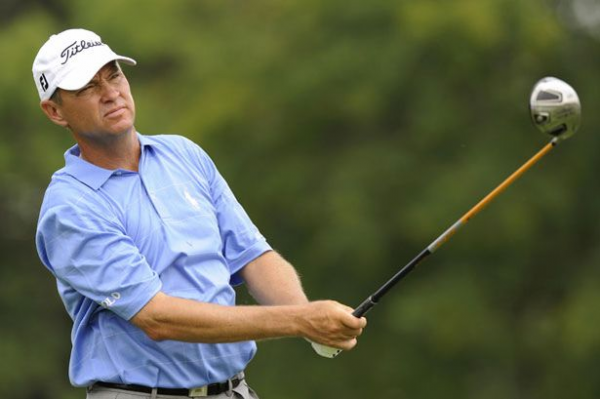 Davis Love III turned 50 on Sunday, but it doesn't mean he's playing on the Champions Tour any time soon.
"I know it's coming, but I'm not ready for it," said Love, who this week will tee it up in the RBC Heritage for the 27th time. "When I'm scratching to make cuts, when I don't feel like I can win, that's when I'll go over.
"Luckily I'm exempt, as long as I can shoot decent scores. I'm not going to stay over here and take up a spot. I'll be honest with myself. You'll be honest with me."
The Heritage has been one of the most popular events on the PGA Tour since its inception in 1969, when Arnold Palmer captured the inaugural event, as it often comes a week after the Masters and gives the pros something of a working vacation with their families.
Players love the laid-back atmosphere at Harbour Town Golf Links in Hilton Head, S.C., after the pressure of the season's first major.
For Love, a Carolina boy, the renowned Pete Dye-designed layout on the shores of the Calibogue Sound has even more meaning. He has won the tournament a record five times, including his first PGA Tour victory in 1987.
Love missed the tournament the last two years because of injuries after being in the field 26 consecutive years and is anxious to return. Love is almost as much a Heritage icon as the candy-striped lighthouse behind the 18th green.
"The Heritage will always be special to my family and me," said Love, who is in his 29th season on the PGA Tour and will be playing in the Heritage for the 27th time. "One, it's a great golf course. Not a whole lot of tournaments have had their whole history on one golf course, a great golf course like this. And this is one when people say what are your favorite courses on the PGA Tour, they always list Pebble Beach and they list Harbour Town and they list Colonial, they list classic golf courses.
"Every week is important and every week has its own special feel to it. This one has a great feel because it is a relaxing feel and a relaxing place. Obviously if you played in Atlanta the week after the Masters, it wouldn't be quite as fun as going to the beach. You get to go to Hilton Head and it's a fun week for the kids, it's a fun week for the wives and it's a great tournament for the players."
You can tell how important a tournament is by the list of names on its trophy, and the Heritage can boast Palmer, Love, Jack Nicklaus, Tom Watson, Bernhard Langer, Johnny Miller Greg Norman, Nick Price, Hale Irwin, Jim Furyk, Justin Leonard, Fuzzy Zoeller, Payne Stewart and, last year, Graeme McDowell.
Another reason for the Love affair with Harbour Town is that he also won the Junior Heritage there at the age of 17.
"It was 1982 and definitely my first big win," said Love, who went on the play college golf at North Carolina, where he introduced the game to a classmate named Michael Jordan.
"I actually didn't win much as a junior or amateur. When I played the Junior Heritage here, I never thought I'd get to play in the Heritage, you know, and then to play (so many) of them and be lucky enough to win some of them is pretty incredible.
"It's just such an iconic tournament."
Love has been struggling to find his old form since returning from surgery last year to correct a chronic neck injury, but he has made the cut nine times in 12 tournaments this season and was encouraged by a tie for 26th last month in the Arnold Palmer Invitational — where a closing 73 kept him from a possible top-10 finish.
Since he has a lifetime exemption on the PGA Tour because of his 20 career victories, including the 1997 PGA Championship and the Players Championship in 1992 and 2003, he can play with the flat-bellies any time he wants except in the majors and World Golf Championships.
Like Vijay Singh, 51, who has been reluctant to move on to the Champions Tour full-time, Love can continue to play alongside the young guns because he still hits the ball a country mile.
However, when he does commit to the senior circuit, this is a guy who could light things up.
–Story courtesy of The Sports Xchange, TSX Golf Editor Tom LaMarre