Phoenix-Scottsdale area showcases the vacation variety of Arizona
There's just something about Arizona that makes it more than an appealing place to visit. Maybe it's the way purple shadows paint their way down the mesas, the way the wide open space reminds you that beauty can be found in minimalist landscapes, or the way that landscape comes to life when the rains come and a carpet of brightly colored flowers flows across the desert. Pick any of these reasons, or one of many more, and you'll find that Arizona will draw you in and make you want to come back again and again.
The city of Phoenix sits in the Salt River basin along with the adjacent cities of Scottsdale and Mesa among others. This area was once home to the Hohokam people who lived in the area from approximately 200 to 1450 A.D. An agrarian society, these people built more than 150 miles of irrigation canals in the area, some of which provide the basis for irrigation canals used today.
Farther up the historical pipeline, the Pima-Maricopa tribe made its home in the area providing a rich cultural heritage for visitors and residents to enjoy today. Museums abound in the area, and you can while away many an hour learning about the cultural history of the area or enjoying exhibits of modern art. One museum that has grown into two locations had its beginnings in 1929 when Dwight and Marie Bartlett Heard began what would grow into the Heard Museum with locations in both Phoenix and Scottsdale. At its North Scottsdale site you can take a taste of Southwestern American Indian artwork as well as an interpretive garden where native plants are highlighted.
Just adjacent to Phoenix, Scottsdale is a town with a rich history and has become well known for its emphasis on arts, culture and its high end lifestyle. In 1894 the area was named after its founder United States Army Chaplain Winfield Scott, and since then has grown to include four AAA five diamond resorts, including the Fairmont Scottsdale Princess, Four Seasons Resort Scottsdale at Troon North, the Canyon Suites at the Phoenician and the Phoenician. There are over 200 golf courses in the city and surroundings areas to choose from that will give you plenty of choice of play. In 1970 Scottsdale streets saw the original ArtWalk in America, when the town hosted a free Thursday night open house in the art district for those who appreciated art, which still goes on today.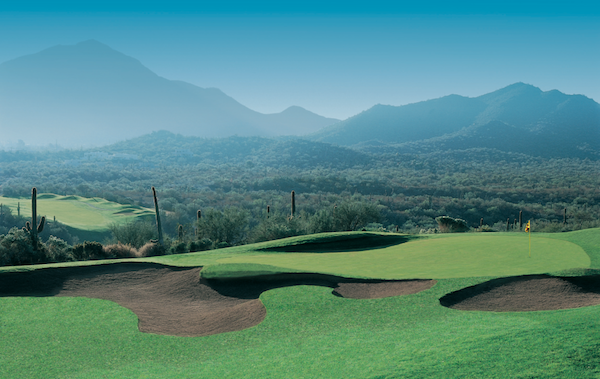 When the desert cools as the sun goes down, there's plenty of life left in the city. Its downtown is home to a multitude of wine bars, lounges and dance clubs where you can stop and relax. Virtu restaurant is a new offering in the area and was voted one of the top new restaurants of 2013 by Esquire magazine. A menu with a taste of the Mediterranean along with handcrafted cocktails and patio seating make this a place to try. A night spot that's a little more difficult to find but well worth the effort is Citizen R + D where a phone call and a back alley staircase takes you into this contemporary lounge with a nod to the speakeasy's of old.
Just next to Scottsdale in the foothills of Black Mountain, Cave Creek with its history as a gold mining town and stopping point for the U.S. Calvary is more than a taste of the old Southwest. Nowadays you can play award winning golf at courses like the Waldorf Astoria's Boulders resort a public course in a desert environment, then enjoy the resorts other offerings like rock climbing, swimming and tennis. A visit to Cave Creek's Buffalo Chip Saloon & Steakhouse will immediately bring to mind the tie that cowboys and rodeos have to the area, especially if there are horses hitched up out front. One step inside and you'll find out why so many people love the place, along with authentic bbq, there are indoor and outdoor bars, a dance floor where you can take a turn at the two step and a chance to ride a bull, yes a real live bull or just sit and watch while others take their turn in the ring.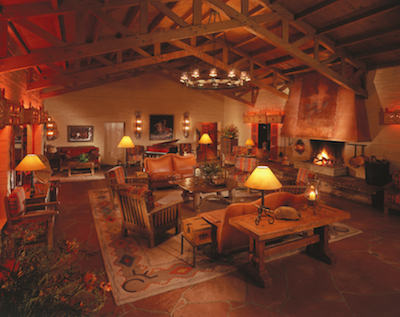 For another experience of what life was like in the old southwest, a visit to Wickenburg would be in order. Just an hour north west of Scottsdale, this mining town boasts tours of old mines, the chance to see the twining of history and art at the Desert Caballeros Western Museum, and two public 18-hole golf courses are within minutes of town, Wickenberg Country Club and Los Caballeros Golf Club. If you ever wondered what it's like to visit a dude ranch with resort amenities, then look no further than Rancho de los Caballeros (right), a 20,000 acre ranch located on the Sonoran high desert where you can horseback ride, take an ATV tour or just relax at the spa. Reminiscent of an old West town, Robson's Ranch & Mining Camp will give you more than glimpse into the lives of those who made their living under the stars and under the earth with its antique mining equipment and lodge that's reminiscent of a 1800s mining lodge.
Exploring the natural terrain on foot is great way to get the feel of the desert and what lives there. Vulture Peak Trail is seven miles south of Wickenberg, starting at the base of Vulture Peak the trail will take you on a 2 mile hike that varies in difficulty. Hiking it will not only give you great views of the desert, but you'll make your way through a Cholla forest and have the opportunity to look for vultures nests under the cliff ledges. When you're done, you can go to the Wickenburg Chamber of Commerce and get a certificate stating you've climbed Vulture Peak.
Going south of Phoenix you can see a truly unique site in the area, and some may argue anywhere. The Mystery Castle may not be in the best of neighborhoods, but it's still worth a stop. Built in the 1930s by Boyce Gully who wanted to build a truly permanent home for his daughter Mary Lou, the 8,000 square foot eclectic castle ended up with 18 rooms and 13 fireplaces made from native stone, broken bottles and other salvaged material, and is now listed on the Arizona Historic Register.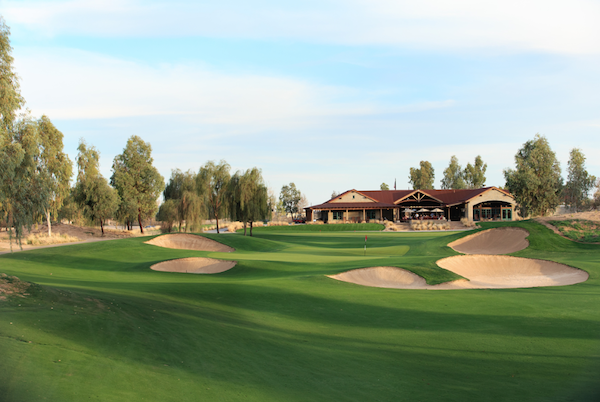 More golf can be found not too far away, just south of Phoenix in the Chandler/Maricopa area. Dubbed the Southern Swing, you can choose from three courses, the Whirlwind Golf Club at Wild Horse Pass, the Ocotillo Golf Resort and the Southern Dunes Golf Club (above) or play all three for $325. All three are 18-hole, par 72 public course and are part of Troon Golf Resorts that come with Troon benefits when you register. These add up no matter where you play their courses when you register, and include free rounds of golf and a way to get your family out on the course too with juniors playing free after 3 p.m.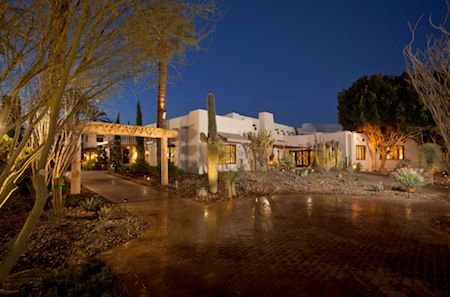 Just on the western edge of Phoenix in Litchfield Park, the Wigwam Resort (left) is home to multiple golf courses, pools, spas and award winning restaurants. It has deep roots in the desert sand. Opening in 1929 the resort then had a 9-hole course, but that changed when eventually two Robert Trent Jones Senior golf courses were built and a golf course designed by Robert "Red" Lawrence rounded out its offerings. In just under 20 minutes you can play a fourth course at the nearby Raven Golf Club at Verrado that many say they would come back to again. The course is a links style public course that was named the number one golf course to play in Phoenix by Golf Digest.
The Arizona desert blooms with places to go and things to do when you make it a vacation choice. With its many resorts, golf courses, restaurants and historic plus adventurous offerings, you'll find that one trip to the Grand Canyon State just won't be enough.
Follow us on Twitter: @cal_golf_travel