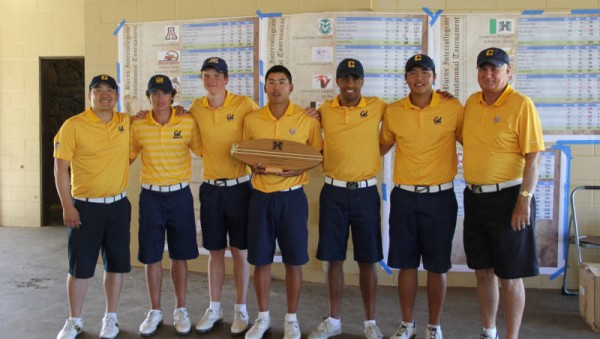 Shotaro Ban of Cal closed with a 3-under-par 69 to claim the individual title and the Golden Bears captured the John A. Burns Intercollegiate for the fifth consecutive year at Wailua Golf Course in Lihue, Hawaii.
Ban, a junior from San Jose, posted a score of 67-72-69–208 to earn his first college victory by two strokes over John Oda of Nevada-Las Vegas, who wound up at 69-70-71–210, while Kurt Kitayama of UNLV was third at 70-71-70–211.
"I couldn't be prouder of a team victory," Ban said of Cal's third victory in seven events this season. "It's been a big dream of mine to help this squad win. Last year we relied on the older guys, but this year we have a young team and to see these guys really buckle down and get the victory is huge for us.
"The younger guys really stepped up and it's motivating because I have a feeling that we are just getting started."
The Bears placed four players in the top 20, as freshman K.K. Limbhasut of Loma Linda tied for fourth at 72-73-67–212, freshman Sebastian Crampton of Pacific Grove tied for eighth at 72-72-70–214, and sophomore Cameron Shaw of England tied for 17th at  71-74-75–220.
Alexander Wilson, a freshman from Scotland, rounded out Cal's scoring in a tie for 37th at 77-74–73–224.
Harold Calubid of Fresno State tied for 13th at 72-75-71–218, Tyler Kertson of Santa Clara tied for 27th at 71-77-74–222, and Kevin Lee led Long Beach State in a tie for 43rd at 75-73-77–225.
Cal led virtually all the way en route to a winning score of 282-291-279–852, 12-under, with New Mexico second at 295-283-281–859, followed by UNLV at 287-291-290-888.
"I'm proud of these guys, not just for the victory but because they competed hard all day," said Coach Steve Desimone, who claimed his 65th stroke-play victory in his 36th season with the Golden Bears.
"This was a great victory that we can really celebrate; everyone contributed. We played really well for three days, especially today."
Fresno State was 12th at 302-303-295–900, Long Beach State finished 13th at 294-308-301–903 and Santa Clara tied for 14th at 308-303-296–907.