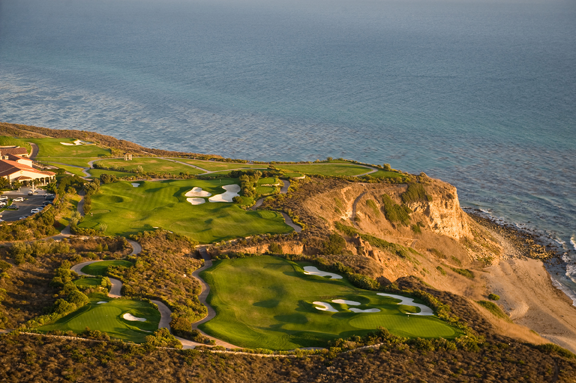 Los Angeles is home to some of the most revered, prestigious and historic private country clubs in the world. Their names reverberate with status and celebrity: Riviera. Bel-Air. Wilshire. Hillcrest. Brentwood.
Too bad most of us will never get the chance to play them.
But rather than sit mired in disappointment that you don't have a bank account like Bill Gates, rise up, grab your clubs and take advantage of some of the amazing public tracks that can be played without a country club membership.
Here are six public courses that every serious golfer should experience in the greater Los Angeles area.
Trump National Golf Club, Los Angeles
Rancho Palos Verdes
(310) 265-5000 • trumpnationallosangeles.com
Donald Trump owns this jewel of a course perched on bluffs overlooking the Pacific Ocean and it's an absolute marvel. In 2002, Donald Trump bought the star-crossed course, a Pete Dye design that took years to build only to suffer a landslide shortly before its planned opening in 1999. (It was a 15-hole course for its first three years.)
After buying it, Trump closed the course, known as Ocean Trails, for two years and supervised a redesign that cost a reported $250 million. It's now an 18-hole, par-71 course, and everything, from its 45,000-square-foot clubhouse to the $2.5 million waterfall behind the first green, is saturated in opulence.
All holes provide scenic views, but the course's grandeur is only part of its allure. It's also highly challenging from the tips (7,242 yards) and every hole has its own personality.
Industry Hills Golf Club at Pacific Palms
City of Industry
(626) 810-4653 • ihgolfclub.com
The two courses at this facility, which includes the 292-room Pacific Palms Hotel and Convention Center, rank among the most cherished in Southern California. The Eisenhower Course, at 7,211 yards from the tips, is always near the top of the list for most challenging tracks and is a past site for U.S. Open qualifying rounds. There are no bells, whistles or surprises in the William F. Bell design, just a solidly built course that can challenge any golfer. The Zaharias Course is shorter (6,821 yards) but it's also on 650 acres, meaning there's a lot of space around it. It was designed with narrow fairways, making accuracy key.
Robinson Ranch Golf Club
Santa Clarita
(661) 252-8484 • robinsonranchgolf.com
Ted Robinson Sr. was Southern California's most prolific designer, with scores of courses throughout the region. These two courses, located 25 miles north of Los Angles on 400 acres of pristine land, are among his finest. The 6,903-yard Valley Course and the 6,508-yard Mountain Course wind through untouched sage and chaparral landscapes, and the fairways are surrounded by native California coastal oak and sycamore trees. Each is rustic, rugged and memorable.
Angeles National Golf Club
Sunland
(818) 951-8771 • angelesnational.com
The only Nicklaus Design layout in Los Angeles County, this course lies at the base of the Angeles National Forest. It's 7,141 yards from the tips and has drawn rave reviews from noted golf legend (and Hollywood star) Will Ferrell. It's a desert-style layout with luxurious mountain views all around. It's a stern test from the tips, but four sets of tees and generally wide fairways make it playable for just about all of us.
Rustic Canyon Golf Club
Moorpark
(805) 530-0221 • rusticcanyongolfcourse.com
One of the more interesting layouts in the western United States is found at this course, which was designed and constructed with minimal impact on the land. The greens are slick, the fairways flat and wide open, and the entire look of the course seems to blend in with the barrancas and other natural features.
Rancho Park Golf Course
Los Angeles
(310) 838-7373 • golf.lacity.org
Few municipally owned courses have a track record like this Los Angeles institution, which hosted 18 Los Angeles Opens and scores of other high-profile events. Opened in 1949, it's a mere 6,630 yards from the tips, but undulations and tiny greens present a formidable challenge. Heck, this is the course that a guy named Arnold Palmer once posted a 12 on the 18th hole!
– By JOEL BEERS