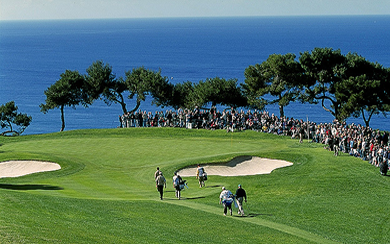 San Diego, CA (Jan. 26, 2011) — Just a few days after golf fans discovered a new star in Jhonathan "Johnny" Vegas from Venezuela by way of the 2010 Nationwide Tour, things really get interesting this week at the Famers Insurance Open in La Jolla, at Torrey Pines GL. And of course, if it's big news, it must involve Tiger Woods, and it does.
The former #1, now #3 will make his way to the 1st tee on the South Course at 9:00am for Thursday's first round. He teed off near noon On Wednesday for the Pro-am, that's half a day later than his normal dawn patrol he enjoyed for almost 14 years. Yes, things are different for Eldrick these days but the world is watching and waiting to see if he is back. People waited when he was hurt after the U.S. Open and wanted to see if he was healthy again to compete a high level in 2009. This time, people won't give him as much of a leash to prove he has returned to the dominator he had been for over a decade.
Without a win in his "Helter Skelter" season of 2010, Woods arrives at Torrey Pines a course he has struck gold on 7 times, including his heroic 2008 U.S. Open victory, his last at the seaside gem. "I'm excited to be back playing golf. I love it here at Torrey. I've had a great off season, been working with Sean and I hope to build on that," Said Woods.
He's paired with his good friend Rocco Mediate, whom he shared that great U.S. Open stage with and Anthony Kim. The buzz about the golf course and San Diego is much like old times and Farmers Insurance couldn't be more pleased. It should be quite a week. …
Last week in the La Quinta desert, the golfing world was introduced to a young South America that has the look of a winner and someone who looks to be around on Tour as yearly competitor that could notch double digit victories with the game he brings and the attitude he displays. After hitting his tee shot into the water off the tee on his second playoff hole, he recovered with a beautiful side hill approach that circled back to 12 feet, he watched as Gary Woodland threw up all over himself and when he drained the putt, threw his fist into the air and hugged his dad, his life changed forever.
Vegas has the game to go with the name that we will be talking about for a long time. He is in the field this week and next week at Phoenix….
Could this be Rickie's breakout week? Last year's Rookie of the Year Rickie Fowler will make his debut for 2011 at Torrey Pines, a course where he made the cut in the 2008 U.S. Open as an 18 year-old amateur and finished t-3 in last year tournament. He's developed quite a following after his eye opening, rookie season showing off the bright orange outfits that have defined him. He's got the game and he's anxious to get his name on the list to Kapalua like Johnny Vegas for 2012. …
San Diego native Phil Mickelson will also make his 2011 Tour debut on a course he said he has played more than any other. "I Love this golf course. It's my hometown. I'm looking forward to making the year I thought I was going to have in 2010 this year." He gave up on his vegetarian diet after just five months. Last week he decided to play in Abu Dhabi but says that this week is for him his official start to the season.  ….
Jamie Lovemark of Rancho Santa Fe will be someone to watch this week as he plays in front of family and friends coming off a great year on the Nationwide Tour where he finished on top.  ….
Local favorite Charlie Hoffman will make his 15th start at the Farmers Insurance Open after making his debut at age 16 as an amateur. Coming off his best year in which he won the Duestche Bank in Boston and finished #4 on the FedEx Cup, Hoffman will have a huge and gregarious gallery of friends as usual. He's easy to spot with his flowing gold locks and his green shoes.
The weather is supposed to what San Diego is all about, sunny, about 75 degrees, meaning the sky pilots, those who dare to sail above the cliffs of La Jolla will be in full force. Golf needs a great opening event and without any football to go up against on TV, this could be just what the doctor ordered. Tiger, Phil, Dustin, DL III, Little Rickie, Johnny Vegas and host of other great players, Torrey Pines will be on stage this weekend. Expectations are high, but Torrey Pines rarely disappoints.