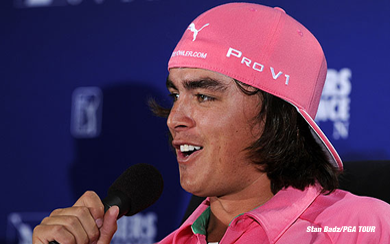 By: Wil Barnes
In absolute glorious sunshine, dressed in ferociously blazing pink Pima gear, Rancho Murrietta's Rickie Fowler opened his 2011 season with a fashionable 65 on the North Course, only to find himself tied with Alex Prugh, both of whom trail first round leader Sunghoon Kang by one. After birdying his final hole, his local gallery let out a huge "Yahoo." Fowler's gallery was as expected, but not nearly as thick as the throng that followed who everyone wanted to see Tiger Woods who shot a pedestrian, bogey free 69 on the North, failing to take advantage of any of the par fives. holes that his record shows he's as far under par in his career as the U.S. Government is in debt. Tiger hit only 5 of 14 fairways a sign that the driver is still not honed in. "I'm happy with the way I played, absolutely," said the world's #3. "I could have been a lot better if I had taken care of the par 5's a little better, but I didn't do that. I didn't have any putts. I kept leaving myself above the hole."
Over on the South course Phil Mickelson began his 2011 PGA Tour season playing along the Johnson – Rose painting contractors, shooting an impressive 67, that was matched by John Daly who was out there in his own vibrant, striped pants adding a dash more color or something to the gleaming fairways. Rookie Fabian Gomez whose name is colorful also shot 67 on the South.
Tiger, who was dressed in a rather flashy lavender Nike shirt just seemed to motor around the course not trying to do too much, just get his feet wet. And while half the gallery was following his group and Phil's, players took advantage of Chamber of Commerce weather, conditions that had been missing in previous years. In fact 78 players finished under par, 28 on the tougher South led by Daly, Phil and Gomez' 67's. Other California golfers to break par on the South included veteran Paul Stankowski (68), Hunter Mahan (67) tying rookie Jamie Lovemark. At two under were rookie Cameron Tringale and local amateur Anthony Paolucci, tying defending champion Ben Crane and veteran David Duval. On the North L. A.'s Anthony Kim who was paired with Tiger and Rocco Mediate (71) shot 68.  Last week's winner of the Bob Hope Classic and sudden star Jhonathan Vegas shot 69 on the North.
Outside of some great scores and Tiger and Phil's presence the day belonged to the brilliant sunshine and fashion. The painters Rose & Johnson were dressed in identical white, head to toe, including their shades as part of a Taylor Made gig promoting their new R11, white head driver. Phil was exactly opposite geared up like the Black Knight, Gary Player. Daly's pants were flat out arrogant, some sort of yellow, black and orange pattern of a deceased animal. Then you'd turn and, bam, this shocking pink! Little Rickie is certainly not embarrassed to flash in bright colors, the brilliance that is only matched by his game. His performance today could have been motivated by watching Johnny Vegas notch a win in his first PGA start, a feat that Fowler has yet to accomplish. It won't be long before he does and it could come this week. Where expectations are high for Fowler, Daly's 67 is a surprise. He has been struggling over the last few years where his last victory came here at Torrey Pines in 2004. Daly is beginning his 20th year on Tour. Reflecting on his last victory here, John's eyes got wide and said, "Man it seems like so long ago." The five-time winner and two-time major owner seemed pleased with is play and the fans reaction. "It's kind of cool. My tournaments that I've won, not including the majors, is the only one I ever win that I get to keep coming back to. "
They will flip courses for Friday where the South is playing about 1.7 shots harder so Tiger will need a solid "Phil-like" round to keep pace. If any of those 67's or 68's shot on the South today go low tomorrow, 12 or 13 under may be leading and if Woods fashions a pedestrian 70 or so, he'll have a hard time finding the leaders in his range finder. It's only round one and a lot of golf is yet to be played, but if it was Johnny Vegas last week, why can't Fabian win this week?