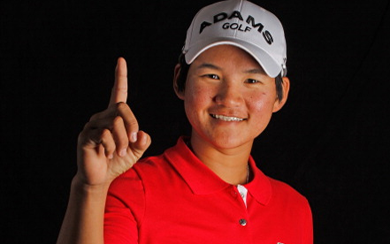 As several players traded the No. 1 spot in the Women's World Golf Rankings last year, the debate raged as to whether that was better for the game than Annika Sorenstam or Lorena Ochoa dominating the way they had in recent years before both retired.
For now, the discussion is over.
Yani Tseng of Taiwan took a firm grip on the top ranking by shooting six-under par 66 in the final round to claim her third consecutive victory, beating Michelle Wie by five strokes in the LPGA Tour opener, the Honda LPGA Thailand on the Old Course at Siam Country Club in Chonburi, Thailand.
And the way Tseng was talking, it might not end any time soon.
"I have lots of confidence and I'm looking forward to next week to see if I can win," said the 22-year-old, who started the year by capturing the Australian Open and Australian Ladies Masters in the two weeks before the LPGA Tour opener after winning a local pro event at home in Taiwan.
"I feel very excited every week. I just focused on this week. I think to myself, 'Last week has passed; don't put pressure on this week.' Next week is a new week and I'll enjoy it."
Tseng, who plays out of Oak Valley Golf Club in Beaumont, posted a score of  66-71-70-66–273, 15-under par, and collected the winner's check of $217,500 for claiming her sixth LPGA Tour victory.
Wie, from Honolulu and Stanford, was second at 69-68-71-70–278, and Karrie Webb of Australia shot 74-68-68-69–279 to tie for third with I.K. Kim of South Korea, who led after each of the first two rounds and finished at 63-73-72-71–279.
"I feel like I played good out there today, but on the back nine I just didn't make anything," said Wie, who was seeking the third victory of her pro career. "Yani played fantastic. She played like a rock star out there. She made every single putt and zero mistakes. Congrats to her."
Paula Creamer of Pleasanton was fifth at 69-70-70-71–280, followed by Juli Inkster of Los Altos Hills and San Jose State, who came in at 66-73-73-70–282.
Katherine Hull of Australia and Pepperdine totaled 75-72-72-70–289 to tie for 18th with Cristie Kerr of Scottsdale, Ariz., who wound up at 71-71-72-75–289, and Natalie Gulbis of Citrus Heights and the University of Arizona, who finished at 71-70-72-76–289.
Anna Nordqvist of Sweden and Arizona State tied for 26th at 78-68-71-73 290,  Mariajo Uribe of Colombia and UCLA tied for 29th at 72-74-70-76–292, Candie Kung of Fountain Valley and USC tied for 38th at 70-77-72-75–294, Amanda Blumenherst of Scottsdale, Ariz., and Duke tied for 43rd at 73-70-78-74–295, and Azahara Munoz of Spain and Arizona State tied for 51st at 77-74-74-74–299.
Wendy Ward of Edwall, Wash., and Arizona State shot 71-79-77-73–300 to tie for 53rd with Christina Kim of San Jose and DeAnza College, who wound up at 73-75-78-74–300, and Jennifer Song of South Korea and USC, who finished at 76-71-79-74–300, while Nicole Castrale of Palm Desert and USC tied for 57th at 78-76-72-76–302.
Tseng held a one-stroke lead over Wie and Kim after 54 holes, and the American tied for the lead by chipping in on the first hole of the final round, stayed even with birdies on the sixth and seventh holes, but could not make another the rest of the way.
Kim was five-under-par for the day and tied for the lead with Tseng after carding a birdie on the 13th hole, but fell back with a horrendous quintuple-bogey nine on the 17th hole.
"Michelle and I and I.K., we pushed each other really hard all day," said Tseng, who recorded six birdies in the first 13 holes of the final round before making her first bogey on No. 14, but rebounded with another birdie on the next hole.
"On the first hole, when Michelle chipped in with the big crowd, it was crazy. I know I needed to stay patient. All day, I was patient and focused and I just tried to control what I could control."
Like Sorenstam and Ochoa, she made it look like cruise control.