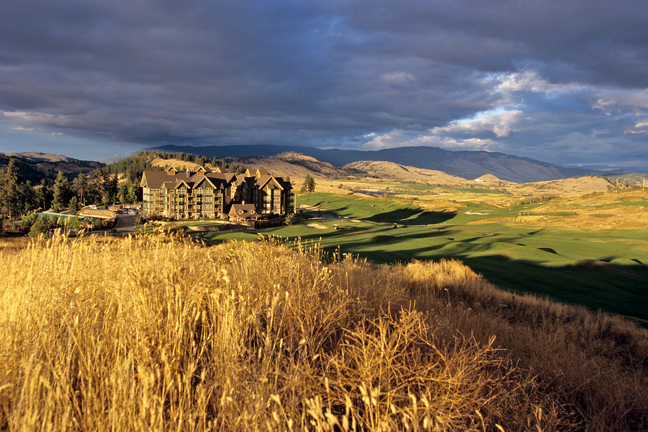 Predator Ridge Resort puts itself on display as soon as you drive up the winding road from the highway that leads to what many consider Canada's finest golf resort.
As the road nears the resort, which is built on a series of rolling hills in the Okanagan region of British Columbia – a temperate area in Canada's westernmost province about five hours east of Vancouver – holes from the property's original golf course entice you to grab your clubs as soon as you park your car.
That's not surprising when you consider the quality of Predator Ridge's two courses – and the golfers who have tested themselves against the resort's ruggedly beautiful holes over its history, which is now more than two decades old. Sergio Garcia loved the place so much after playing a Skins Game there that he became a longtime property owner.
"Predator Ridge is a beautiful, peaceful spot," Garcia told me last year.
He isn't alone. Greg Norman has played there. Former Masters champion Mike Weir brought his family to Predator. More recently, Hockey Canada, the organization that runs the amateur game in Canada, became a partner with Predator. The resort also has long been a lure for the dozens of NHL players who live in the area.
It's easy to see why. The climate at Predator is warm and dry in the summer, always comfortable and perfect for golf. Kelowna's international airport, with direct flights from destinations such as Los Angeles, is only a 30-minute drive from Predator. Numerous other top golf facilities sit nearby, making it ideal for a golf getaway.
Beyond that, many consider the region akin to what Napa or Sonoma were three decades ago. Boutique wineries dot the landscape, presenting opportunities for grape aficionados to tempt themselves with a beverage they aren't likely to find anywhere else.
The resort is rooted on its initial course, the Predator, designed by Canadian Les Furber in a sprawling, fascinating tract of rolling land that can be walked, which is a nice bonus. The second course, designed by noted Canadian architect Doug Carrick, who has won numerous Golf Digest Best New Course in Canada awards, is the yin to Furber's yang.
Carrick's course is far more rugged, utilizing exposed rock and stunning elevation changes to create what is certainly one of the best courses in Canada. SCOREGolf, Canada's national golf magazine, recently ranked it No. 25 in the country in its first year of eligibility.
A short walk down the hill from the resort's main lodge, the Furber course, which has hosted the Telus World Skins Game, is built on one of the best sites in Canada. From the start, with golfers teeing off below the clubhouse, players are faced with an experience on a course that mixes desert golf with links elements.
The best holes, like the 12th, a mid-length 347-yard par 4 with a plateau green, offer a variety of opportunities and options. But it isn't always as simple as it appears, with Furber's greens providing a defense against those who have been overly aggressive in their approach.
The Ridge course, which opened in 2010, is unique in Western Canada. Carrick, arguably Canada's best golf course designer, routed his layout through dramatic hillsides and between rocky outcroppings. Great holes abound, and many will sit back with a glass of wine in Predator's clubhouse after their round to debate which was best. The options are plentiful, including the second hole, which slides downhill to a large green. Or the 244-yard par-3 fifth hole, which sounds daunting in length until you realize it plummets 80 feet from the cliff-side tee to the green below.
The Ridge course concludes with a terrific one-two punch of the 17th, a lengthy par 4 with water down the left, and the 18th, with its green set below the clubhouse. With minimal forced carries, the key to both designs at Predator Ridge is that they present options for all golfers regardless of ability, while still providing a challenge for strong players. It is smart, invigorating golf.
Award-winning golf is where it starts at Predator, but not where it ends. The clubhouse, which recently underwent a multi-million-dollar upgrade, offers tremendous food and some of the best views in Canada. It is backed up with a stunning resort, with villas starting at $159 a night (running from one to three bedrooms, with many overlooking the courses), as well as rooms in the Predator Ridge Lodge, which overlooks holes on both courses and the world-class practice range, which underwent significant improvements for the 2013 season.
With its perfect climate, golf that interacts with a compelling and unique landscape, and intriguing off-course elements, Predator Ridge demonstrates a diversity not regularly seen in the resort market. Best of all, there are few places better to experience the best the game has to offer – and follow it up with a glass of a local vintage while sitting in a clubhouse that overlooks some of the most remarkable golf in North America.
FYI
If you go:
Fly into Kelowna International Airport. Many airlines will have connections that link to Kelowna, and United Airlines recently announced direct flights from Los Angeles.
When to go:
The Okanagan region of British Columbia is an all-seasons destination, with skiing in the cold months and golf from April to November.
What to do:
Aside from golf, there's plenty to keep you interested when you visit Predator Ridge.
Absolutely check out Sparkling Hill Resort, Predator Ridge's neighbor. The swank property, which opened in 2010, includes a hotel with 149 guest rooms and 3.5 million Swarovski crystals incorporated into the design. At 40,000 square feet, the KurSpa, which many regard as one of most impressive in North America, is the largest in Canada with 48 treatments rooms.
Consider stopping at Davison's Orchards. Though the Okanagan region is becoming renowned for its wines, the other lure of the temperate climate is its terrific orchards. Davison's Orchards is one of the region's most historic, and its apple pies are worth the pilgrimage. Tide yourself over with a treat before heading 15 minutes outside of Vernon to Predator Ridge.
Also worth investigating is Mission Hill, which is about a 20-minute drive from downtown Kelowna, just west of Predator Ridge. The stunning grounds of Mission Hill are set high above Okanagan Lake and feature unique architecture, including a 12-story-high bell tower. It also has a popular restaurant, with a wide variety of wines available for tasting or purchase in its shop.
Take a short, picturesque drive along Kalamalka Lake towards Kelowna, where you'll find the Gray Monk Estate Winery. Visiting might be the only way you'll get to try Gray Monk wines; the winery doesn't export outside of B.C. and has a hard time keeping its product on shelves in the province. Finish your day with dinner at Gray Monk's Grapevine restaurant with its mix of European fare highlighting local ingredients.
Wines worth trying:
Mission Hill – Oculus
Mission Hill has been a key wine partner at Predator Ridge and the winery's Bordeaux blend is a standout worth trying.
Sandhill – "three" 
An Italian-style Tuscan blend, "three" is part of the winery's small lots program and though it can be difficult to track down, it's well worth the effort.
Ex Nihlio – Riesling 
Another key wine of the region, Ex Nihlio's Riesling is a favorite of guests at the resort.
– By ROBERT THOMPSON