1926 at Riviera Country Club from left to right: Bell Sr., George Thomas, Alistair MacKenzie
Famed golf course architect William Park Bell had designs on creating a magnificent layout on the scenic cliffs above the Pacific Ocean north of San Diego, but unfortunately Bell passed away in 1953 before the course could be created and he left behind a number of incredible layouts.
Fortunately, his son William Francis Bell also was in the golf course design business and he followed his father's plans and dreams to create the incredible South and North Courses at Torrey Pines in La Jolla, which have hosted major championships and where the PGA Tour hosts the Farmers Insurance Open every year.
Originally, the land on which Torrey Pines in located was the home of the U.S. Army base Camp Callen, where American soldiers prepared for World War II. "Before his death in 1953, legendary course architect William F. Bell had envisioned the design of a wind and sea swept golf course that would afford golfers both rugged play and breathtaking surroundings," the City of San Diego Parks and Recreation wrote.
"A special city election in 1956 resulted in about 100 acres of what used to be Camp Callan being set aside for the construction of a public golf course, with the rest of the land given to the State of California. Before the decade was out, Bell's son, William F., would ensure his father's vision was realized by overseeing the completion of the North and South courses at Torrey Pines on that 100 acres."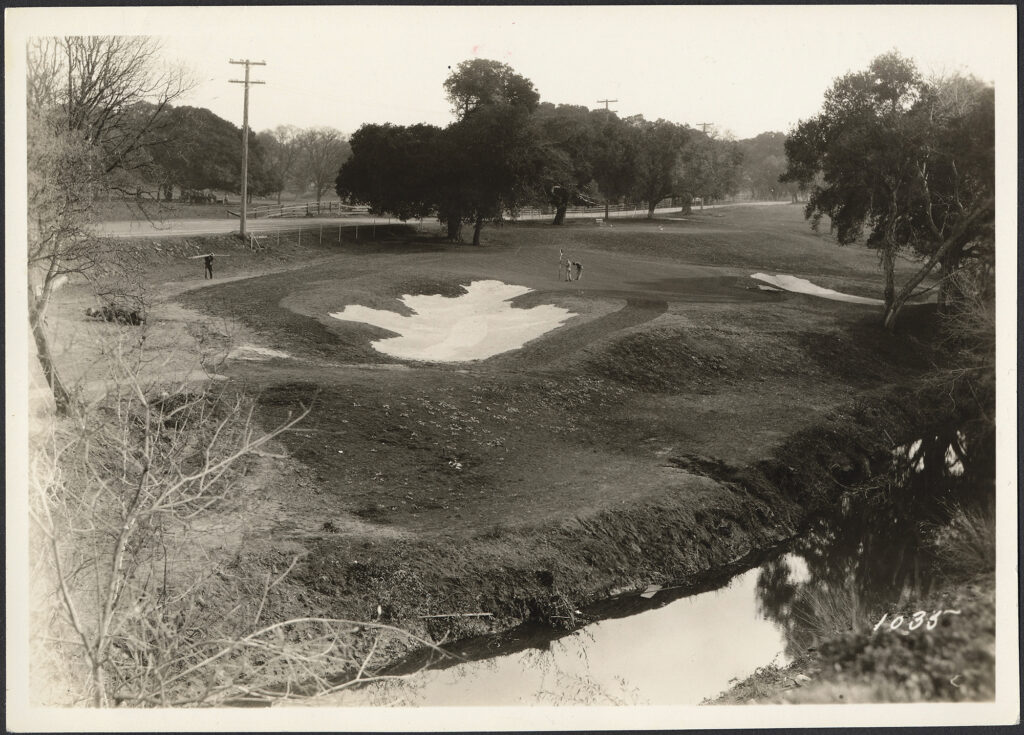 In total, the Bells designed or redesigned more than 300 courses in ten states, an astonishing number by any measure, one exceeded by only a handful of other practitioners, but that they did it in California was phenomenal.
William Park Bell was born in Canonsburg, Pa., 1886, and moved to California in 1911, when he served as caddie master at Annandale Golf Club in Pasadena and then greenskeeper at Pasadena Golf Club.
Billy Bell Sr. went on to serve as a construction superintendent for renowned golf course architects Willie Watson and George Thomas Jr., collaborating with Thomas on his great classic designs of the 1920s, including Bel-Air Country Club in Los Angeles, Riviera Country Club in Pacific Palisades and Los Angeles Country Club.
Then, Billy Bell went out on his own in the 1930s and designed two golf courses at Brookside Golf Club in Pasadena on the grounds of the Rose Bowl, La Jolla Country Club, San Diego Country Club and Hacienda Golf Club in La Habra Heights.
During World War II, Bell was a turf consultant to the U.S. Army Corps of Engineers and following the war, he was joined by his son in the family design business, which was known as William P. Bell and Son.
William Francis Bell, known as Billy Bell Jr., was born in Pasadena in 1918 and graduated from USC before joining his father's business. Bell Jr. and his father collaborated on a number of well-known courses, including the Bakersfield Club and Newport Beach Country Clubs.
After Billy Bell died in 1953, leaving behind his vision for the design of Torrey Pines, Billy Bell Jr. went on to design some of Southern California's best-known layouts, including the Sandpiper Golf Club in Goleta, Industry Hills Golf Club in the City of Industry and Bermuda Dunes Country Club.
"The Bells were always known as 'Billy,' both father and son," said Forest L. Richardson, another noted California golf course designer. "My mentor, Jack Snyder, knew both me, but mostly the younger, William F. Bell.
"At Papago Golf Course in Arizona, Bell had been hired to design the course, but needed someone to be on site during construction. That job was given to Jack, who took Bell's routing and brought it to life for one of the West's most important public courses—and one of the first to be carved out of the native desert."
When Billy Jr. was designing Los Coyotes Country Club in Buena Park during 1958, he brought along his mother, Anna, for a meeting with course officials. After taking a long, focused look at the proposed layout, Anna excused herself from the meeting.
The Los Coyotes owner said to Billy Jr: "It's interesting that you brought your mother."
Bell replied: "I don't think you understand. We're partners. She used to help my dad with all the routings."
Billy Bell Jr. passed away in 1984, but not before he and his father left their legacy forever on the California golf landscape.
"William P. Bell, known as "The Bunker Man', would lay bed sheets on the ground so he could visualize bunkers from approaches and the tee," Richardson said. "This was during his work with the great George C. Thomas, Jr.
"Both the Bells were known for the 'potato chip' greens. Often rather simple in shape, yet with swooping sides and backs extending to mounds that would surround greens. Very often we find unused triangles of land in Bell routings. It's my opinion that these were leftover areas when the Bells would take great care to angle holes to there would be a variety of views and orientations to wind."
"I have had the fortune to work on the few courses both men contributed to. This time period— the late 1950s—was when William F. joined his father and began his career in design."
Golf Group limited wrote: "Together, the Bells dominated the golf course building and remodeling market in the western United States and Hawaii. The elder Bell, along with the likes of Donald Ross, Robert Trent Jones, Sr., and Perry Maxwell, was a founding member of the American Society of Golf Course Architects, serving as president in 1952…Following his father's death, the younger Bell continued the successful golf course architecture practice and retained the company name of "William P. Bell and Son" in his father's honor."
Golfers in California and beyond should appreciate what the Bells did for them.
Complete list of William F. Bell courses:
williambellsociety.wordpress.com/william-f-bell-courses
Complete list of William F. Bell courses:
williambellsociety.wordpress.com/william-f-bell-courses