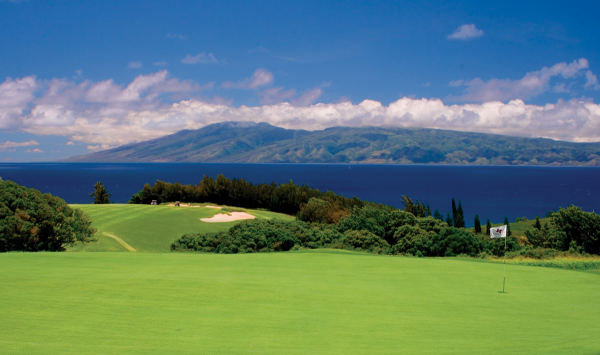 There was a time not so long ago when the Hyundai Tournament of Champions was one of the showcase events on the PGA Tour.
Whether it was played in Nevada, California or Hawaii, for more than 50 years, the event was the opener to the new season.
That changed last season, when the PGA Tour went to a new wraparound schedule for 2013-14 that started in October. Even before then, however, the tournament lost a great deal of its luster.
When the winners-only TOC will be played for the 63rd time this week on the magnificent Plantation Course at Kapalua on the Hawaiian island of Maui, it will be the eighth event of the 2014-15 season.
Not only that, but many of golf's top stars won't be there.
Tiger Woods hasn't played in the tournament since 2005, while Phil Mickelson, miffed that the tournament was moved from near his home in Southern California and often uncomfortable in windy conditions, hasn't been to Kapalua since 2001.
Both are ineligible this time anyway because they didn't win on the PGA Tour last season.
"Well, it won't be Kapalua," Woods quipped when asked by reporters last month when he will play for the first time in 2015.
Even when he was eligible in recent years, Tiger preferred to stay home in Florida for extended holidays with his family before starting out with a lucrative payday on the Middle East swing of the European Tour.
Woods won't make that long flight to Dubai or Abu Dhabi this year, and he is expected to make his 2015 debut in three weeks in the Farmers Insurance Open at Torrey Pines.
Mickleson will start in two weeks in the Humana Challenge in the California desert near Palm Springs.
The top four international players in the World Golf Rankings who are eligible to play at Kapalua — No. 1 Rory McIlroy of Northern Ireland, No. 2 Henrik Stenson of Sweden, No. 3 Adam Scott of Australia and No. 6 Justin Rose of England — also are sitting out the TOC.
Like Woods, the top players prefer to stay home for extended time with family and friends after the long season, and/or start their season by receiving lucrative appearance fees in the Middle East later in January.
Scott probably enjoys Maui as much for the surfing as the golf, but he will be riding the waves at home Down Under this week.
Last year, Scott and Matt Kuchar were the only players in the top 10 of the World Golf Rankings who teed it up on the Plantation Course.
This week, No. 4 Bubba Watson and No. 8 Jason Day of Australia are the only top-10 players in the field, which also includes Kuchar, defending champion Zach Johnson, FedEx Cup winner Billy Horschel, Jimmy Walker, Patrick Reed, Hunter Mahan, Geoff Ogilvy of Australia, Hideki Matsuyama of Japan and Angel Cabrera of Argentina.
Watson, Johnson, Ogilvy and Cabrera are the only major champions on the list.
The Tournament of Champions was founded as a reward for PGA Tour winners in 1953 at the Desert Inn Country Club in Las Vegas, giving the top stars and their families something of a vacation if they lived in the cold and snowy weather in the Midwest and East. Al Besselink won the inaugural event.
The headline players rarely, if ever, missed.
Among the tournament winners are many of the big names from one of golf's great generations, including Jack Nicklaus, Arnold Palmer, Gary Player, Lee Trevino, Tom Watson, Sam Snead, Johnny Miller, Gene Littler, Jerry Barber, Art Wall Jr., Lanny Wadkins, Al Geiberger, Mark O'Meara and Calvin Peete.
In more recent times, the champions included Woods, Mickelson, Ernie Els, Vijay Singh, David Duval, Jim Furyk, Steve Stricker and Sergio Garcia.
The Tournament of Champions was played in Las Vegas until 1968, when it moved to La Costa Resort and Spa in Carlsbad, Calif., where Mickelson's father would take him out of school as a kid to see the pros, and where Lefty claimed the title in 1994 and 1998.
After 30 years at La Costa, the tournament moved to Kapalua in 1998.
Woods captured the title in memorable playoffs in 1997 at La Costa and 2000 at Kapalua.
When rain canceled the final round at La Costa in 1997, Woods was tied for the lead with Tom Lehman, forcing a playoff that lasted one hole. Tiger ended the proceedings in sudden and dramatic style on the par-3 seventh hole by hitting a laser of a tee shot to within a foot of the hole for a winning birdie.
Three years later at Kapalua, Els and Woods were tied for the lead going to the 72nd hole. Both made eagle to force a playoff, starting on the 18th, where both made birdie before continuing to No. 1.
There, Woods sank a dramatic, 35-foot, downhill birdie putt to win the tournament.
That might have been the zenith of the Tournament of Champions, not that it is a no-name event now. Johnson beat a field last year that included Scott, Kuchar, Reed, Walker, Horschel, Jason Dufner, Dustin Johnson, Webb Simpson, Brandt Snedeker and Jordan Spieth, who finished second but did not win last season and failed to qualify this time.
Even so, the once great tournament simply ain't what it used to be.
Story courtesy of The Sports Xchange, TSX Golf Editor Tom LaMarre