Currently atop the FedEx standings, Fresno State's Nick Watney enters the playoffs as the man to beat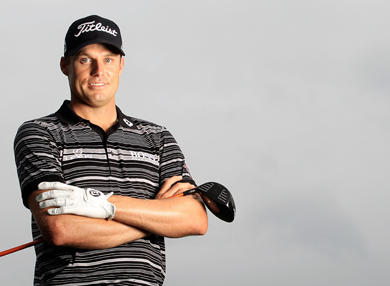 By Jim Dover
Photos by Getty Images
Already having his best season on tour, Nick Watney enters the playoffs for the FedEx championship with one man to beat – himself.  Sitting atop the leaderboard, Watney will face the best players in the world for four weeks and hopefully at the end stay exactly where he is right now.
Fortunately for Watney, he's been in that pressure cooker already this year at the WGC-Cadillac Championship at Doral where he fired a bullet into the final hole at the Blue Monster before calmly stroking in a 12-foot birdie putt that earned him his first World Golf Championship. Watney would add one more victory for the year at the AT&T National where he once again needed a solid Sunday round to beat K.J. Choi and Rickie Fowler for the win.
Last year Jim Furyk fist-pumped his way into the ultimate first prize check of $10 million dollars after winning the final playoff event and the same fate could happen to Watney, who is most comfortable on the last stop on the playoffs East Lake track. We talked with Nick as he prepared at home in Las Vegas with swing coach Butch Harmon.

You're sitting on top of the FedEx standings going into the playoffs.  However, the points are now heavily skewed to the winner of any event in the playoffs.  Do you feel any advantage as the leader going in?
I think there is a small advantage.  They obviously want to make the finish as exciting as possible.  It's a little like pre-season college football.  Your rank may not matter, but if you play well and you were already ranked high then it's easier to wind up in a top spot.  Obviously, if I don't play well it's not going to matter.
Top players are always going to make enough money during the year that the pressure of a winning purse doesn't outweigh the desire for a victory.  But now we're talking about a really big first place prize ($10 million).  How do you not think about it?

Well, I think it's only natural to think about that much money.  But it really comes down to why you play in the first place.  It sounds cliché, but I don't play to win money.  I want to shoot lower than everyone else in the tournament and after that you just let the chips fall where they may.
You have multiple wins this year on the tour including a WGC Championship.  Are you playing better or are you figuring out how to win?

It's a combination of both.  I've putted better this year than I have in any other season.  Any golfer knows that's where you score and that's probably the biggest reason from a physical aspect.  Mentally I'm getting more and more comfortable in pressure situations and learning how to react.  I still get nervous, but now I understand that and I figure out how to deal with it and still perform.
Are you still proud about that last shot over the water at Doral to win the WGC?
I'm definitely proud and I draw back on that shot.  It was a pressure situation and I came up with a shot when I really needed it.  I still think about it.
Your wins and consistent play have made you a favorite to win every time you enter a tournament, including the majors.  Do you miss being the unknown guy who can sneak up on people?

I actually like being one of the top guys to be honest.  It's neat to get that type of attention and I enjoy it, but it's a bit of learning curve as well.  It's definitely different to receive attention before the tournament begins.  It's neat though.
At the PGA Championship we saw more double and triple bogeys than I can remember at any professional tournament.  It was exciting for the fans, but how did the players feel about it?

The golf course was very difficult and very penal.  I think the 18th hole garnered a lot of attention and that hole was a little suspect.  I think it would have been great if they would have made it a par 5.  You would have kept the excitement and it still would have played difficult.
Once the playoff between Keegan Bradley and Jason Dufner began can you watch like a regular fan or is the disappointment of not winning too much for a player?

No, I watched.  I definitely felt for Jason who had a really good chance to win, but for whatever reason wasn't able to get it done.   I was still a little disappointed of not being involved myself, but it was a really exciting finish.
You missed the cut in both the U.S. Open and British Open Championship.  You must feel disappointed in the majors this year.  Can you pinpoint anything about what's not clicking for you during the majors this year?

Missing those two cuts was disappointing.  I can't really pinpoint any one thing.  At the U.S. Open I just didn't putt well and I got off to a really poor start.  At the British, I really learned a good lesson because I was playing well on Friday and coming down the stretch I was really trying to make birdies and that doesn't always work in a major and I paid for it.  I learned a lesson in patience and next year I'm going to do better in the majors.
Lee Westwood made a comment that he would try his hardest "not to care" during the PGA Championship.  Are the top players over-thinking the majors?

I can see that.  I also heard that Darren Clarke took a similar approach to take it easy on himself before he won the British.  There are times when a tournament means so much and you want to play well so badly that it has the adverse effect.   Golf is very difficult in that way because sometimes the harder you try the worse results you get and with other sports the harder you try the better you get.  A player as good as Lee Westwood; maybe sometimes that extra determination for a major maybe can get in his own way.
The media outside of California loves to mention that you were a walk-on as a freshman at Fresno State, but they never mention how dominating you were on that team – especially in your senior year.  How fun was it to be the best-ranked college player during your senior year?

It was a lot of fun.  Anything you do, if you're ranked number one it's very exciting and a great honor.  I always enjoy going back there and I still speak to my uncle [Mike Watney] at least once a week.  It was a perfect school for me and I wouldn't change anything about college.
At one point you won five consecutive tournaments during your senior year.  Was that stretch as confident as you've ever felt playing golf?

In college and amateur golf you can feel confident, but there's always that next level.  I feel like when I was winning in college I still had an eye on who was winning on tour that week.  The most confident I ever felt was probably this year after my two victories.  I feel like I earned them and went and got the victory without the field coming back to me.  Especially at the WGC when I beat the best players in the world.  There's no other feeling like that.
You must have been very proud to win Fresno State Athlete of the Year as a graduating senior.

I got to accept the award at a football game and the sports fans at Fresno State are awesome.  They rally around every program and it was a great honor and I still have the award at my house.  It's something I look back on and realize those college years were a lot of fun.
Did it help that quarterback David Carr graduated the previous year?

[Laughing] Probably.  He was a heck of a player.
As a sports fan that must have been pretty cool to have the nation's top quarterback at your school?

It was fun.  Football games in towns that don't have a professional team are really the thing to do.  The entire town shows up and David Carr really put us on the map.  Fresno State football was on the cover of Sports Illustrated and ESPN would come to town and he was up for the Heisman Trophy.  He really raised the level of Fresno State exposure and I wish he would have had a better opportunity in the NFL.
Every school has a signature tournament during the year.  The Fresno Lexus Golf Classic (formerly the Pepsi Golf Classic) has a rich history that includes Tom Watson, Craig Stadler, Johnny Miller and Phil Mickelson.  You won back-to-back titles in 2001 and 2002.  Was it one of your collegiate goals?

Yes it was.  When I first came there, my uncle Coach Watney really went all out to make the tournament different.  He went after the top ranked teams and we had a scoreboard, and as players we saw all the work put in to making that tournament different and special so we really wanted to win it.
You actually started working with your current coach Butch Harmon while you were at Fresno State.  How did that relationship start?

I saw him one time when I was in school and we started really working exclusively in 2005 when I was a rookie on the PGA Tour.  Butch has been an amazing person in my golf life and I've been lucky enough to just be able to sit with him and talk about golf.  He has seen every great player except for Walter Hagen play golf.  He's close to 70 years old and his eye for the game is as sharp as ever.  He's an unbelievable asset for my golf game and I also consider him a very close friend.
What do you guys primarily work on when you're together?

It changes but mostly we work on the basics: set-up and grip and the maintenance things that we can control.  You can never control your golf swing for the entire year… it's just impossible.  But you can control set-up, grip, aim and those type of things.
Every tour player talks about getting better each year.  That level of getting better must get tougher and tougher to achieve.  Can you describe the process?

First of all I think you have to diagnose your weakness.  The stats that the tour tracks are amazing and you're able to print those out and really look at those stats.  Every year I get with Butch and my team and have a meeting to look at those stats and determine where to get better.  I mean if you look at a guy like Steve Stricker it's going to be very hard for him to get better with his putting because he's already one of the best.   Identifying your weakness is the easiest way to improve because you see right away what you need to work on.
You most likely will need to win one of the playoff stops coming up to win the FedEx Championship.  Is there one course you feel the most confident about?

They changed the course for the first stop [The Barclays, Plainfield Country Club] and that will be a new golf course for me.  I've never played it.  The second stop [Deutsche Bank, TPC Boston] I've actually never played very well there, unfortunately.  The third stop [BMW Championship, Cog Hill Golf and Country Club] is not really my favorite course to be honest.  But the last stop in Atlanta [Tour Championship, East Lake Golf Course], I've had some very good success there.  I played the U.S. Amateur there and I also played the Tour Championship twice now and I feel like I'll have the best opportunity there.
One of the events you support is the Justin Timberlake Shriners Hospitals for Children Open.  Some players don't participate in the Fall Series, why do you?

Obviously, I can sleep at home and it's very easy for me to play.  I love to play golf anyway so if I'm here, why not?
What do you like most about living in Las Vegas?

It's a perfect town for me at this time in my life.  I'm newly married and my wife and I travel most of the time, but it's great to have friends visit, and they love to travel to Las Vegas and it's fun to show them around.  I'm not sure if I'm going to raise a family here, but at this point it's a great place.