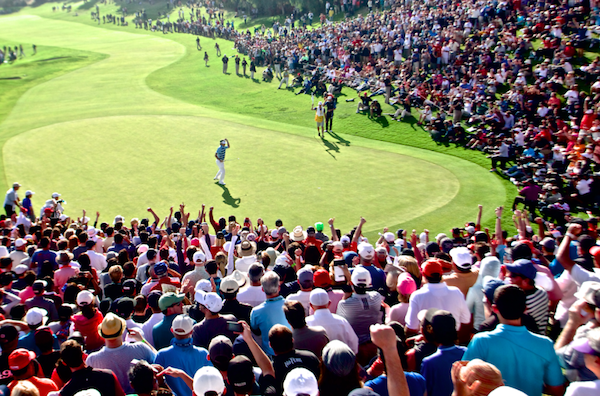 Just when I was going to rant that golf has hit a lull, and it has, Bubba Watson wins at storied Riviera Country Club in the Northern Trust Open. Just like the rain that fell on the west coast last week, which did little if anything to soothe the pains of the drought, Bubba's win, a popular one especially coming after two weeks ago when he shanked a five footer to miss out on a playoff with eventual winner Kevin Stadler at the Waste Management Phoenix Open, it was barely a shower. Just look at who has decided not to play in the PGA Tour created WGC Series in Tucson this week; the evidence should provoke a question. Could you see Tiger, Phil and Adam passing on the Masters?
What was on display again and what gives Bubba's victory credence is the lefty from Bagdad, Florida is in some elite company, accompanying Riviera itself.
Fred Couples once said, "outside of Augusta National, Riviera is my favorite course."
Let's see, Freddie won at Augusta. Winning at Riviera is historic. It's a medal of some kind. Honorable. Oh, doubting me? Sir Nick Faldo won at Riviera. Lefty, Phil Mickelson has won twice at Riviera and it could've been three. Phil has three green jackets. Hell, that little lefty from Canada Mike Weir won at Riviera in 2003 and in case you forgot, won the Masters later that spring.  A lot the talk lately has been about Stadler wining his first PGA Tour event in Phoenix and having the opportunity now to join his dad Craig, a Masters Champion playing at Augusta, a first ever father and son duo. Well I'll be damned. Craig won at Riviera too in 1996. Hogan won here.  Snead won here. Crenshaw didn't win here, finishing second to TC Chen in 1987, but was responsible for re-doing the greens in preparation of the 1995 PGA Championship and he has two verde blazers. Charl Scwartzel, Masters champion in 2011, should have won at Riviera last year and was on the first page again this year, another player of immense talent, someone who realizes that winning on these hills of Pacific Palisades is a treasure only shy of royalty in golf's elite four.
Pebble Beach has held more majors than Riviera, endowed us with great history but any player will tell you that on days benign of wind or foul weather, it's not that difficult. The Chamber of Commerce weather that greeted golf's elite this year made for excellent if not close to perfect conditions where -15 was victor. In today's game, no wind, dry conditions lead to deep double-digit scores as these cats today just bomb the ball 320 yards plus. Over this past weekend, still only four players achieved that.
Riviera has handed out checks to more winners in single digits than any event outside of the US Open!
If you have never been to Riviera, it's a trip, if I may sound so "LA." If you love golf, golf's great courses, architecture, simplicity and beauty of how golf is meant to be played, then here is your cathedral. When all the scores are tallied, in the end Riviera usually ends up the winner. "The Riv" wins ever year, on a course where there is a nary a lake or creek to be found. Anyone fortunate enough to have played Riviera knows you'll forever remember when it happened, what the sky looked like, who your caddie was and how bummed you were that you couldn't play more. Before they began building these "stadium" courses of the TPC circuit, Riviera has offered the natural amphitheater of the fabulous 18th closing hole. There is no doubt that someone in Ponte Vedra said, "Hey Commish, all we need to do is get a finishing hole like they have at that joint in LA." From a blind tee shot desperately hidden from the all those up top, the walk up the hill suddenly opens to a natural Broadway stage where drama unfolds annually. To quote my neighbor's son, "It's epic!"
So onto that stage Bubba strolled, the lefty with a walloping pink, Ping driver, where he joins an elite club of players who have won at Augusta National and Riviera, two courses that share history and respect of all who have walked their fairways, shaped their shots and putted their treacherous greens.
"It's not tricked up," the winner said. "Everything is right there in front of you. It's just a great golf course."
Winning a major is validation of success. Winning the Northern Trust Open, known to most of us, as the LA Open at "the Riv" is conviction because a player may never get both, few have. If you have been paying attention here you will notice that neither Nicklaus, nor Woods has been mentioned. Yes, they have ten green coats between them but neither can claim victory at Riviera. Jack tried and failed and no longer has a chance to complete the double. Tiger, who was given his first ever exemption into a PGA Tour event as a teenager, a high schooler, a really good one at that, has chosen for some reason to whack it off his schedule.
So Bubba from Bagdad, congrats to you. When you attend this years Champions Dinner at Augusta you may bump into a few others who share this distinguished accomplishment. They'll know. And just like Phil and the little guy from Canada, you're a champion at two of golf's most prestigious and hallowed venues and two up on Tiger and Jack. You've conquered Riviera and done it from the other side of the box. At least you have that going for you, which is nice!