As the weather begins to cool down, there's no better time to plan a Coachella Valley golf trip
By Larry Feldman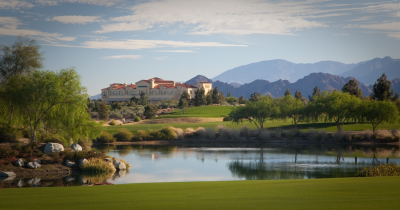 When it comes to choosing a resort destination in the Coachella Valley, my decision usually rests on whether or not I want to rest. If I'm in the mood for a relaxing, do-nothing-type of vacation, I go straight to La Quinta Resort & Club. If I'm looking to rev it up a bit and enjoy a little nightlife with all the bells and whistles, it's definitely the Marriott Desert Springs Resort.
Located twenty miles east of Palm Springs in the shadow of the Santa Rosa Mountains is the historic and luxurious La Quinta Resort. Since opening in 1927, La Quinta Resort has been a haven for movie stars, celebrities and well-to-do types. In fact, legendary filmmaker Frank Capra wrote "It Happened One Night," "Mr. Smith Goes to Washington" and "Meet John Doe" while sipping his favorite brandy at La Quinta in the years following its opening. It has even been said that he became superstitious about writing his scripts at La Quinta Resort once he swept the Academy Awards for 1934's "It Happened One Night."
Today, La Quinta Resort awaits anyone looking for relaxation and pampering. It features old-world adobe architecture accented with arched passageways, large iron and wood doors, terracotta potted plants and a plethora of fountains, gardens and pools. Many of the rooms at the resort are the original adobe casitas from the 1920s but with today's modern luxuries.
With 41 pools, 53 hot tubs, 23 tennis courts and an award-winning spa, one cannot help but feel relaxed after a stay at the resort. For the ultimate in relaxation, Spa La Quinta offers massage and beauty treatments from many different cultures around the world.
But the best part is that there are five championship courses to play, so getting tired of playing the same old tract isn't going to happen. Here's the rundown:
La Quinta Mountain Course: With this 1980 design, Pete Dye transformed the Palm Springs area from a sleepy enclave of private courses to a golf vacation destination. While the course isn't long by present-day standards, the mountainside golf is so overwhelmingly beautiful and fun that nothing else matters.
La Quinta Dunes Course: This Pete Dye championship course is characterized by rolling, Scottish links-style fairways and thick, penalizing rough. A leisurely round is punctuated by fantastic scenery and careful club selection. A dramatic left-turning fairway with a tantalizing green will tempt long hitters on the signature 17th, while an insatiable lake eagerly awaits the chance to swallow the foolhardy.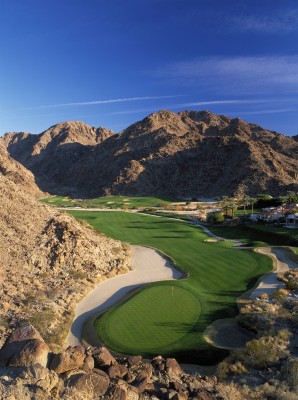 PGA West Nicklaus Tournament Course: The same forceful presence the Golden Bear brought to his game is evident in his challenging desert layout. Long hitters will appreciate the opportunity for power off the tee with room for forgiveness, while elevated greens require you to literally raise your short game to another level.
PGA West Stadium Course: This is the must-play golf course in the desert. Designed for golf's biggest stage, the TPC Stadium Course is where legends have made history. Pete Dye crafted one of the most challenging tracks you can play, creating 18 individual masterpieces, each with a character and identity all its own. Its mystique is derived from unique undulations, cavernous bunkers and the famed island 17th green.
PGA West Greg Norman Course: Greg Norman captured the essence of desert golf with an Outback flair in this challenging yet fair design that features an abundance of sand, sage, colorful pockets of wildflowers, nine lakes and spectacular panoramic vistas, unmatched anywhere in the Coachella Valley.
A few miles west, the Marriott Desert Springs Resort will turn your next Palm Desert vacation into a Southern California experience that will have you feeling as though you've been transported to a tropical paradise.
The glittering pools and lakes entice you to splash, dash and cool off in this dazzling desert escape. Stroll through the colonnade of inviting boutiques on your way to a day of fun in the sun. As mascots of free spirits, hummingbirds flutter throughout the grounds, while exotic parrots, macaws and cockatoos inhabit the magnificent lobby with the feel of a breezy tropical oasis. On the lower lobby level, a gondola awaits for a ride to your favorite resort dining spot, an afternoon tour or a customized charter of your own.
The great Ted Robinson stamped his signature on the resort's two exceptional 18-hole championship courses, majestically set against the towering backdrop of the Santa Rosa Mountains. Both the Palm and Valley courses are challenging yet fair tests of golf and help make this one of California's top golf resorts.
Feel like venturing off-property? Here are a few courses that might tickle your fancy:
Indian Canyons
Surrounded on three sides by breathtaking, colorful mountain vistas, and sheltered from the wind at the base of the San Jacinto Mountains, lies this jewel of a resort.
The South Course is an 18-hole championship layout that was redesigned by Casey O'Callaghan in 2004 along with LPGA Hall of Famer Amy Alcott. This par-72, 6,582-yard championship track has four large lakes that come into play on six holes. But the most extraordinary feature are the five par-5 holes. Add to that rolling mounds and fairways and more than 850 palm trees, including some 500 Washingtonia filifera palm trees native to the Agua Caliente Tribe, and you've got yourself a true test.
The North Course is a par-72, 6,943-yard layout that was designed by William P. Bell and is heavily steeped in tradition. This classically designed course meanders through Palm Springs' stylish Canyon region, which boasts a wide array of authentic mid-century modern homes and stunning mountain views. The course has six challenging water hazards and hosts the course's visual centerpiece, the historic Walt Disney fountain, which shoots water jets over 100 feet high.
Fantasy Springs Resort / Eagle Falls Golf Course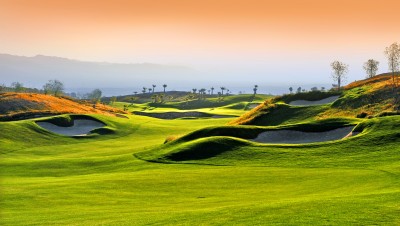 Fantasy Springs Resort features 250 luxury rooms and suites in a 12-story tower. Guests can opt for a view of the oasis-like pool and sundeck, lined with palm trees, or of the surrounding mountains of the Coachella Valley. Many rooms facing the pool and sundeck feature French doors, which open out to a veranda — perfect for taking in a breezy desert sunset. Located adjacent to the hotel lies Eagle Falls Golf Course, where renowned architect Clive Clark has taken a parcel of the local desert and carved a golfer's masterpiece with elevations and water features not usually seen on a golf course that is open for public play. A 6,715-yard, par-72 challenge, Eagle Falls will test the low handicapper, yet provide an enjoyable and fair test of golf for the average player.
Classic Club
Classic Club is a par-72, 7,305-yard Arnold Palmer-designed course that offers a variety of tee options, appealing to players at all levels of the game. The layout's rolling terrain features a core design with pine, olive and pepperwood trees, offset by flowering bushes, shrubs, and pine straw ground cover, all playing off of the surrounding mountains and vistas that are exclusive to the Coachella Valley that make for an incredibly beautiful golf experience.
SilverRock Resort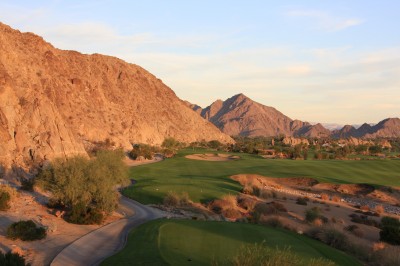 SilverRock Resort's Arnold Palmer Classic Course, a home course of the Bob Hope Classic from 2008-2011, is a challenging 7,578 yards sprawled over 200 acres with massive native bunkers and stunning water features set against the backdrop and natural beauty of the Santa Rosa Mountains. The master plan includes 36 holes of championship golf, a world-class practice center, retail venues, luxury and boutique hotels and a convention center.
Desert Willow Firecliff Course
Desert Willow Golf Resort has emerged as the favorite place to play in the Palm Springs area for many. Firecliff, which measures 7,056 yards, is a true test of skill where golfers must negotiate their way around extensive natural areas, over 100 bunkers and numerous water features.
Desert Willow Mountain View Course
A more resort-style course, Mountain View has wider fairways and limited desert waste areas. But don't be deceived, Mountain View measures 6,913 yards and is rated just slightly less difficult than Firecliff. With more forgiving fairways, 98 well-placed bunkers, sloping greens and seven water features, the course still requires the best from golfers of all levels.