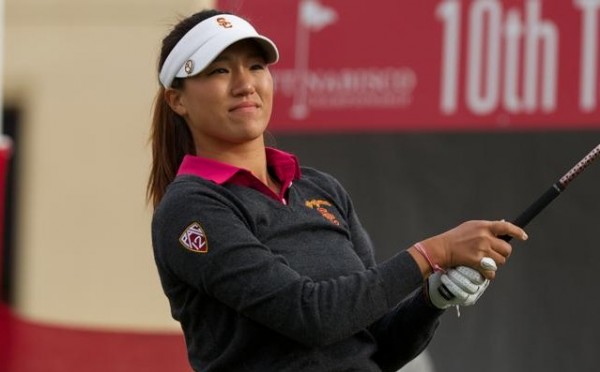 USC claimed its fifth victory of the season, winning another NCAA Regional title by six strokes over Stanford on the Entrada Course at Snow Canyon Country Club in St. George, Utah.
The Trojans claimed their 11th regional title and sixth in a row, both NCAA records.
"It was great to have a cushion coming into the final round, but it was still a sense of relief to win the tournament and advance," USC Coach Andrea Gaston said. "By our standards, it wasn't the best finish today, but Entrada Country Club is very difficult and it showed in the scores.
"Playing a golf course like this, where we were really challenged in every way, will help us at nationals. We head to Florida knowing we can survive, and even thrive, at a very difficult venue. Hopefully, that toughness will be something we can take away from this week."
USC finished at 293-292-295–880, 28-over-par, followed by Stanford at 304-292-290–886, Arkansas at 306-296-290–892, UNLV at 301-304-290–895, Virginia at 308-296-294–898 and California at 297-305-298–900.
The top six teams advanced to the NCAA Championships at Concession Golf Club in Bradenton, Fla.
San Diego State finished 11th at 315-310-291–916.
Dana Finkelstein of UNLV captured the individual title at 72-72-67–211, while Alana Uriell of Arkansas shot 75-72-69–216 and tied for second with her Razorback teammate, Gaby Lopez, who totaled 73-72-71–216.
Gabriella Then of USC was fourth at 74-76-67–217, followed by Trojan teammate Annie Park at 72-71-75–218, and Alivia Brown of Washington State at 71-77-71–219.
Lauren Kim of Stanford carded a score of 75-74-71–220 to tie for seventh with Megan Maclaren of Florida International, who finished at 72-77-71–220, while Casey Danielson of Stanford shot 72-75-74–221 and tied for ninth with Lauren Coughlin of Virginia, who came in at 74-73-74–221.
Rounding out USC's scoring were Karen Chung in a tie for 11th at 71-76-75–222, Kyung Kim in a tie for 26th at 76-72-78–226 and Amy Lee in a tie for 68th at 84-73-78–235.
Pauline Loulier led Cal in a tie for 13th at 68-77-78–223 and Milagros Chaves of San Diego State tied for 20th at 77-78-69–224.