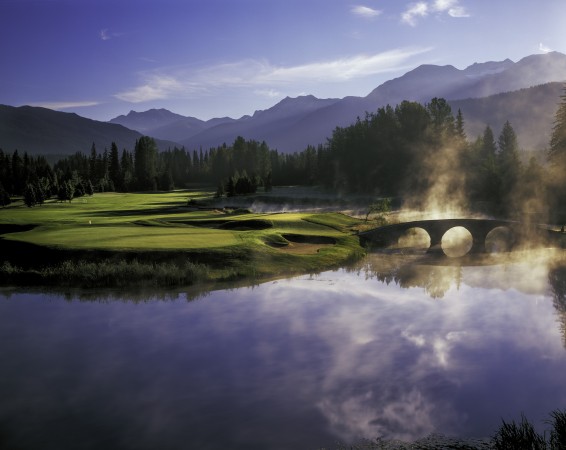 Take advantage of the strong dollar on a golf tour of scenic British Columbia  
 With the buying power of the U.S. dollar achieving almost $1.25 in Canadian dollars, now is definitely the time to embark on a golf trip to Canada. And what better place to start than the province closest to California: British Columbia.
Awe inspiring from sea to sky, from the Pacific Ocean to the Canadian Rockies, British Columbia — arguably Canada's most scenic province — and its more than 300 golf courses are the perfect refuge from the California summer heat.
The climate and golf in British Columbia are as diverse as the terrain itself. On the western-most side of the province, Vancouver, Victoria and the Vancouver Island Golf Trail offer spectacular ocean views and a sub-Mediterranean climate at sea level, while Whistler and the Kootenay Rockies border mainland British Columbia in the respective Coastal Mountain and Canadian Rockies mountain ranges. Between those ranges lies the Thompson Okanagan at the northern tip of the Sonoran desert, where the semi-arid climate has earned the region the nickname "Napa of the North" for its golf and wine county.
Getting to British Columbia from California is easy. Direct flights are available from many California cities to Vancouver, the province's largest city and the location (together with Whistler) of the 2010 Olympic Games. Direct flights are also available from San Francisco to Victoria, a spectacular city waiting to be explored. From either Vancouver or Victoria, or Seattle as an alternative gateway, it is just a hop, skip, or a jump to whichever British Columbia golf destination intrigues.
There are seven golf destinations that would be of particular appeal to travellers from California: Victoria and the Vancouver Island Golf Trail, Vancouver, Whistler, Kamloops, the Shuswap, Kelowna and the Kootenay Rockies, with a minimum of five days required to truly partake and enjoy any of them. Combine several over two weeks and you've got a British Columbia Golf Bucket List trip.
Victoria and Vancouver Island
Starting with the provincial capital then, at the southern tip of Vancouver Island, Victoria simply sparkles with its breathtaking views of the Olympic Mountains and Pacific Ocean. With the mildest climate in Canada, summer in Victoria is comfortably warm and dry. Victoria receives an average of 2,185 hours of sunshine a year and boasts a low humidity ratio. Almost constant offshore breezes keep summer days from becoming too hot and summer evenings cool. The city is abuzz with artisans, musicians and festivals, and visitors are encouraged to stroll the inner harbour waterfront and city core to soak it all in.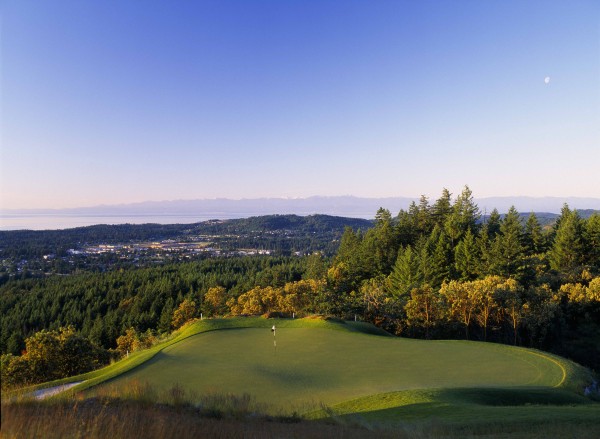 Victoria has five golf courses for your must play list, including Jack Nicklaus Design's only 36-hole facility in Canada at Bear Mountain Resort, Olympic View, Highland Pacific and Arbutus Ridge.
Travel North on Canada's Hwy 1 and you will discover the lush farmland and vineyards of the Cowichan Warm Land, the magnificent beaches of the Oceanside area of Parksville and Qualicum Beach, the pristine wilderness of the North Island area of Courtenay and Campbell River and another 6 fantastic golf courses for your dance card – you can explore it all on the 150 mile Vancouver Island Golf Trail and reveal for yourself why Vancouver Island has been named in the top North American Islands for the last 15 years.
Vancouver
For most Californians, Vancouver will be your gateway to British Columbia and worthy of a few days to take this beautiful cosmopolitan city, duly coined Spectacular by Nature. Even for the well-seasoned traveller, Vancouver has the power to astonish, with arts, culture, golf, nightlife and shopping all within a scenic mountain and ocean backdrop. Mayfair Lakes, Morgan Creek, Swaneset Bay, University Golf Club and Redwoods are excellent golf course choices while in Vancouver.
Whistler
Ranked as Canada's number one golf destination by Golf Digest, Whistler is a definite must for first time visitors to British Columbia. Site of the 2010 Olympic Games, Whistler's unparalleled world class resort atmosphere is the perfect complement to its four marquee designed golf courses. Play at the base of majestic Mount Currie on Robert Cupp's Big Sky Golf Club, experience Jack Nicklaus's signature design at Nicklaus North, Arnold Palmer's first ever Canadian design at the Whistler Golf Club and Robert Trent Jones Jr.'s pre-eminent mountain design at the Fairmont Chateau Whistler Golf Club.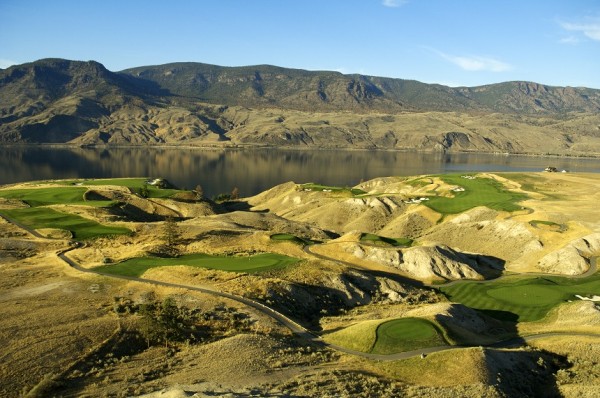 Kamloops
Kamloops is coined the hottest market in Canadian golf – perhaps because it is home to world class Tobiano Golf Course – the No. 1 Public Golf Course in BC as rated by Canadian Golf Magazine, Score Golf, and Golf Digest, as well as Sun Rivers, Kamloops G&CC, Rivershore, The Dunes, Eagle Point Sun Peaks and Talking Rock, but also because it is located at the northern tip of the Sonoran desert, yielding warm summer temperatures and an eight-month plus golf season.
The Shuswap
Long known for Shuswap Lake house boating and a popular summer playground for British Columbians and Albertans, the Shuswap is British Columbia's best kept golf secret, but certainly worth your venture. Stay at the First Nation's Quaaout Lodge and Spa at Talking Rock Golf Resort and play alongside Little Shuswap Lake. Be sure to also add a round at Salmon Arm Golf Club – one of Canadian Architect Les Furber's best in the province and thus earning its recommendation for a British Columbia "must play" list.

Kelowna
Kelowna is centrally located in the Okanagan Valley – one of British Columbia's most popular golf destinations. The valley's warm dry weather, thirty golf courses, innumerable wineries and over 62 miles of lakes make this region BC's summerplayground. It is golf and wine country, the "Napa of the North", and Kelowna is at the center of it all. Here you can play a nationally ranked golf courses in the morning, sample internationally award winning wines in the afternoon, and dine on a lakeside patio for dinner. Kelowna's signature golf courses include Gallagher's Canyon, The Harvest, Okanagan Golf Club, Kelowna G&CC, Tower Ranch and the multiple award winning Predator Ridge Golf Resort – boasting 36 holes, hotel and cottage accommodation, plentiful dining options and amenities.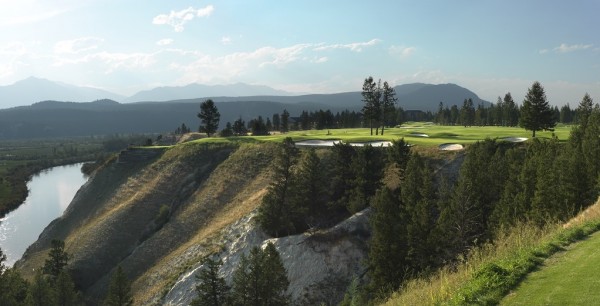 Kootenay Rockies
And last, but not least on the British Columbia provincial golf tour is the Kootenay Rockies area of British Columbia – home to the Columbia Valley Golf Trail and the Cranbrook and Kimberley golf mecca. BC's mountain-framed southeast corner is home to over 25 championship golf courses ranging in elevation from to 3000 to 4000 feet and includes gems such as the Springs at Radium, Fairmont Hot Springs, Eagle Ranch, Copper Point, Trickle Creek, St. Eugene and Wildstone – Gary Player's only Canadian Golf Design. Discover for yourself the incredibly special something about playing golf in the mountains. Dramatic elevation changes, spectacular scenery, wildlife, natural hot springs, and an away-from-it-all atmosphere await.
Your One-Stop Shop for Golf in British Columbia
Owned and operated by the golf courses of British Columbia, GolfinBritishColumbia.com offers an easy stop shop for British Columbia golf packages and vacations, with a reservations team available at 1-877-322-1223 to customize British Columbia golf holidays.
It's time to get in while the getting is good, and golf North with the strength of the American dollar. Week long golf vacations including accommodation, golf and power carts start at just $859 USD. And don't forget to smile when you pay for your Starbucks Coffee with $20 USD and receive your coffee and $20 CAD in return.
For more British Columbia Golf Information…
www.GolfinBritishColumbia.com  — www.GolfVancouverIsland.ca —  www.GolfWhistler.com —  www.TourismKamloops.com/golf — www.ColumbiaValleyGolfTrail.com — www.GolfKimberley.com
All Photos Courtesy of British Columbia Golf Marketing Alliance