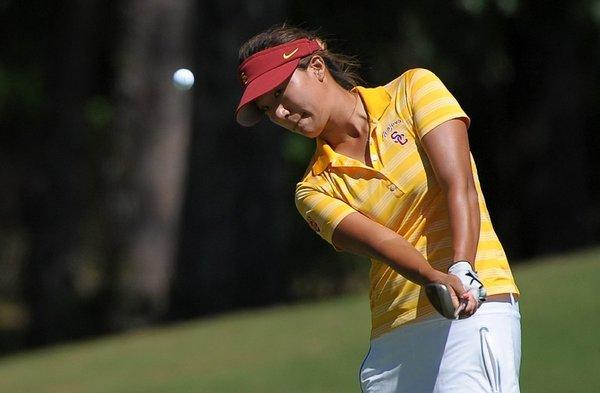 Annie Park of USC took the individual title and helped the top-ranked Trojans capture their school-record eighth consecutive victory by seven strokes over Duke in the Northrop-Grumman Regional Challenge at Palos Verdes Golf Club.
Park, a sophomore from Levittown, N.Y., posted a score of 67-67-73–207 to claim her fifth college victory by seven strokes over Hayley Davis of Baylor, who wound up at 71-70-73–214.
Bronte Law of UCLA shot 71-72-72–215 to tie for third with Noemi Jimenez of Arizona State, who recorded a score of 74-75-66–215, Alexandra Kaui of Oklahoma, who finished at 71-69-75–215, Yu Lui of Duke, who wound up at 68-74-73–215, and Sarah Schober of Florida, who came in at 72-68-75–215.
USC won with its depth, as senior Sophia Popov of USC tied for 10th at 74-71-72–217 and sophomore Kyung Kim tied for 12th at 70-69-79–218.
The Trojans, coached by Andrea Gaston, carded a score of 288-279-299–866, followed by Duke at 290-294-289–873 and Arizona State at 300-294-281–875.
"I'm proud of the girls for fighting through some struggles today," Gaston said. "The team didn't have its 'A' game despite better playing conditions, but they battled on every hole. It was truly a team win, not just from today but from all three days. We wouldn't have won today if not for two really good rounds before it."
UCLA posted a score of 290-291-300–881 and tied for fourth with Washington, which came in at 292-295-294–881.
Pepperdine was 15th at 301-303-306–910.