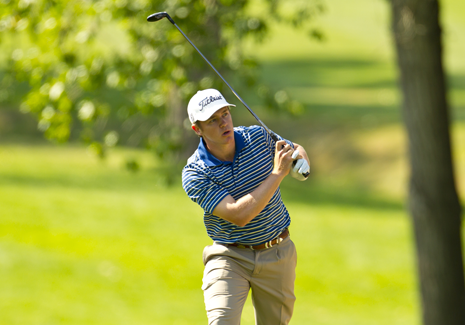 Michael Weaver and Steven Fox, who each advanced to match play following a playoff earlier in the week, each recorded semifinal wins Saturday to reach the 36-hole championship match at the 2012 U.S. Amateur Championship at the par-71, 7,409-yard Cherry Hills Country Club in Colorado.
Weaver, 21, of Fresno, Calif., held off Justin Thomas, 19, of Goshen, Ky., 3 and 2, while Fox, 21, of Hendersonville, Tenn., defeated Brandon Hagy, 21, of Westlake Village, Calif., 2 up.
Each semifinal winner survived a 17-for-14 playoff on Wednesday morning to make the 64-player field for match play. Weaver birdied the third playoff hole, while Fox made a par on the fourth extra hole. Italy's Edoardo Molinari, in 2005, was the last player to advance through a playoff to win the U.S. Amateur.
The 2012 U.S. Amateur Championship consists of 36 holes of stroke play followed by six rounds of match play, with the championship scheduled to conclude with a 36-hole final on Sunday starting at 7:30 a.m. MDT. NBC will televise the afternoon portion of the championship from 4 to 6 p.m. EDT.
The U.S. Amateur is one of 13 national championships conducted annually by the United States Golf Association, 10 of which are strictly for amateurs.
Weaver got off to a hot start in taking control against Thomas, making birdies on the opening three holes. He went 3 up when Thomas missed a 9-foot par putt on the par-4 fourth. Weaver, a redshirt junior at the University of California-Berkeley, made his fourth birdie on the front nine by rolling in a 35-footer on the par-3 8th to take a four-hole advantage.
Making his second consecutive Amateur appearance, Weaver, who missed the match-play cut by one stroke at Erin Hills in 2011, curled in a breaking 22-foot putt for birdie on the 10th for a 5-up lead. But Thomas, No. 5 in the World Amateur Golf Ranking (WAGR) and the consensus national player of the year from the University at Alabama, won three out of four holes with a pair of par putts and an 18-foot birdie at par-3 15th.
Weaver steadied himself on the 16th hole. Thomas' birdie attempt broke right of the hole and Weaver followed with a short birdie putt to close out the match.
"First three birdies to start were great, get the momentum going in my favor," said Weaver, the No. 149 player in the WAGR. "I just kept hitting good shots and kept giving myself chances. I was nervous on (No.)14, I hit a pretty bad chip shot. When that putt didn't go in…wow. And, then the birdie on 15, all the momentum was going his way. I tried to just put it behind me and not think about what could happen – just hit good shots."
A rising senior at the University of Tennessee at Chattanooga, Fox rallied from one hole down in the middle of the second nine. He made a 4-foot par putt at the 14th to draw all square against the long-hitting Hagy and took the lead for good on the next hole with another par. Hagy, who was bidding to join his California college teammate Weaver in the final, had a bad lie in a greenside bunker at the 15th which led to a bogey.
"(Hagy) didn't miss a shot really," said Fox, who upended the world's top-ranked amateur, Chris Williams, in Friday's quarterfinals. "It was tough to make up strokes. I had nine pars on the back nine. So I really needed him to mess up somewhere, and unfortunately he did. I got lucky to win those two holes to go 1 up."
Fox, who made it to the round of 16 at this year's U.S. Amateur Public Links Championship at Soldier Hollow G.C. in Midway, Utah, wrapped up the victory by winning the par-4 18th. He used a 3-wood off the tee to get his ball in the fairway and then hit "one of the best shots of my life" by lifting a 4-iron onto the green to within 6 feet of the hole from 206 yards. Hagy's long birdie try rolled well past the hole and he conceded the hole and match to Fox.
Now the 60th and 63rd seeds in this championship have come back from the brink of elimination in a playoff and won five times in match play to compete for the Havemeyer Trophy.
"It's probably the top amateur event in the world as far as the strength of this field," Weaver said.  "And that's how match play is. Just because you're the No. 1 seed doesn't mean that you'll go all the way, because all it takes is someone to play well one day."
By virtue of reaching the U.S. Amateur championship final, Weaver and Fox have each earned an exemption into the 2013 U.S. Open – provided they remain amateurs – and a likely invitation to next year's Masters Tournament. The champion receives an exemption into the 2013 British Open at Muirfield.
– Courtesy Brian DePasquale, USGA
Cherry Hills Village, Colo. – Results for Saturday's semifinal round of match play at the 2012 U.S. Amateur Championship, played at 7,409-yard, par-71 Cherry Hills Country Club.
Semifinals
Michael Weaver, Fresno, Calif. (143) def. Justin Thomas, Goshen, Ky. (139), 3 and 2
Steven Fox, Hendersonville, Tenn. (143) def. Brandon Hagy, Westlake Village, Calif. (137), 2 up
Cherry Hills Village, Colo. – Pairing for Sunday's championship round of match play at the 2012 U.S. Amateur Championship, played at 7,409-yard, par-71 Cherry Hills Country Club. (All times MDT)
Championship (36 holes)
7:30 a.m. and 12:30 p.m.: Michael Weaver, Fresno, Calif. (143) vs. Steven Fox, Hendersonville, Tenn. (143)