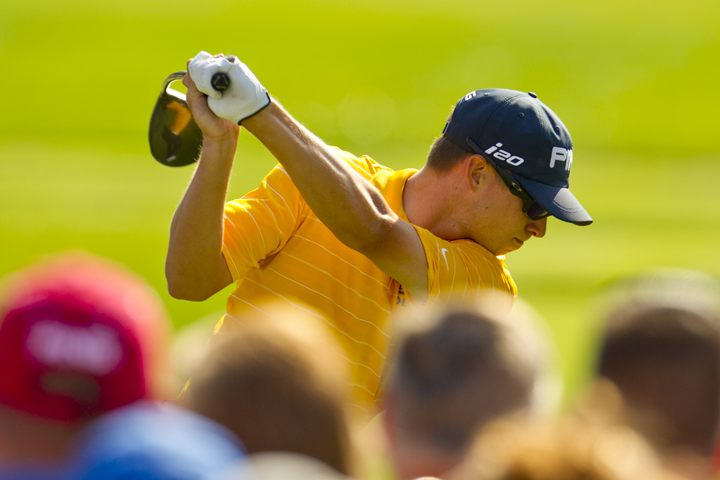 Steve Desimone has been downing plenty of pain relievers this week for an Achilles tendon strain he suffered 3 and a half months ago.
The veteran University of California-Berkeley men's golf coach probably could have used a bottle of antacid on Saturday at Cherry Hills Country Club.
Watching two of his golfers – Michael Weaver and Brandon Hagy – in the semifinals of the U.S. Amateur would make anyone's stomach do somersaults.
"Today is the best it has felt in awhile," said Desimone of his Achilles. "I got around all 18 holes. As I said to [NBC golf announcer] Steve Burkowski, I think the ticker is hurting a lot more now than the Achilles."
Desimone, who is entering his 34th season as Cal's coach and 47th on campus since his days as a basketball player, endured one of his most emotional days in recent memory.
He might not have gotten the dream all-California final, but Desimone at least saw one of his golfers reach Sunday's 36-hole final. The 21-year-old Weaver, of Fresno, Calif., defeated Justin Thomas, 3 and 2, while Hagy, a 21-year-old from Westlake Village, Calif., dropped a 2-down decision to Steven Fox, of Hendersonville, Tenn.
"I said last night the emotions were so similar to the NCAA Championship at Riviera," said Desimone, whose team fell to Alabama in the semifinals. "Match play is match play. If you want to turn yourself inside out, match play will do it every time. It did it then and it sure did today."
Hagy and Weaver were bidding to create what would have likely been the first USGA final between current college teammates. In 1962, Jim Wiechers defeated his Bellarmine Prep teammate, James (Troncatty) Sullivan to win the U.S. Junior Amateur. When Phil Mickelson beat Manny Zerman at Cherry Hills to win the 1990 U.S. Amateur, it was a matchup of ex-high school teammates.
"One out of two is bittersweet," said Desimone. "It's great to have one in. [I] would have loved to have had two. But we're playing [on Sunday] with a chance to have a U.S. Amateur champion in the program."
In 2000, Robert Hamilton made it to the championship match of the U.S. Amateur at East Lake Golf Club in Atlanta, only to lose to Ben "Bubba" Dickerson. Three years ago, Korean-born Ben An, who had committed to Cal but had yet to enroll, won the U.S. Amateur at Southern Hills C.C. in Tulsa, Okla. An, a U.S. Amateur semifinalist in 2010 at Chambers Bay, spent one season in the program (2010-11) before turning pro.
Weaver would become the first current Golden Bear to claim a USGA championship.
He also would become the first from a Pacific-12 Conference school to win the Amateur since Ricky Barnes (Arizona) in 2002. The conference did produce four Amateur champions in the 1990s: three by Tiger Woods (Stanford) and one by Mickelson (Arizona State). In the 1980s, Sam Randolph (University of Southern California), Billy Mayfair (ASU) and Eric Meeks (Arizona) won the Amateur.
"For this program, it's a unique experience," said Desimone, who guided Cal to the NCAA title in 2004 when it was conducted entirely at stroke play. "It continues to say that the Pac-12 is the premier conference in college golf. It also says something about us that I can smile and say, 'It's nice to be a part of it.' One thing I know, nobody is going to give anything tomorrow.
"It's great to be part of this and to know that Michael Weaver is such a great guy and has worked so hard in school to be very successful. So it demonstrates you can be a great student and you can be a great player, too."
Longshot Finalists
One of the beauties of match play is that anything can happen, especially in 18-hole matches. The fickle format can also allow for two players who barely got into the draw a shot to win the title.
Weaver and Fox both were on the bubble of making the 64-player bracket on Tuesday after the 36-hole stroke-play qualifying portion of the championship. They each finished at 2-over 143 and were forced to play extra holes on Wednesday morning in a group of 17 players vying for the final 14 spots. Weaver went three holes; Fox four to get the Nos. 60 and 63 seeds, respectively.
On Sunday, they will play to get their name on the Havemeyer Trophy.
"Just because you're the No. 1 seed doesn't mean that you'll go all the way, because all it takes is someone to play well one day," said Weaver, who defeated Thomas, the college player of the year for 2011-12. "And that's how it was with me and Justin today.  Justin is a great player, college player of the year, all that.  There's always someone who gets hot, and today that was me fortunately."
Fox will be vying to be the second No. 63 seed to win a USGA championship. In 2005, Clay Ogden came from that spot to claim the U.S. Amateur Public Links at Shaker Run in suburban Cincinnati.
Fox, a junior at the University of Tennessee-Chattanooga, will also be looking to put his small Division I school on the golf map. The Moccasins compete in the Southern Conference, considered a mid-major conference.
"There are so many great players in amateur and college golf who come out of nowhere," said Desimone. "But there are that many great players. The breadth of high-quality play in college golf is across the board, and you are seeing it right now. Were either of these guys ranked in the top 10 or top 50 of American junior golf? Yet here they are standing on the precipice of winning the U.S. Amateur Championship."
Added Fox: "I mean wherever you're seeded you have a chance to win.  It's like Michael said, whether you're the No. 1 or 64, you always have a chance.  And it's awesome how we survived a playoff and got this far.  It's really unreal."
Denver Reunion
Earlier in the week, Joanne Weaver, Michael's mom, had to depart Cherry Hills to help daughter Lauren move into her new apartment at San Diego State, where she is a sophomore. Lauren starts school on Aug. 27, but needed to arrive early for sorority rush and to get acclimated.
When Weaver earned a spot in the championship match, he received a phone call from his mom. She and Lauren were flying to Denver Saturday night to watch the final.
"That will be cool," said Michael, whose father, Bill, is serving as his caddie. "She hasn't usually watched me play very much, which I understand.
"My sister doesn't really like golf. She has a little different temperament. But I think the last time she watched me was probably – I might have been a senior in high school or a freshman in college. So I have surely enjoyed being here.
"And then two of my dad's really good friends from Fresno and their wives are coming, and that'll be really fun. I play with them a lot back home. I've played with them since I was 11 or 12. So it'll be a lot of fun to have them here."
Odds and Ends
Good crowds continued at Cherry Hills for the semifinals. Robbie Zalzneck, the director of the U.S. Amateur Championship, who handles the outside-the-ropes operations for the USGA, estimated that 4,500 spectators were on the grounds Saturday. The attendance is among the highest in several years… The Denver Broncos planned to put the names of two finalists on the jumbo board during the team's exhibition game Saturday night against the Seattle Seahawks at Sports Authority Field… Hall of Fame Broncos quarterback John Elway took in the semifinals on Saturday. Elway, who is currently the Broncos' executive vice president of football operations, was the guest speaker at the players' dinner on Sunday night. … Weaver or Fox will be the first U.S. Amateur champion to survive a playoff for the final match-play berths since Edoardo Molinari in 2005. Molinari holed out a bunker shot on his 36th hole of stroke play to get into the playoff at Merion G.C. … The champion is all but assured a spot on the 2012 USA World Amateur Team that will compete in Turkey this fall. The three-man team is expected to be announced in the coming days.
– Courtesy David Shefter, USGA