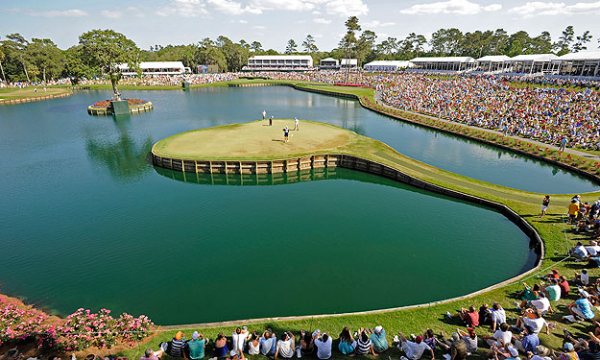 The PGA Tour announced that in the event of a tie at the end of the Players Championship at TPC Sawgrass, there will be a three-hole aggregate playoff, which will replace the its original sudden-death format.
Any playoff will take place on the daunting and entertaining three-hole finish on the Stadium Course — the par-5 16th, the par-3 17th with its infamous island green, and the par-4 18th.
If the players remain tied after three holes, the playoff will become sudden death and return to the 17th hole, followed by No. 18 if necessary, and then 16,17 and 18 in order until a winner is determined.
"Holes 16, 17 and 18 of the Players Stadium Course are perhaps the most dramatic closing holes in professional golf from a risk-reward standpoint, as they test all facets of a player's physical and mental game while under the pressure of trying to win such a significant championship," Commissioner Tim Finchem of the PGA Tour said in a release.
"Given the fact that winning the Players means you have defeated the strongest field in golf, we felt an aggregate playoff that incorporated these three holes was a more appropriate way to determine the champion."
The only other tournament on the PGA Tour with a three-hole aggregate playoff is the PGA Championship, while the Open Championship utilizes a four-hole aggregate playoff.
The U.S. Open goes to an 18-hole playoff the next day, while the Masters uses sudden-death.
The 41st Players Championship will be contested on May 8-11.