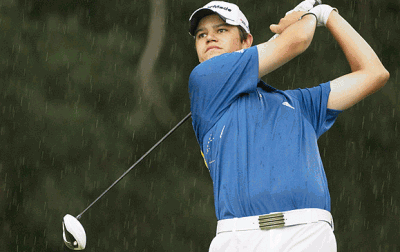 The U.S. Open traditionally ends on a special day for dads, but this year's championship at The Olympic Club could feature some brotherly love.
Tim Mickelson, the younger brother of recent World Golf Hall of Fame inductee Phil Mickelson, earned medalist honors at the Phoenix (Ariz.) Country Club local qualifier on May 14, shooting a 66. Tim Mickelson, 34, is the men's golf coach at Arizona State University where Phil was a four-time All-American. He has listed Columbus, Ohio for  his 36-hole qualifier on June 4. Should the 2007 U.S. Mid-Amateur quarterfinalist advance, he would join his four-time major-champion brother in the field at the 112th U.S. Open. Local qualifying at 109 sites concluded on May 17, with 550 golfers advancing from a field of 8,527. They will join the 426 golfers who were exempt from local qualifying at 13 sectional sites, 11 of which are in the United States. Sectional qualifying over 36 holes begins May 21 in Japan. Another sectional in England is set for May 28, followed by the U.S. sites on June 4.
A father-son combo also will be eyeing berths into the U.S. Open when they compete at Canoe Brook Country Club in Summit, N.J. Mark McCormick, 49, of Middletown, N.J., the head pro at Suburban Country Club, shared medalist honors (71) at the Alpine (N.J.) Country Club local qualifier with amateur Brian Whitman. A week earlier at Wheatley Hills Golf Club in East Williston, N.Y., Mark's son,  couRyan, was the medalist with a 68. Ryan is a sophomore at St. John's University.
The last time a father-son duo played in a U.S. Open was Jay and Bill Haas in 2004 at Shinnecock Hills, where both survived the 36-hole cut.
Estancia High senior Jake Knapp, 17, of Costa Mesa, Calif., fired the best round among the qualifying sites, posting a 10-under 61 at The Newport Beach (Calif.) Country Club on May 16. The UCLA-bound Knapp had eight birdies and an eagle in just missing the course record by one shot held by Champions Tour players Nick Price (2011) and Tom Purtzer (2004). Price and Purtzer won the Toshiba Classic those years on the course.
Knapp, who fired a 66 a few days earlier in a high school competition, qualified for sectionals in 2011, but failed to advance at Oakmont C.C. in Glendale, Calif. He'll play his sectional this year at Lake Merced Golf Club in Daly City, Calif., about a mile away from where the U.S. Open will be conducted June 14-17.
"I'm just trying to build confidence," Knapp told the Daily Pilot newspaper. "To be able to qualify for [the U.S. Open] would be life-changing. That and the U.S. Amateur qualifier are what I'm really focusing on this year."
A year ago, 17-year-old Beau Hossler, of Mission Viejo, Calif., did one better than Knapp when he qualified for the U.S. Open at Congressional Country Club. Hossler moved a step closer to another U.S. Open trip when he survived his local qualifier at the same place (Oakmont C.C.) he advanced out of sectionals in 2011. The high school junior shot a 69 and will join Knapp at Lake Merced on June 4.
The youngest competitor to survive local qualifying is 14-year-old Andy Zhang of the People's Republic of China, who qualified on May 10 at Lake Wales (Fla.) Country Club. Zhang, who doesn't turn 15 until December, would shatter the record as the youngest U.S. Open participant set in 2006 by Tadd Fujikawa (15 years, 5 months).
If Zhang falters at sectionals, D. Cameron Young, of Scarborough, N.Y., could make some history. The Fordham Prep freshman shared medalist honors at Trump National-Westchester in Briarcliff Manor, N.Y., on May 17 with a 3-under 68, and at 15 years, 1 month, Young would better Fujikawa's mark by four months. Young, whose father,  Dave, is the head professional at Sleepy Hollow, will play his sectional at Canoe Brook C.C.
India-born Rigel Fernandes, of Bradenton, Fla., who turns 16 in July, shot a 67 at Waterlefe Golf and River Club in Bradenton with seven birdies. The 2011 U.S. Junior Amateur qualifier has signed up for the Lecanto, Fla., sectional at Black Diamond Ranch's Quarry Course.
Joining Fernandes at Black Diamond Ranch will be another 15-year-old, Carl Yuan, of the People's Republic of China. Yuan, who is two months older than Young and could also surpass Fujikawa's record, qualified on May 17 at Timacuan Golf and Country Club in Lake Mary, Fla. with a 67. Yuan arrived in the U.S. last summer and attends EaglesDream Golf Academy.
Jefferson Kao, of Walnut, Calif., is another 15-year-old who could better Fujikawa's mark. He would be 15 years, 4 months and 10 days on the first day of the U.S. Open.
The other two 15-year-olds in sectional qualifying are Kyle Sterbinksy, of Yardley, Pa., and Daniel Jaramillo, of Bradenton, Fla., both of whom turn 16 in July.
Steve Gilley might get the Purple Heart for being the most courageous of the local qualifiers. Forty-five days after suffering a stroke, the Texas mini-tour pro carded a 3-under 69 at Miramont C.C. in Bryan, Texas, to reach the sectionals. Gilley, who in 2005 shot a 55 at Lynwood Golf and Country Club in Martinsville, Va., while prepping for a U.S. Open sectional, was hospitalized for a week before regaining the function in his right arm.
"It was really scary," Gilley told Steve Eubanks of PGA.com. Gilley embarked on some serious physical therapy to get back in shape for the qualifier. His wife, Kelly, caddied.
Gilley will now move on to the sectional at Lakeside C.C. in Houston.
"It was very special," said Gilley of qualifying for sectionals. "I've never made it. I've been in playoffs and missed it by a shot, but in 15 years of trying, this is the first time I've gotten through. To think that this time, when I wasn't even sure I could play and I really wasn't worried about making it, that's when I get through, it just goes to show you that priorities and perspective matter."
Tyson Alexander, of Gainesville, Fla., who became the second third-generation qualifier in U.S. Open history (Tim Herron is the other) three years ago, advanced by earning medalist honors at Champion Trace Golf Club in Nicholasville, Ky. Alexander's father, Buddy, won the 1986 U.S. Amateur and played in two U.S. Opens, and his grandfather, Skip, played in six U.S. Opens. Tyson will play his sectional at Black Diamond Ranch in Lecanto, Fla.
Tim Mickelson also isn't the only college golf coach to reach sectionals. John Koskinen, an assistant women's golf coach at the University of Miami (Fla.) qualified at The Country Club of Naples, while University of Illinois coach Mike Small advanced at Schaumburg (Ill.) C.C. On May 7, University of Oregon head coach Casey Martin qualified at Royal Oaks C.C. in Vancouver, Wash.
Two of Small's players also qualified at Illini C.C. in Springfield, Ill.: Luke Guthrie and Brian Campbell.
Three countries with little golf pedigree will be represented in sectionals by Jerry Mulubah (Liberia), Pablo Acuna (Guatemala) and Nemanja Savic (Serbia).
Some well-known names failed to qualify, including Hall of Fame tennis player Ivan Lendl, former big-league infielder Chris Sabo, former NFL quarterback Billy Joe Tolliver and Kelly Knievel, son of daredevil motorcycle rider Evel Knievel. Sports Illustrated golf writer Gary Van Sickle, hoping to join his son, Mike, in sectionals, carded a 73 at Indiana (Pa.) C.C., but missed advancing by three strokes. Mike Van Sickle was a medalist a week earlier at Quick Silver C.C. in Midway, Pa.
Courtesy: Dave Shefter/USGA