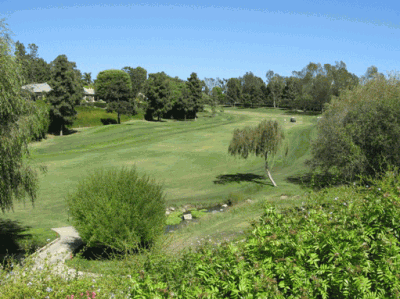 Far Hills, N.J. (May 17, 2012) – The United States Golf Association (USGA) today announced Big Canyon Country Club, in Newport Beach, Calif., as the host site for the 2014 USGA Senior Amateur Championship. This will be the second USGA championship held at Big Canyon Country Club and the first held in Southern California since 2008. The dates of the championship are Sept. 13-18.
"The USGA is privileged and honored to bring the 2014 Senior Amateur Championship to a venue that has directly supported the Association's mission by hosting the U.S. Women's Mid-Amateur and several USGA qualifying events," said Greg Sanfilippo, director of the USGA Senior Amateur Championship. "Big Canyon Country Club, along with the Newport Beach community, is a great supporter of amateur golf and we look forward to delivering a comprehensive test of shot-making, mental fortitude and physical endurance to the world's best senior amateur players."
Robert Muir Graves designed Big Canyon Country Club, which opened for play in 1971. John Harbottle III directed renovations in 1998. Harbottle, who began his career working with Pete Dye, is the son of Patricia Lesser Harbottle, who won the 1950 U.S. Girls' Junior and 1955 U.S. Women's Amateur championships. The course features hilly terrain with five lakes that come into play on seven holes, and approximately 80 bunkers guard the bermudagrass fairways and greens. A member-owned club in California's Orange County, Big Canyon completed construction of a 65,000-square-foot, two-story clubhouse in 2009.
"Big Canyon Country Club is proud to continue its support of amateur golf as host of the 60th USGA Senior Amateur Championship," said Bill Stampley, the club's president. "The members and staff look forward to working closely with the USGA to ensure a memorable event for both players and guests."
Big Canyon Country Club hosted the U.S. Women's Mid-Amateur in 2000. Ellen Port defeated Anna Schultz, 3 and 2, in the final to capture the third of her record four Women's Mid-Amateur titles. Port, who has played in three U.S.
Women's Opens, was inducted into the Missouri Sports Hall of Fame earlier this year.
The club has hosted qualifying for several USGA championships, including eight U.S. Amateurs and three U.S. Women's Mid-Amateurs. Big Canyon was the site of the 1996 Pacific-10 Conference Men's Golf Championship and the 2002 Southern California Golf Association (SCGA) Men's Mid-Amateur Championship.
The USGA Senior Amateur was first played in 1955. The championship is open to male amateurs age 55 and older with a USGA Handicap Index® not exceeding 7.4. In 2012, the USGA Senior Amateur Championship will be played at Mountain Ridge Country Club in West Caldwell, N.J., from Sept. 29-Oct. 4. The 2013 championship will be played Sept. 21-26 at Wade Hampton Golf Club in Cashiers, N.C.