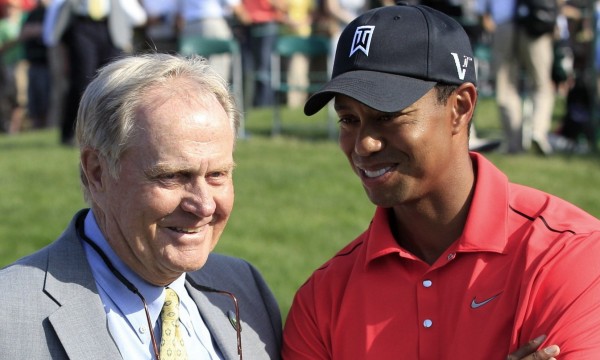 Tiger Woods posted a message on Twitter informing his fans that he will play in the Memorial Tournament, while Rory McIlroy send a letter to tournament host Jack Nicklaus apologizing for the fact that he will not.
Woods told the Golden Bear in April at the Champions Dinner before the Masters at Augusta National that he would be at Muirfield Village in Dublin, Ohio, this week.
"It's as much conversation as I've ever had with Tiger," Nicklaus said of their discussion before the first major of the year. "We talked about a lot of things. It was good. And he said, 'Hey, see you in May. I'll be at the Memorial.' It's nice to have Tiger back."
Woods has won the Memorial a record five times, most recently in 2012, but he didn't play in the tournament last year as he recovered from back surgery.
Tiger has played only four events this year thanks to another, less severe back injury that forced him to pull out of the Farmers Insurance Open in February, and he also sustained what seems to be a minor right hand/wrist injury at the Masters.
In addition to the ailments, he also is dealing with swing changes implemented by his newest swing coach, Chris Como. Woods showed signs of progress by tying for 17th in the Masters, although he faded in the final round. He then tied for 69th in the Players Championship.
"We're progressing," the 39-year-old veteran said after closing with an even-par 72 at TPC Sawgrass on a week in which he carded 18 birdies but simply made too many mistakes. "Let's just keep progressing, keep putting pieces together, keep chipping away at it.
"We had some glaring weaknesses at the beginning of the year. Those are now gone, and we can start cleaning up some other stuff, too."
Said Nicklaus, who weathered lulls in his great career but persevered to claim his 18th major championship in the 1986 Masters at the age of 46: "I've said many times, he'll be fine."
Woods has been chasing golf's ultimate number since he posted Nicklaus' accomplishments on his bedroom wall as a kid growing up in Cypress, Calif., but he has been stuck on 14 major titles since capturing the 2008 U.S. Open in a playoff for the ages against Rocco Mediate at Torrey Pines.
While his game may or may not be up to the challenge, he hopes to get back into the major chase in the next few months.
"See you at the US Open, Open Champ, Memorial, Greenbrier and my Foundation's event, the Quicken Loans National. Going to be a busy summer," Tiger wrote in his Twitter post.
The Memorial will be Woods' only competitive preparation for the U.S. Open in two weeks at Chambers Bay near Seattle, a course most of the best players in the world have never seen.
He apparently made a reconnaissance trip early this week.
"From what I hear, it's a golf course we need to take a look at a few times before the week," said Woods, who also is looking forward to the Open Championship next month at St. Andrews, where he won in 2000 and 2005.
As for McIlroy, he has become friends with Nicklaus since moving to South Florida a few years ago, when they ran into each other in a parking lot while shopping.
The No. 1 player in the World Golf Rankings felt compelled to write a letter to the greatest golfer of all time, explaining why he won't be playing in the tournament this week.
"The first thing he said to me was that he'd received my letter and I said to him I wanted to write rather than phone or just advise the Tour," McIlroy said of a conversation he had with Nicklaus after running into him at the Bear's Club, another course owned by the Golden Bear, in Jupiter, Fla.
"He seemed pretty taken back to get my letter, and that made me feel good."
For the record, McIlroy isn't playing because he just finished a five-week run that included victories in the WGC-Cadillac Match Play Championship and the Wells Fargo Championship, a tie for eighth in the Players Championship, his title defense in the BMW PGA Championship at Wentworth near London and the Irish Open, which he hosted.
Perhaps worn down, McIlroy missed the cut in the latter two events.
While McIlroy will be missed, the Memorial field includes the likes of Woods, Jordan Spieth, Phil Mickelson, Rickie Fowler, Jim Furyk, Justin Rose of England, Adam Scott of Australia, Dustin Johnson, Matt Kuchar, Jason Day of Australia, reigning FedEx Cup champion Billy Horschel, Patrick Reed, Chris Kirk and defending champion Hideki Matsuyama of Japan.
The Golden Bear always draws a crowd.
–Story courtesy of The Sports Xchange, TSX Golf Editor Tom LaMarre